If you suffer from muscle or joint pain and have spoken to a professional about what you can do, the chances are that they have mentioned a tens machine at some point. Being able to alleviate some of the pain from home isn't easy, but using electricity that is pulsed through the muscles, can make a big difference. Whether you are looking to upgrade your current machine or are new to Tens machines, we have created a list of the best products available.
There is something for every budget, and with various tension settings among some of the most common attributes, there are machines for every need.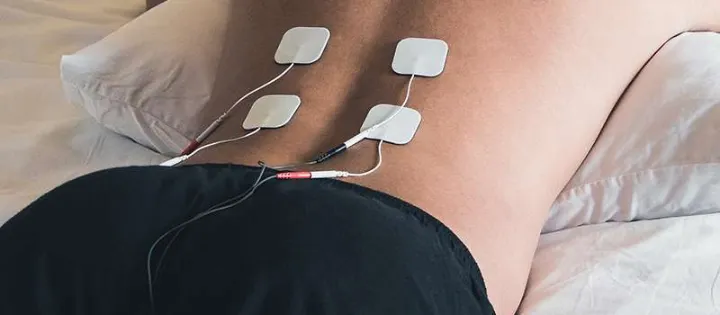 Reviews
Editor's Choice: TechCare Massager Tens Unit Plus 24 Rechargeable Electronic Pulse Massager
Tens Unit Plus 24 Rechargeable Electronic Pulse Massager Machine Multi Mode Device with All Accessories [New Model]
Intended Use of TechCare Massager: To be used for temporary relief of pain associated with sore and aching muscles in the shoulder, waist, back, upper extremities and lower extremities due to strain from exercise or normal household work activities.
Features: FEATURES: 24 massage modes, includes stimulation of Tapping, Acupuncture, Deep Tissue, Foot, Cupping and Combo. Adjustable 10 to 60 minutes timer by using " T " button, press and hold the "M" button to go to the other modes faster. Rechargeable internal lithium battery. Up to 20 hours continues use. A-B Output will allow you to use it as 2 separate users.
With a lifetime warranty behind it, you will never have to be without the best TENS machine on the market. This combines the benefits of a tens and PMS machine to deliver low-voltage pulses in a way that alleviates pain and helps keep you mobile. 24 pre-programmed modes include the likes of acupuncture, foot, cupping, deep tissue massage, and beyond.
There is an A and B output setting that allows two people to use it, and with the long-lasting battery, you get up to 20 hours of continual use on a single charge. It includes a belt clip for your comfort and a large 3.75-inch LED screen that makes it easy to switch between the settings. The pads are easily attached and can be placed pretty much anywhere you are aching, and you can adjust the timer from anywhere between 10 to 60 minutes.
PROS:24 pre-programmed modes
Large LED screen is easy to use
Adjustable timer
Great value
Most Comfortable: AUVON Dual Channel TENS Unit Muscle Stimulator Machine with 20 Modes
Sale
AUVON Dual Channel TENS Unit Muscle Stimulator Machine with 20 Modes, 2" and 2"x4" TENS Unit Electrode Pads
Pain Relief Machine. The rechargeable electric muscle massager can stimulate the sensory nerves and muscles, activate specific natural pain gate mechanism, relax your body and have pain management anytime you feel the need.
Up to 20 Modes. Pre-set modes offer you hammering, kneading, shiatsu and more choices to help relieve pain associated with aching and fatigue muscles in the shoulder, low back, knee from exercise, normal household or work activities.
With 20 modes to choose from, you can get plenty of muscle and pain relief via this excellent TENS machine. You get the likes of shiatsu, kneading, hammering, and more to choose from, and it can help to alleviate sports and fitness relates aches in the comfort of your home. You can set up two separate modes at the same time to work different parts of your body and can amend everything from the intensity to the type of relief.
The self-stick pads last for up to 45 uses and help to distribute the 20 levels of intensity. The 10 hours of continual usage isn't as long as some of the competition, although it will be more than enough for most people. It is rechargeable via USB and provides a steady current to help take the strain off your shoulder, back, deltoids, hip, thighs, and more.
PROS:20 modes
Can set up two separate massages at the same time
20 intensity levels
Easy to use
Best Affordable: TENS 7000 2nd Edition Digital TENS Unit with Accessories
Sale
TENS 7000 Digital TENS Unit with Accessories - TENS Unit Muscle Stimulator for Back Pain Relief, General Pain Relief, Neck Pain, Sciatica Pain Relief, Nerve Pain Relief
NEED PRESCRIPTION STRENGTH PAIN RELIEF? A TENS unit muscle stimulator and electric massager that provides pain relief, acts as a muscle massager or shoulder massager, provides carpal tunnel relief, and acts as a muscle relaxer(great for muscle recovery)
OVER 1M TENS 7000 DEVICES SOLD: A consumer over the counter favorite back pain relief device and a leader in physical therapy equipment for providing immediate and lasting drug-free muscle pain relief from back pain, neck pain, tennis elbow, and bursitis
With a reasonable price tag and lots of accessories, this is one of the best budget TENS machines available. There is a reason they have sold over a million of them and because it is a dual-channel TENS machine, it can be used to alleviate pain in two areas at the same time. The settings are easy to navigate as they keep things simple, and the device doesn't take up a lot of space.
There are 5 modes to choose from, which is less than most but to be expected considering the price. Not many products in the niche come in a hard carry case like this machine, and there is everything included, from the pads, battery, and lead wires.
PROS: Good value
Dual Channel option
Easy to use
Comes with everything you need
Best Smart Device Powered: PowerDot 2.0 – Smart Electric Muscle Stimulator – Smart TENS Devic
Sale
The innovation of this quality design makes it possible for you to enjoy the benefits of a TENS machine by using your smartphone. The 15 preset programs can be amended via the app once you fix the nodes to the area you wish to give muscle relief. From here, you can track your progress and use the various customizable settings. Because you can use it with your phone, you can reap the benefits anywhere, and once you input the information, it makes recommendations for your next program.
This unique technology helps to prevent injuries, gives pain relief, enhances training, and aids muscle recovery. Because you use it with the app, a lot of people find it is one of the easiest TENS machines to use.
PROS:15 pre-set programs
Use the nodes in combination with the app
It customizes your programs based on your information
Easy to use
Best Value: TechCare Pro TENS Unit 24 Modes Best Portable Massager
No products found.
With the ability to soothe the muscles in different places, this is one of the best TENS machines we have seen. Not only is it easily portable and can be controlled in the palm of your hand, but it provides natural and reliable pain relief. a lot of people recommend it simply because of how versatile it is. There are 24 pre-programmed modes where you can attach up to four of the sticky nodes. Choose from so you use any massage, deep tissue, cupping, acupuncture modes, and many more.
It is easy to adjust the time setting, one button adds another 20 minutes to the program, and the rechargeable battery lasts for 20 hours at a time. There are also 20 levels of adjustable strength, so it is one of the most customizable tens machines available. It has everything you need for pain relief in the neck, shoulder, wrist, abdomen, back, knee, and many other aching parts of your body.
PROS:24 pre-programmed modes
Portable
Great Value
20 hours of battery life
20 adjustable strength settings
Best Compact: iReliev TENS Unit Electronic Pulse Massager
iReliev TENS Unit Electronic Pulse Massager & (8) Electrodes Pain Relief Bundle - Original iReliev TENS Unit with Extra TENS Unit Pads.
What is TENS? Stands for "Transcutaneous Electrical Nerve Stimulation"- a safe, non-invasive, drug free method of pain relief used by physical therapists and prescribed Doctors for over 30 years. The iReliev Dual Channel TENS Pain Relief System produces low-voltage pulses that when electrode pads are applied to your skin stimulates nerve fibers to help block the pain signal to your brain. Also may increase natural endorphins, "the bodies feel good chemical"-a natural pain reliever.
Feature & Program Modes: Dual channel functionality, which means you can use with 2 electrode pads per channel for Smaller Body Parts or 4 For Large Body Parts or Multiple Body Parts. Features 8 Pre-Programmed Therapy Modes for both acute and chronic pain symptoms. 25 levels of high output Intensity--or 80 mA, unmatched for a device this compact and portable.
With electric nodes to place on your body, you can get more out of this TENS machine. You can choose from the dual-channel settings to place the nodes in different places and select separate programs for each area. With a 2-year warranty, your purchase is protected, and there are 8 programmable modes for therapy and chronic pain relief.
With 25 levels of intensity to choose from, it is one of the most versatile tens machines available, and because of its compact size, it is easily portable. It comes with a belt clip meaning you can wear it discreetly, and there is also a long 30 hours of battery life. It locks when it is on, so you can wear it safely without upping the intensity by accident. You can choose up to 60 minutes of treatment time to alleviate debilitating muscle pain whenever you feel the need.
PROS:25 intensity levels
30 hours of battery life
Compact and easily portable
2-year warranty
TENS Machine Guide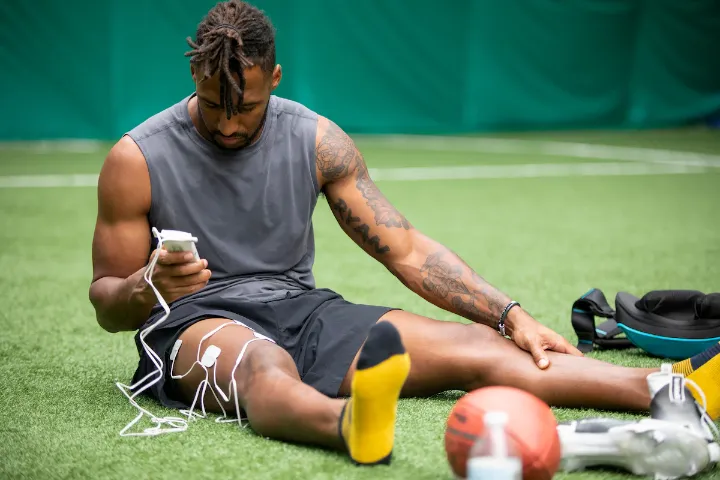 When you sit at a desk all day or overdo it at the gym, a TENS machine can help you to live in comfort. Some people use them in gentler settings to take the edge off their pain, whilst others might crank the intensity up for chronic pain relief. When you buy the right product, you will find plenty of uses for it, and the more versatile a product you can get, the better.
This is easier said than done, and if you aren't sure what the better products should be capable of, it is important to educate yourself. This is why we have created the following buyer's guide to make this important purchase simple.
What To Look For In A TENS Machine
Adjustable Modes
Not everyone has the same type of pain, which is why it is important to find a TENS machine that offers plenty of pre-programmed modes. There should be everything from kneading, deep tissue, hammering, and many more.
Intensity Settings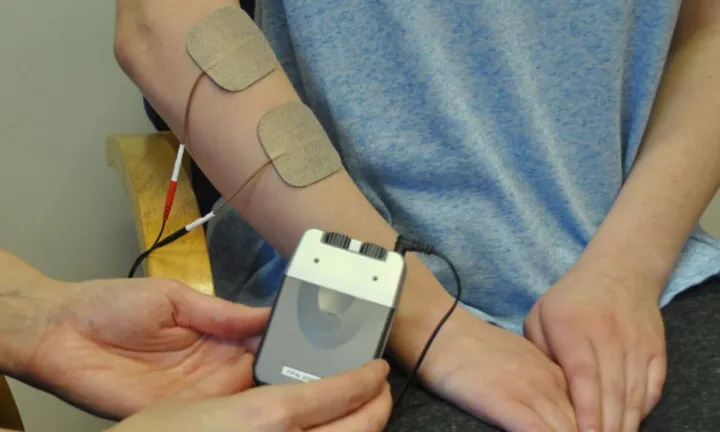 Every TENS machine you look at will give you different intensity levels, but you want as many as possible to be able to get the right level for your amount of pain. The better products have around 20, with some giving you the option to increase and decrease in smaller increments.
Large Display
Some of the products with smaller screens make it difficult to navigate between the settings. This can lead to you choosing the wrong type of setting, which can aggravate an injury or be painful if the intensity is too high. A large display makes it easy to get to grips with the TENS machine.
Rechargeable Batteries
The battery life is important here as a TENS machine can get through regular batteries pretty quickly. Not every product will include rechargeable batteries but if they do, remember to consider the battery life. A single charge should get you at least 10 hours of continual use, although the best TENS machines will give you double that.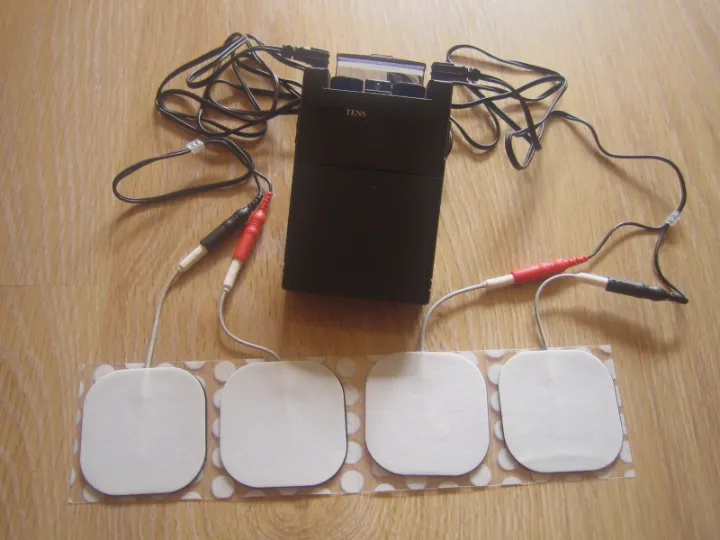 Adjustable Timer
You don't always want to be keeping an eye on how long you have been using the machine. This is why it is vital to have the power to adjust the timer. You need at least 15 minutes for the benefits to start and anything up to an hour is a good amount.
Warranty
Because they are made with intricate parts that send electronic vibrations, you want to protect your purchase with a warranty where possible. Most reliable companies provide a year as a minimum, although you can get a lot more.
Dual Modes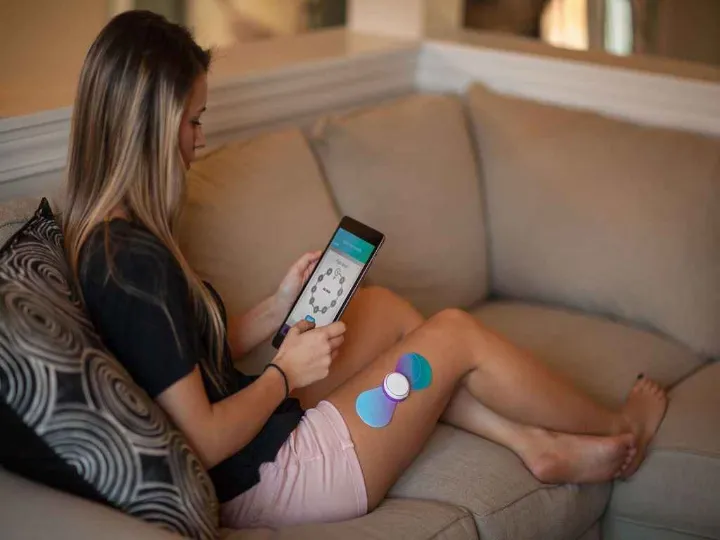 Being able to use your TENS machine to alleviate pain in two areas can be a massive relief. This is possible with even the more reasonably priced models. Because of this, we recommend that you find one that has two programmable sets of nodes to use on different muscle groups at the same time.
What Do TENS Stand For?
The name for these devices that stimulate the nerves and muscles is transcutaneous electrical nerve stimulation (TENS).
What Is a TENS Machine Good For?
Via their delivery of small electrical pulses, a TENS machine is a popular device used to alleviate pain around the body. When attached to the skin, they help to deliver a variety of massage-like settings for pain relief and to relax the muscles. Depending on the product, you can change the use, settings, intensity, and more.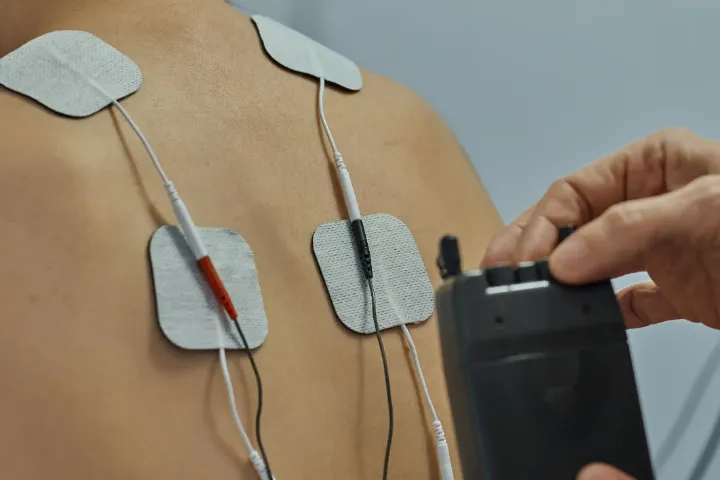 Can A TENS Machine Loosen Tight Muscles?
Yes, a TENS machine can be used to loosen tight muscles. By alleviating muscle pain, the knots start to loosen, which is why a lot of people use a TENS machine for aches and not just chronic pain.
Is A TENS Machine Dangerous?
Although a faulty device can put you at risk of a mild shock, a TENS machine is not strong enough to cause you any serious danger. If you use it too much in one area, it can cause irritation which is why it is important to follow the instructions for use for every product.
How Long Should You Use A TENS Machine For?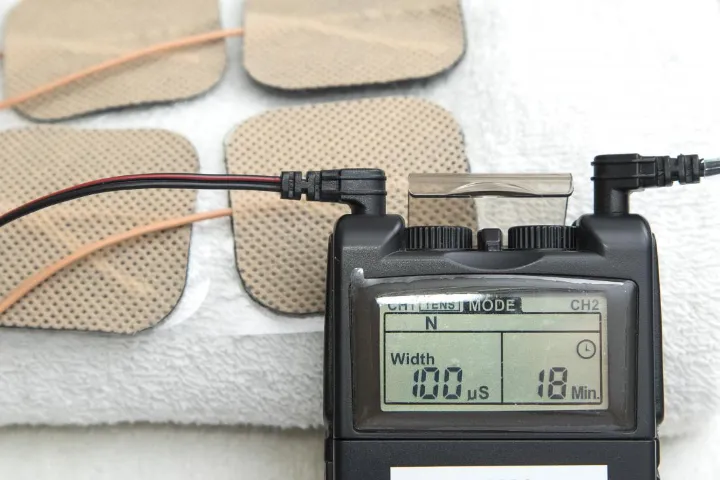 This depends on the settings you use, but as a general rule, you need to use them for at least 15 minutes before you get the benefits. 30 minutes is a good amount of time for regular use, although they can be used for longer. If you intend on using your TENS machine for anything longer than 30 minutes, then it is a good idea to give your skin a rest every 20 minutes or so.
How Much Does A TENS Machine Cost?
You can pick up a reliable TENS machine for less than $35, and although you might not get all the adjustable settings as the higher-priced models, there are fine for basic use. However, if you want more safety settings, adjustable timers, and more pre-programmed modes, then you should expect to part with $50 – $100.
Although there are plenty of products that cost well over $200, they don't always justify spending the extra when you consider the capabilities of the less expensive TENS machines.
What Is The Best TENS Machine?
There are plenty of quality products available, and we found the best TENS machine to also be one of the most reasonably priced. The TechCare Massager Tens Unit Plus 24 Rechargeable Electronic Pulse Massager has 24 pre-programmed settings, a long 20-hour battery life, dual output modes, and a large LED screen that is easy to use.
There are also plenty of intensity settings as well as an adjustable timer to make it one of the most versatile TENS machines available.