It doesn't matter whether you call it a trampoline or a rebounder, thee things can help you to work up a serious sweat whilst taking up minimal space. These things aren't for kids, and when you buy a quality product, they can help you reach your cardio goals from the comfort of your home. When you buy an inferior product they can actually be detrimental to your health, causing injury so it is important to get this purchase right.
This is why we have created a list of the best rebounders available Each one has been tested for durability and is known for giving the user quality bounceback. We have chosen rebounders of different weight limits and various sizes so there is something for everyone.
Best Rebounders Reviews 2023
Editor's Choice: JumpSport 250 In Home Cardio Fitness Rebounder
Sale
Known for being the best rebounder for at-home use, the JumpSport 250 is sturdily built and comes with a 60-day trial access to workout videos, DVDs, and a quality trampoline. Because it has a quiet bounce it is ideal for using for home exercise and it takes 40% more of the impact compared to a regular rebounder. Although the jumping area is big enough for you to easily stay accurate, there is a large padded area around the edge to keep you safe. You can use it for cardio and core exercises as the 35.5-inch jumping surface gives you plenty of options for staying in shape.
There is a weight rating of 250 lbs and it has steel springs with two elastic cords that have been tested over millions of bounces to ensure this rebounder is going to last a long time. The legs are stable, and the feet give your floor a level of protection whilst ensuring it doesn't move around as you bounce. Although it is more expensive than a lot of the other products out there, the quality is undeniable.
PROS:
Quiet bounce
250 lbs maximum capacity
Large 35.5 inch jumping surface
Padded area around the outside
40% reduction in impact
Best Folding / With Bar: MaXimus PRO Folding Rebounder
Maximus PRO Folding Rebounder USA | Voted #1 Indoor Exercise Mini Trampoline for Adults with Bar | Fitness & Weight Loss| Free Storage Bag, Resistance Bands, Online & DVD Workouts | Already Assembled
✅ LOSE WEIGHT & GET FIT: with this Low Impact, High Performance trampoline. The MaXimus PRO Indoor Rebounder supports a person up to 310 lbs and is very low impact to protect your joints. Just 20 minutes daily bouncing to help you burn 1000s of calories and lose weight fast. The 7 amazing rebounding workouts on DVD are great FUN and will motivate you and keep you challenged as your fitness levels go through the roof! 
✅ HOME GYM PACKAGE: includes MaXimus Pro Rebounder (40in), Handle Bar, Resistance Bands & Sand Weights for Conditioning/Strength training and Rebounding Workouts (online and DVD) to Train Your Body All Over! Spring loaded legs mean no assembly nightmares. This portable indoor mini trampoline folds into quarters for easy storage. Personal Trainers and Fitness Instructors love this rebounder which can be easily transported in a neat Carry Bag that is also included.
Many people see this as the most complete rebounder as it has a safety bar to make it easy to stay in one place and it even folds down for easy storage. Not only that but it comes with workouts DVD's and sand weights to increase the resistance and help you burn those extra lbs. The low impact of this rebounder protects your joints and it has a maximum capacity of 310 lbs which is more than a lot of the competition. It is made with 32 giant steel springs that have been calibrated to a high standard for added resistance whilst cushioning every impact.
The non-slip mat ensures every bounce is safe, as do the non-slip feet that keep it in place. It even comes with a bag that when the rebounder is folded, allows you to carry it in comfort.
PROS:
Comes with handle bar and sand weights
The maximum capacity is 310 lbs
Includes carry bag
Folds down for easy storage and transportation
Best Budget: Stamina 36-Inch Folding Trampoline
Sale
Although many people consider this to be the best cheap rebounder available, it doesn't perform like something that can frequently be purchased for under $50. With a 36-inch rebounding surface, it has enough space for a compact workout at home and it folds away for easy storage. There is a durable feel about it thanks to the 30 tension bands that help to take a lot of the impact away and reduce noise.
There is a safety pad that goes the whole way round so if you miss a bounce slightly then it keeps you safe and you also get access to a load of free workout ideas and exercises. It has a maximum capacity of up to 250 lbs so you get an idea of how sturdy it is and it only weighs 14 lbs itself so it is easily portable. With a steel frame and detachable rubber-tipped legs, there is a lot to like about this budget rebounder.
PROS:
Great value
Only weighs 14 lbs
250 lb capacity
36 inch rebounding surface
Best For Strength Training: Stamina 38-Inch Intone Plus Rebounder
Stamina Fitness Trampoline - Exercise Trampoline with Smart Workout App - Indoor Trampoline Fitness Rebounder
HEAVY-DUTY TRAMPOLINE - Our Stamina 38 inch Foldable Mini Trampoline provides a fun, safe and supportive workout that helps tone your legs, abs, glutes, and back. Bounce back to health and add fun to your everyday workout with our mini trampoline.
UPPER BODY FITNESS REBOUNDER - This exercise trampoline includes upper body resistance bands that allow you to work on your arms, back, shoulders, and chest. These bands are designed with padded handles for a comfortable, total-body home workout routine.
With more than one exercise available when using this rebounder, it is a quality product with a wide 38-inch steel frame. The polypropylene bounding surface is durable and it includes two resistance tubes with padded handles so you can also use the rebounder for strength training. What a lot of people like is that it comes with a fitness monitor that counts your jumps, workout time, and calories burned.
It can be used both indoors and outdoors and all-steel construction has a sturdy feel to it. With an upper weight limit of 250 lbs it doesn't have as much scope as some of the other brands but it is ideal for beginners and anyone who wants to use their rebounder for more than cardio.
PROS:
Comes with resistance tubes for strength training
Fitness monitor shows jumps per minute and other stats
250 lbs maximum capacity
Best For Extra Weight Limit: Needak Soft-Bounce Non-Folding Rebounder
Although most products come in black, you can pick this neat non-folding rebounder up in blue and because it can absorb up to 85% of every impact, you might be one of the many people that are glad they did. Anyone who needs a low impact alternative to running can find themselves working up a sweat in no time since it is easy to assemble and offers a 40-inch frame.
The legs fold away making it easy for you to store this quality rebounder under the bed or in a cupboard. It comes in two bounce options, the soft bounce which has a weight limit of 300 lbs and the hard bounce that has a 600 lbs limit.
PROS:
Absorbs up to 85% of every impact
Easy to assemble
Legs fold away so easy to store
Available in two bounce options
Best Kit: David Hall's Cellerciser Rebounder WITH Balance BAR Trampoline Kit
We've included this as an example of what a high-end rebounder looks like as although it is on the pricier side, the quality is hard to better. It includes a sturdy balance bar to help keep you centered and safe and boasts a big 40-inch frame. This gives you 28 inches of rebounding space and a matt that is kept 10.5 inches off the ground by sturdy legs. You get a workout DVD included with your purchase and additional springs should you need them.
There is a lifetime warranty on the frame and 5 years on everything else so you get the sense that David Hall stands by this product. With a 300 lb maximum capacity, it folds down easily and can be kept in the carry case when not in use.
PROS:
Quality materials
300 lb maximum capacity
Includes warranty
Rebounder Guide
It can be hard to motivate yourself to stay fit, but a rebounder makes it easy and fun. Being able to bounce on the post not only saves space but it can help you work up a real sweat. Because of this, there are plenty of quality products made from durable materials and that can help you reach your fitness goals.
The problem is, there are a lot of sub-par products and as with any piece of fitness equipment, you need quality to protect you from injuries. To help make this purchase easy, we have created the following buyer's guide.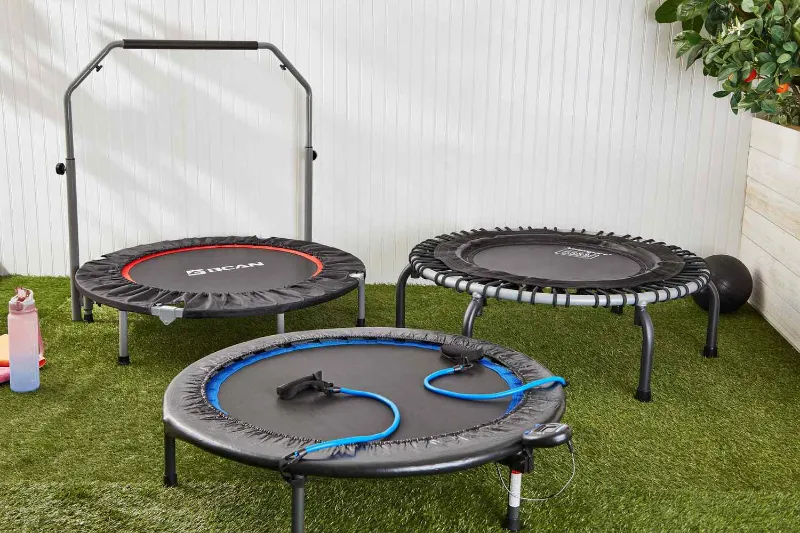 Maximum Capacity
Because everyone is at a different stage of their fitness and lifestyle, it can be important to check the rebounder you are considering has the right maximum capacity. For a lot of people, the 250 most common lb load will be enough but some offer a little more should you need it.
Large Rebound Surface
Being able to bounce on a rebounder safely is the most important trait. This is why you need to make sure the product you buy has enough room for a comfortable and safe bounce. Around 35 inches gives you enough margin for error.
Extras
This won't be the most important feature for a rebounder but it is nice when you buy a product that comes with workout DVDs, resistance bands, weights, and the like then it opens up more possibilities for your workout.
Stability Bar
Not everyone wants a stability bar as it can get in the way if you don't intend to use it. However, if you are a beginner or just feel like having the extra stability then look for a product that has a sturdy design and a bar to match.
Bungee or Spring
Spring rebounders tend to give you a greater repetition of bounces which is good for lymphatic drainage bouncing. For cardio, a lot of people prefer bungee rebounders because of their responsiveness.
Warranty
Because using exercise equipment means there is going to be a certain level of wear and tear, you need to know the product you are using is up to the task. A warranty helps to protect your purchase so you can buy with confidence knowing the company stands by the quality of their product.
FAQs about Rebounders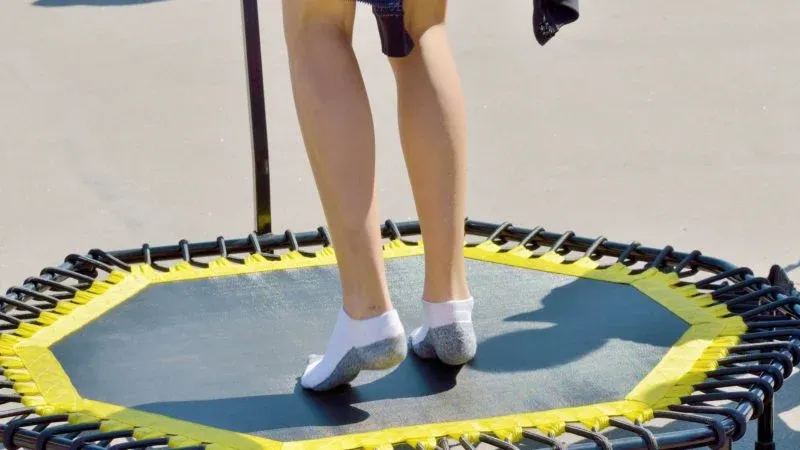 What Are The Benefits of Rebounding?
Although the most obvious seems to be the benefits for your cardiovascular health, there are other benefits to rebounding regularly. Something not everyone realizes is it can help with lymphatic flow. This pushes toxins from your body without having such an impact on your joints so rebounding can help strengthen your immune system.
Not only can rebounding help to alleviate stress but it is known to be useful for increasing bone density as well.
How Many Minutes Should You Rebound Daily?
This will differ from person to person but as a general guideline, if you are using it to support a detox. around 10 – 15 minutes a day will suffice. Anyone looking to use a rebounder for cardiovascular benefits should spend around 20 minutes a day. This can be split between 2 x 10-minute sessions or all in one go.
It is recommended that you do this at least 3 times a week to get the benefits although not every day.
Is Rebounding Bad For Your Ankles?
Although it is a low impact exercise, it is best to avoid exercises such as rebounding if you have an ankle injury. because it is one of the places that take the impact of the bounce, you must buy a quality product if you have had past issues with ankle injuries.
This is because you can turn your ankle on a product that is not sturdily made or if it doesn't have a large bouncing area.
Is Rebounding Good For Cardio?
Depending on your level of intensity as well as your current fitness levels, rebounding can burn more calories than walking. It is low impact so kinder on your joints and has been found to help work up a sweat that sheds some lbs.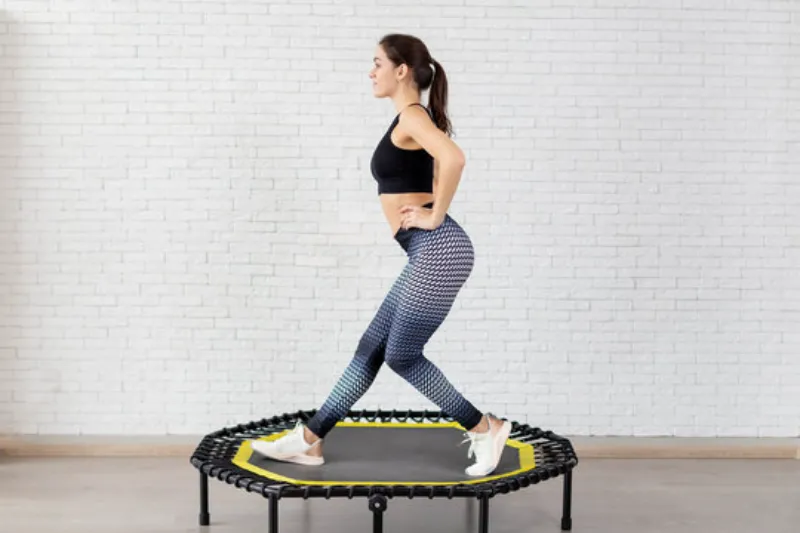 Is Rebounding Bad For Knees?
Compared to other forms of exercise, rebounding tends to be a lot gentler on the joints which can be good news for people with bad knees. A lot will depend on the severity of any injury but it is considered to be low impact which relates to the lack of pressure on the joints.
Should I Wear Shoes On A Rebounder?
It is best to go barefoot when using a rebounder or wear socks that have a grippy sole. Because it is meant to be low impact, you shouldn't wear shoes and also the tread can damage the jumping surface.
Barefoot rebounding gives you more control but it can mean you have to take short breaks if your feet get sore.
How Much Does A Rebounder Cost?
Although you can pick up a decent rebounder around the $50 mark, the products in this range will be less durable and perhaps have a lower maximum capacity.
This is why a lot of people tend to buy rebounders for $100 – $150. This gets you a durable product with a larger bouncing area and can also mean you end up buying one with a workout DVD and other extras.