If you are someone that is into bodyweight exercises, then you already know how effective pull-ups can be to help build strength. The problem is many struggles in that department. If you ask anyone that is into fitness what they wish they could be better at, they would probably mention having upper body strength.
Developing upper body strength takes a lot of practice and hard work, and having a pull-up bar for home is a great tool to use if you are someone that is not able to make it to the gym as frequently as you would like to.
Also, if you are someone that struggles with upper body strength and would rather not embarrass yourself at the gym, pull-up bars are great tools to have to practice and get better.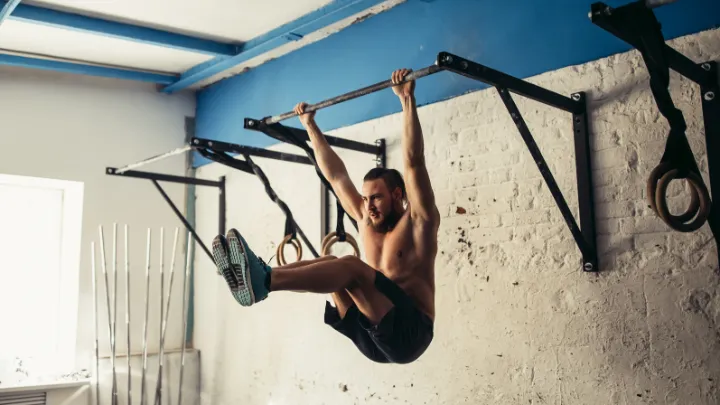 Another great thing about having a pull-up in your home is the fact that you can do more than just pull-ups with them. Depending on which pull-up bar you get, you can do a variety of different exercises that can help you work out the upper body.
So many people think that when deciding to purchase a pull-up bar, they can only do pull-ups, but you will find out throughout this article that there are many more uses to having one.
Exercises to do with a Pull-Up Bar
Even though the name suggests pull-up, there are a variety of different exercises that can be done that will work out different parts of the upper body.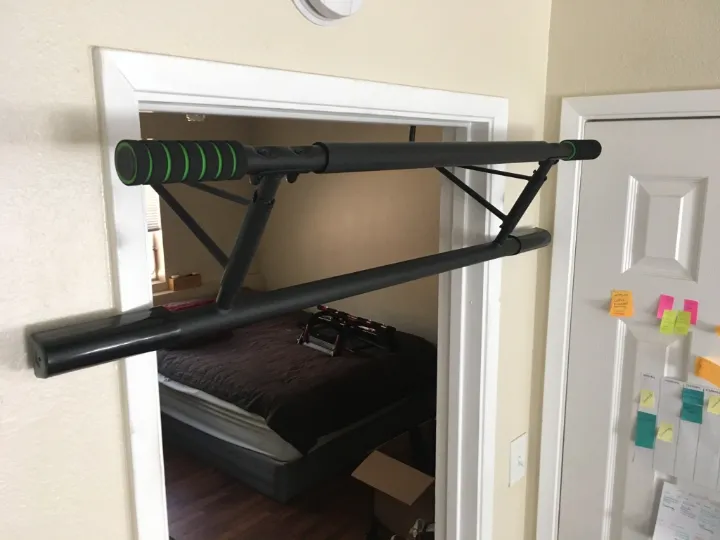 Pull-Ups – The muscle groups that tend to be worked out during a pull-up are the Latissimus Dorsi, upper back and biceps. There are many different variations to a pull-up that will work different parts of the muscles I just mentioned, like the wide grip and close grip pull-ups, which tend to be harder than regular pull-ups.
Chin-Ups – those who start off doing pull-ups usually start off with chin-ups as they tend to be a bit easier. With the palms facing towards the person, this exercise is a great way for a beginner to build up strength and progress through more advanced pull-ups.
Push-Ups – depending on the type of pull-up bar you get, you could also use it to do push-ups. Most of these bars have comfortable grips to make sure you are secure when performing any of these exercises.
Dips – if you are looking to build some strength in your tricep muscles, you could find yourself even performing this type of exercise. This exercise can be a little more difficult to perform depending on the type of bar you decide to get. Since in order to really feel the burn in the arms, you need to dip pretty low, and you may not be able to depend on which bar you are looking at.
Leg Raises – If you are looking to work out the abs, then a pull-up bar will definitely allow you to get in a good ab workout in the comfort of your own home.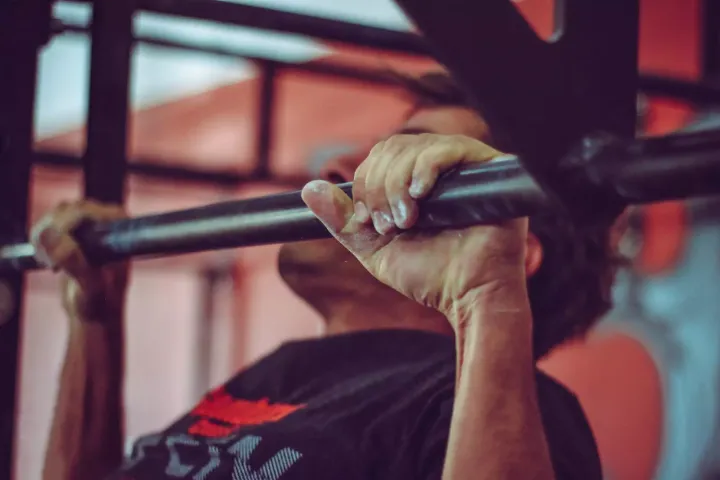 As you can see, there are a variety of exercises that can be performed with such a simple tool. Keep in mind that not every pull-up bar will allow you to perform every one of these exercises. If you are looking to get an awesome upper body workout, then it is important to choose a bar that will allow you to perform many exercises.
So it is important to know what you are looking for and what you plan on accomplishing with your fitness goals that will help determine which pull-up bar works best for you.
Top 10 Best Pull-Up Bars for The Home 2023
When deciding on which pull-up bar is right for you, going through a list showing a variety of the best pull-up bars on the market will help you in our decision process. Below is a list of the top 10 pull-up bars for the home that will help you get the results you are looking for.
Iron Gym Total Upper Body Workout Bar
Iron Gym Pull Up Bar & Ab Straps - Total Upper Body Workout Bar for Doorway, Adjustable Width Locking, No Screws Portable Door Frame Horizontal Chin-up Bar, Fitness Exercise, Black (IRONG-MC4-Strap)
PULL UP BAR WITH AB STRAPS FOR DOORWAY: Plan your home workout regime with Iron Gym Pull up bars with AB Straps, turn any doorway into a personal gym and get the strong, lean body you always wanted, right at home. It instantly attaches to or removes from your door frame and the heavy-duty steel construction supports up to 300 pounds
IDEAL FOR UPPER BODY WORKOUT: Iron Gym Pull Up Bars with AB Straps is an ideal upper body exercise equipment with three grip positions, narrow, wide, and neutral. It offers wide grip push-ups, pull-ups, chin-ups, sit-ups, dips, arm and shoulder exercises – every exercise you need to build a powerful upper body
This is one of the most popular pull-up bars for the home, as you can do many different exercises if you choose to. Along with the pull-up, you can perform push-up, dips, and leg raise all this one bar. It is durable enough to withstand everyday use if you are someone that likes to exercise daily.
The durable steel construction holds up to 300 lbs and is designed to fit most residential doorways. It installs quickly so that you may get started right away with your workout. What also makes this such a great buy is its convenience. You can bring it with you almost anywhere without the worry of it taking up too much space.
Also, if you are someone that is looking to get in a quick workout, 10 minutes is all you need to get those muscles burning. With its affordable price, this is ideal for anyone not looking to purchase very expensive exercise equipment that will take up a lot of room in the home.
ProSource Multi-Grip Chin-Up Bar
ProsourceFit Fit Multi-Grip Chin-Up/Pull-Up Bar, Heavy Duty Doorway Trainer for Home Gym
VERSATILE MASSAGE TOOL: Ideal for pre and post-workout by massaging and releasing tension from muscles including back, legs, neck, calves, IT band, hamstrings, lats, and glutes for overall better mobility
FIRM MASSAGE – High-density foam structure provides a deeper massage than standard foam rollers, and is extra firm to support all body types without losing shape after regular use. Effective for all fitness levels from beginners to advanced. Maximum weight capacity is 300 lb
This high-grade steel pull-up bar was made built to last. It was designed to fit any doorway, and with its multi-grip design, you can do a variety of exercises with it. Its multi-grip design allows you to perform both pull-ups and chin-ups with a wide or close grip.
You will be able to work out all parts of the upper body with this bar and not have to worry about it not being able to handle the workload. It can handle up to 300 lbs with a sturdy doorframe. With a limited lifetime warranty, you can work out comfortably, knowing that your pull-up bar is made to last a long time.
With its portable use, you can take it just about anywhere you plan on getting a workout. Also, with its very affordable price and size, no need to worry about not getting your money's worth
Sunny Health & Fitness Doorway Chin Up
Sunny Health & Fitness Door Way Chin Up and Pull Up Bar
STURDY CHROME PLATED STEEL BAR: Train like a pro with the tough and secure exercise trainer supporting tough workouts. When mounted properly, the fitness bar holds up to 220 pounds giving you full support for pull-up and chin ups.
ADJUSTABLE LENGTH: Easily adjust this exercise bar so you can take your fitness on the go! Adjustable length (24. 5 to 36 inches) provides a customizable workout.
If you are looking to really bring your chin-ups with you on the go, there is no exercise equipment more convenient than the doorway chin-up bar. The chin-up bar allows anyone that is just starting off building that upper body strength to ease into their progression.
With its chrome steel bar and nonslip grip, you can be comfortable knowing you have maximum stability. The chin-up bar will fit most doorways up to 32 inches and has a maximum weight capacity of 220. Although you can do pull-ups with it, it is ideal for chin-ups and leg raises, and you can even anchor it to do sit-ups.
This bar also includes weight-bearing brackets for maximum stability during your chin-ups. Allowing for adequate support during your workouts.
Shamrock Triple Pull-up, Dip and Suspension Door Gym
This is the only product that allows for both pull-ups and dips in a doorway. Its size and sturdiness allow anyone to really enjoy a full upper body workout in their home. It includes a complete bodyweight suspension trainer allowing you to do over 35 exercises with this bar alone.
Made with heavy-duty steel and quality foam grips, you can exercise knowing you will be safe and secure. The maximum weight allowed for this bar is 300 lbs, so you know it's built to last. This bar will fit in between most doorways between 26 to 32 inches long.
If you are a beginner, this tool will work great for you as you look to increase your strength. If you are looking to take it with you on the go, keep in mind that there are quite a few moving parts that may be hard to fit in certain places. Other than that, you can be confident of getting a great workout.
Maximize Pull-Up Bar – Doorway Pull-up Bar / Chin-up Bar
With safe and secure door mounts, you can perform all your workouts with ease. It can hold up to 300 lbs when properly mounted with screwed-in brackets that come supplied with the bar. With its versatility, you can perform many of your favourite upper body exercises with this bar. Has long foam hand grips to help minimize hand fatigue. You can also use it in different doorways around the house with its multiple screw-in door mount kit.
Ultimate Body Press Wall Mounted Doorway Pull-Up Bar
If you don't mind having a pull-up bar as a fixture on your doorway, then this ultimate pull-up bar is a great choice. Very thick steel for added grip as you do your pull-ups. This very ergonomic bar allows for three different grip positions.
So if you are someone who struggles with joint pain in the wrist, the design of this bar will help with relief as you do your exercises. Although not as versatile as other pull-up bars, if all you are looking to do is pull-ups and leg raises, then this would be great for you.
No worries about wear and tear as it is made with durable solid steel that is made to last a long time. This bar is great for anyone that has a room set up specifically for exercise. So you can have this mounted above the doorway without any worries of it looking out of place. You can also have suspension straps to perform many other workouts as well.
Ultimate Body Press Ceiling Mounted Pull-Up Bar
Sale
This ceiling-mounted pull-up bar is designed to help reduce any strain on the wrists. This leads to a more natural grip as you do your workouts. The bar drops about 14 inches from the ceiling, allowing a full range of motions as you perform your pull-ups. Also has comfortable hand grips to make sure there is no slipping.
You can easily add many different types of accessories to add to your workouts. If assembled properly, you can expect to perform your workouts safely and securely. Although not ideal for the inside of a home, if you have a gym with adequate support, you can easily mount this and enjoy your workout.
Portable Pull-up & Push-up Bar – For Inverted Pull-ups
Sale
Happybuy Portable Pull Up Bar Dip Station for Fitness Exercise with Storage Bag BLACK
Premium Material: Our pull up bars are made of premium iron with powder coating, durable, sturdy, and easy to clean. The base with a special structure is very stable during use. Max capacity up to 100kg/220lbs. Width of Top Bar: 113cm/44inch.
Two Height Level: This pull up bar stand features two height level: 97cm/3.2ft, 200cm/6.5ft. The height can be easily changed according to your own needs. Perfect for men, women, kids, and elders. Distance between dip bars: 60cm/23.6inch
If you are someone that would rather not deal with bolts and doorways, this portable pull-up bar can be a great addition to your home gym. This bar is ideal for someone that is just starting out with learning how to develop their upper body strength with pull-ups. You can get both your pull up and push-ups in a more modified way.
Meaning if you struggle with doing push-ups, you can do your push-ups on top of the bar where your body is at a 45-degree angle. This will allow you to do your push-up much easier. As you get stronger, you can use the bottom bars to increase the intensity of your push-ups.
The same goes for your pull-ups; a beginner would have their body inverted instead of vertical, allowing for easier pull-ups. Made of lightweight steel, it is strong enough to hold a 300 lbs person. You can also bring it with you anywhere. At home, office or on the road, you can take your workout on the go.
Ceiling Mount Pull Up Bar for 8′ Ceilings
Ideal for 8-inch ceilings, this professional-grade ceiling mount bar can support up to 450 lbs. This can be a great addition to your home gym room. Allows for full range motion with your pull-up exercises. Can use a wide variety of workout accessories to supplement your workout routine.
With proper tools, installation is simple, with directions that come with the bar. This ceiling mount bar is tough enough to be used commercially but goes well with any home with its white powder coat finish. With comfortable hand grips, this allows anyone in the family to get in a quick workout and get results.
Regardless if you are a beginner or advanced, you can perform multiple exercises and add accessories along with your workouts.
CFF Wall/Ceiling Mounted Pull Up Bar with 300 Pound Capacity
This bar can be mounted on both the ceiling and wall, allowing for a very stable and secure workout. Turn your garage into a workout space with this durable steel frame pull-up bar. Heavy-duty pull-up bar with a commercial-quality stud-mounted system.
The bar is 46 inches wide and sits about 30 inches from the wall allowing for a maximum range of motion with all your exercises. This durable steel frame supports up to 300 lbs. A little pricey compared to other pull-up bars, so that needs to be considered when deciding to purchase.
The Ultimate Guide to Choosing a Pull-Up Bar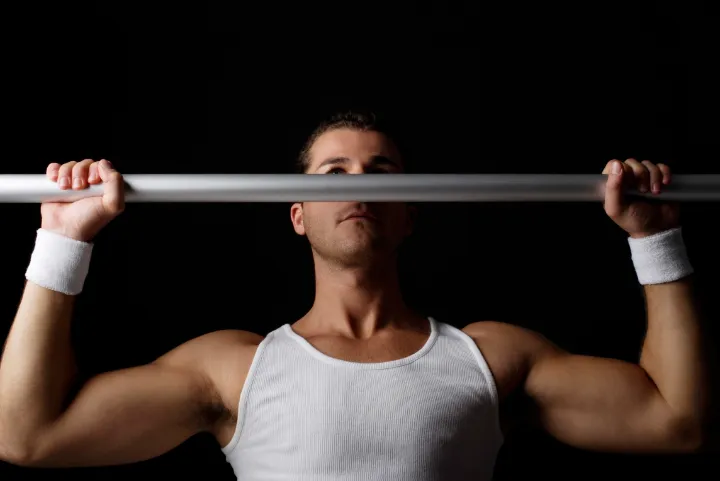 I hope you have a better understanding of which bar will work best for you. After learning what each bar has to offer in terms of your fitness needs, you should be able to select one that you feel will help you reach your fitness goals. Before deciding on which pull-up bar works best for you, you should consider a few things.
Things to Consider when Choosing a Pull-Up Bar
Durability – while performing some of your exercises, you should expect to be in some very vulnerable positions. So making sure your safety is a priority is key. Your pull-up bar should be durable and able to handle the wear and tear that is sure to be put on it with every workout you go through.
Multi-Purpose – making sure you get the most out of your workouts is key to reaching your fitness goals. So choosing a pull-up bar that will allow you to do multiple workouts will save you both time and money on more expensive exercise equipment. You will get better results by working up more than one muscle group.
Portable – do you like to exercise in different areas of the home? If so, then you want to make sure you can take your pull-up bar wherever you go. Also, if you plan on going on vacation and plan on driving, you want to make sure you can take your pull-up bar with you on the road.
Fitness Level – performing pull-ups require a lot of upper body strength, so learning how to build up is important. Therefore understanding where you are level-wise when it comes to your fitness is going to be key when selecting the right bar for you… If you are a beginner, then performing pull-ups will be a challenge. Luckily there are accessories that can assist you as you progress to different levels of pull-ups.
Damage to paint – please be aware that some of the pull-up bars, especially the ones that go on the doorways, can leave scuff marks around the frame. So it is important to be aware of this so that you may protect the paint around your house. Some people put covers around the handles so that it may prevent any marks on door frames. So depending on which bar you select, you will have to keep in mind any marks that may be left due to its use.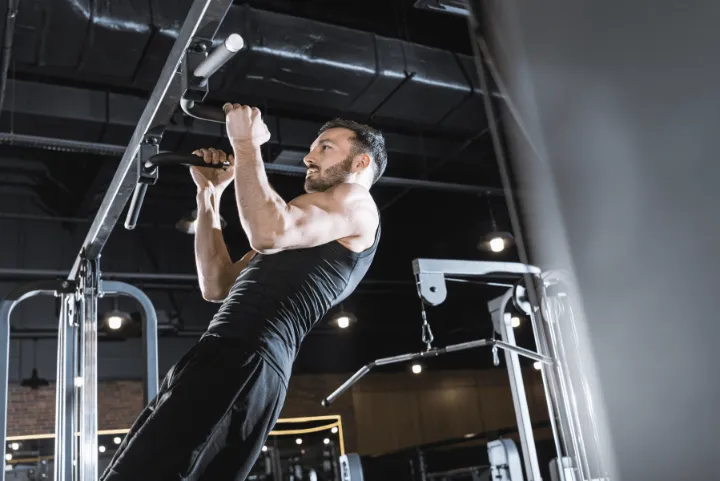 Types of Pull-Up Bars for The Home
As you can see, there are many different types of pull-up bars that fit in different areas of the home. You can have bars that you move from place to place or bars that can be a fixture. So it will be important to have an idea of how you plan on using your pull-up bar during your daily exercise routine.
Doorway Bars
When it comes to choosing a pull-up bar for the home, doorway bars tend to be the most popular way to go due to the convenience of being able to move it around wherever you go. Also, due to its versatility when it comes to doing multiple exercises.
If you are in a rush and need to get in a quick 20-minute workout, you can do a variety of exercises that can help get you the results you are looking for. Doorway bars can be limiting to taller individuals, so keep that in mind when deciding to make a purchase.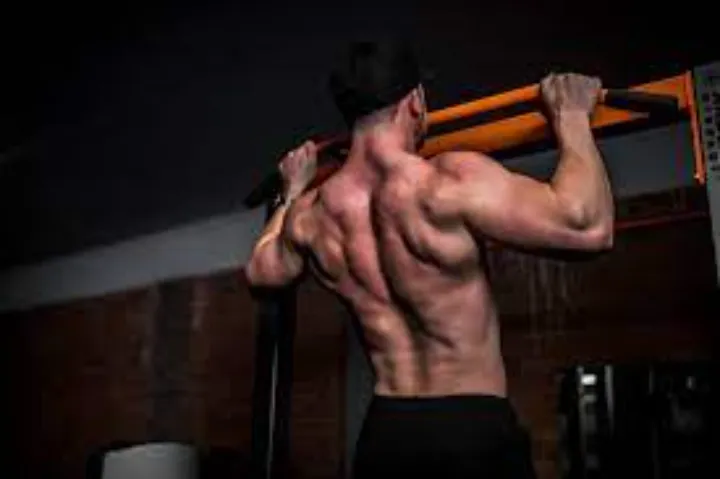 Some find themselves having to bend their knees as they perform pull-ups. Doorway bars tend to be more affordable as well.
Wall Mounted Bars
If you are looking to have your pull-up bar as a fixture in your home, then this is the way to go. They provide more stability as you perform each exercise.
Of course, you have to worry about putting holes into the walls, but if you have a room that is designed specifically for your home gym, then having a wall-mounted bar should be no issue at all.
Ceiling Mounted Bars
Like wall-mounted bars, ceiling bars are designed to be a fixture on the ceiling. Unlike doorway bars, they allow for a full range of motion depending on how tall you are and the height of your ceilings. Ideal for inside your garage or any place with high ceilings.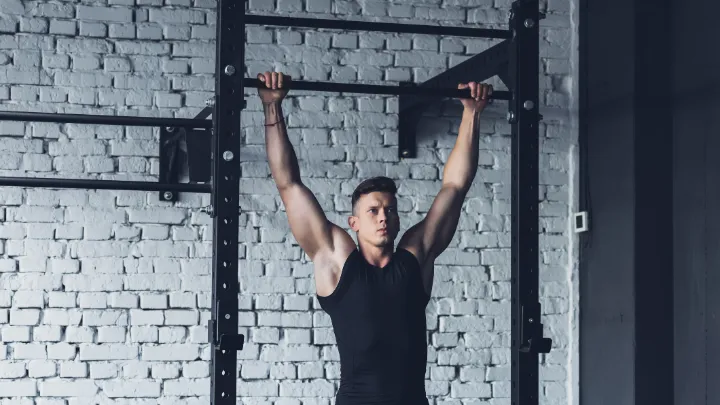 Choosing the Best Pull-Up Bar for Your Home
So if you are someone that is not a big fan of going to the gym or just can't find time to make it to the gym, performing bodyweight exercises isn't a bad way to get your workouts in. It is important, however, to have the right tools to help you get the most out of your workouts.
Pull-up bars are a more affordable option compared to other exercise machines that take up a lot of space and fail to get you the results you are looking for. With a pull-up bar, you are getting the most bang for your buck and getting a great workout as well.
Conclusion
When deciding on the best pull bar for the home, it is important to understand what your fitness goals are and what your exercise routines consist of. Once you are able to know that, then deciding on the right pull-up bar for you should be a fairly easy decision.