Whether you're a former rower or someone that just loves good aerobic exercise, rowing machines are a great tool to use to get in shape. So finding the best home rowing machines for 2018 will be crucial to your fitness success.
Compared to other cardio machines like treadmills, exercise bikes and ellipticals, not only are you working out the lower body but the upper body as well. You get a full body workout which is essential to burning fat efficiently.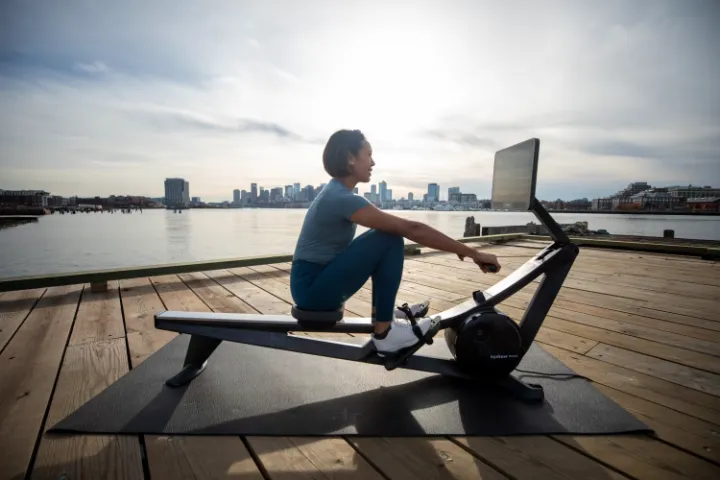 I know that choosing the right rowing machine can be difficult, which is why I am providing my top list of rowing machines for you to look through. But before going through the list, there are a few things you need to consider first.
Top 11 Rowing Machines
Concept 2 Model D
If you're looking for the best rowing machine and the price isn't an issue for you, then you can't go wrong with this one. This machine is great if you're looking for an effective full-body, low-impact workout.
Its flywheel design was created to help keep the noise level to a minimum while also giving you that smooth feel as you row.
So no need to worry about putting added stress on the joints or waking up others around the house.
If that isn't enough, I'm sure you'll enjoy its other features:
This rowing machine includes a performance monitor. This is key to recording your progress as it can accurately compare data for every row.
The machine also includes a 14-inch seat with adjustable footrests and an ergonomic handle. This will allow you to exercise comfortably.
If you're concerned with space, this machine easily separates into two pieces for easy storage. It also has wheels making it easy to move around.
Has a 500-pound capacity and a 5-year warranty.
As you can see, there's a reason why this rowing machine is considered one of the most popular ones on the market. They offer everything you need when looking for a machine. As mentioned earlier, if the price tag isn't much of an issue, then you will love it.
In fact, there are thousands of reviews from users that also think highly of this machine. Not only are they positive, but they are a full five stars on Amazon. If you don't believe me, click the link below to check it out for yourself…
Stamina Body Trac Glider
Sale
If you're in the market for an affordable rowing machine that gives you an effective full-body workout, then you may want to consider this one. Not only is it effective, but the way it's designed makes it seem like you're actually in a boat rowing.
To further explain the way it is designed, unlike other row machines where your hands are close together to hold the handle, the trac glider is a bit different. The handles are at your side, giving you that more natural rowing feel.
And if that has gotten your attention, then you will love the other features it has:
With its adjustable gas-shock resistance, the tension you receive will come from the amount of air or fluid that is compressed within the cylinder or piston.
You also get a monitor with this machine that shows the time, stroke count, and calories burned, allowing you to track your progress as you exercise.
A sturdy steel frame should give you the confidence that this machine will last for the long term, which is key to sustaining healthy habits.
Space is always an issue with any exercise machine. But with the stamina trac glider, no need to worry as you can fold it for easy storage.
What really makes this machine such a popular buy is its affordable cost. If you're on a budget and looking for a way to get in shape without breaking the bank, you can't go wrong with this machine.
Considered one of the most popular buys on amazon, it has thousands of reviews claiming its effectiveness. You should definitely click the link below if you're looking to save some cash and still get a highly effective rowing machine…
Stamina ATS Air Rower
The Stamina ATS has a lot to offer in terms of effectiveness and affordability. I say this because, with its wind-resistance design, it allows pricing to be easy on your budget. Compared to other exercise machines that can cost you an arm and a leg.
With its wind resistance, you can expect a very efficient, smooth row. Allowing you to control the amount of intensity you need to get an effective workout. Whether you choose to go fast or slow, the machine will adjust the level of resistance needed.
Along with its dynamic wind resistance technology, there are other features to look out for:
Multi-function monitor that allows you to track your progress and adjust your routine accordingly. Check your speed, distance, time and calories burned.
Upholstered, padded, sliding seat, allowing for added comfort as you engage in long rowing sessions. Making your workout effective yet comfortable.
Oversized footplates, so regardless of your foot size, you should have a little issue getting your feet secured for an intense workout.
Textured hand grips give you the security that each time you row, you can feel secure even if your palms are sweaty.
It also folds to a compact size allowing for easy storage. It also comes with built-in wheels for easy mobility if necessary. Floor protectors safeguard to protect your home from unnecessary damage.
I will admit that this particular machine offers quite a lot for its price tag. It even comes with a 3-year frame warranty and a 90-day parts warranty. So you are pretty much-guaranteed support for parts, repair or replacement at no additional cost.
So you can have a great sense of comfort when deciding to choose this rowing machine to be a part of your fitness routine. If you're curious as to how others feel about this machine, you can check on Amazon. Just click the link below…
Sunny Health & Fitness SF- RW5515
If you're looking for a rowing machine that provides high-tech features without a high price tag, then you've found it with this machine. Not only are you given the tools to effectively perform your workout, but you can expect to save with this machine as well.
This machine uses a magnetic tension system with 8 levels of adjustable resistance. This will be extremely helpful as you progress through your workouts. The stronger you get. And if that's not enough, there are many other features that make this exercise machine worth a look.
There is a very large LCD monitor where you can easily track your workout stats. It displays time, rowing count, and calories burned.
For added comfort, you get a fully padded seat with non-slip grip handlebars. So no need to worry about discomfort or any slipping while exercising.
As for your feet, it comes with large anti-slip foot pedals and adjustable foot straps. This is for added security which is necessary when increasing the intensity of resistance.
With its built-in transportation wheels, you should have little trouble being able to move it to where you want around the house. Unfortunately, it doesn't fold like other row machines.
As far as noise level goes, row machines that use the magnetic resistance system, tend to have low noise levels. So you should expect a smooth and fluid feel each time you row. So instead of worrying about disturbing others around the house, you can focus on your workout.
If you're still not certain if the sunny & health row machine is for you, you can check out the hundreds of reviews of other users that have used this particular machine. Just click on the link to see what they have to say about it…
WaterRower Natural Rowing Machine
WaterRower Beech Wood Natural Rowing Machine with S4 Monitor
LOW-IMPACT YET POWERFUL WORKOUT - The patented WaterFlywheel gives this rower machine the perfect low-impact workout. This indoor rower targets 84 percent of major muscle areas to let you strengthen your body while raising your metabolism.
SPACE-SAVING - Stores upright; measures 84 x 21 x 22 inches (W x H x D)
If you're more into uniqueness rather than style, then these water-powered row machines maybe just are what you're looking for.
This machine is great for those that are former rowers or are looking for a way to emulate the rowing experience.
By using water as a form of resistance, you will find yourself getting a very natural feel as you perform each row.
Almost as if you were actually in a boat rowing. What also makes this machine a great buy is the fact that it has a very low noise level.
Because it uses a water flywheel, the level of noise you should expect to hear is that of the swishing sound. And because of its wooden frame, the vibrations while using the machine are somewhat dampened. Allowing for a noise-free workout.
Here are some other features you should be aware of:
Series 4 performance monitor that will accurately track the intensity of your workout. Stats like stroke rate, heart rate, and more.
The wood frame is made out of solid ash and stained honey oak, which is great for absorbing sound and vibration.
Wheels allow you to move around with ease, and they can be stored in an upright position.
Although it may not be as stylish as other row machines, its unique wood design shouldn't be underestimated. You should still expect to get an effective workout with its water-powered resistance.
And if you're still not convinced about the effectiveness of this machine, you can check for yourself what others think on Amazon. Click the link below for more detail.
Sunny Health & Fitness SF-RW1205
Sale
For those on a really tight budget but are still looking for a way to use rowing as a form of exercise, this machine is perfect for you.
Not only do you get to enjoy the rowing motion as exercise, but you also save money in the process.
Unlike your typical rowing machine, this machine doesn't use your typical rowing mechanism as a form of resistance.
There is a bar in between your legs with handlebars that you pull. Other features it has:
12 levels of adjustable resistance, so you're still able to progress through your workouts as you get stronger each time.
Comfortable smooth running seat, allowing for an easy glide as you pull.
Pivoting foot plates for added comfort and security.
Electronic monitor that will display the time, total count, and calories burned.
As mentioned earlier, this is a perfect rowing machine to get if you are on a tight budget but need that full-body cardio workout the rowing motion provides. With its multiple levels of resistance, you can still find ways to increase the intensity of your workouts.
What's even more amazing is the number of reviews you will find on this particular machine on Amazon. Hundreds of quality reviews from users sharing their experience with this machine. You can check for yourself and see if this is the right one for you. Just click the link below.
Concept 2 Model E Indoor Rowing Machine
This rowing machine could easily be in the top 5 and probably should be. But I like to factor in the price in these rankings, and for many, that is a huge factor. But for those that can afford it, you would be getting an excellent rowing machine.
With its flywheel design, the noise is greatly minimized while still giving you a smooth feel each time you row. This stylish machine can make anyone feel confident as they go about their workout for the day.
Other features include:
A performance monitor 5 gives you a very accurate reading of your workout stats. It also allows you to compare stats for each row with an adjustable monitor arm.
The seat can adjust up to 20 inches high. Giving you a chance to get comfortable as you exercise.
Nickel-plated chain, along with adjustable footrests and an ergonomic handle, gives you a sense of security each time you pull.
You can separate the machine into two pieces allowing you to easily store it in most places in the home. It also comes with wheels for easy mobility.
Compared to other rowing machines, the Model E is considered a luxury model, and for a good reason. It has everything you need to enjoy a full-body workout while sitting down. Aerobic exercises are good for the heart, but you also work out other parts of the body.
Durability isn't an issue with this machine, so you should expect it to last a long time. Now I would never tell you to go beyond your budget, but if the cost is within your range, then you will have zero issues enjoying this machine.
If you need further proof as to how effective this machine can be for your daily workout routine, then you should definitely check out Amazon to see what others are saying about it. Just click the link below to learn more.
Stamina 1215 Orbital Rowing Machine
Stamina 35-1215 Orbital Rowing Machine with Free Motion Arms - Smart Workout App, No Subscription Required
SIMULATE REAL-WORLD ROWING: The Stamina 1215 provides the calorie-burning, strength-enhancing, heart health-boosting workout you desire in the comfort of home. The unique free motion rowing arms are designed to simulate the feel of rowing on an actual body of water.
OTHER PERFORMANCE FEATURES: Turn the tension dial to set your resistance level on the smooth, quiet hydraulic-powered system. Keep track of your workout metrics on the large, easy-to-read LCD monitor, including time, distance, speed, calories burned and stroke count.
Many of these rowing machines tend to be extensive in length. So if you're looking for a more compact machine with the same level of effectiveness, then you've found it with the orbital rowing machine.
What makes this machine such a popular pick is the fact that it's so compact. Finding a place to put it should be relatively easy. Not only is it compact, but you still get the full-body workout that is necessary when it comes to getting in shape.
Along with its compact size, you also get other features as well:
Smooth hydraulic cylinder resistance with adjustable tension control. Allowing for the full range of motion that mimics the rowing on actual water.
Single-button monitor that shows a variety of stats. Like speed, distance, time, row count, calories burned, and miles rowed.
Thickly padded seats and pivoting foot plates. This will allow you to be comfortable as you enjoy either a short 30-minute workout or a long, intense workout.
There is some assembly required, so definitely something to keep in mind if you are someone that is not fond of having to set things up.
The fact that it mimics the actual movement of someone rowing makes it a very popular pick. Along with its affordable price tag, it makes it worth getting without putting stress on your wallet.
Also if you don't have a lot of space in your home, this machine is perfect for that since it doesn't take up too much space as other row machines would.
It has a decent amount of good reviews, which you can check for yourself on Amazon. Click the link below, and you can find out for yourself what others think of it.
Stamina Avari Magnetic Exercise Rower
Considered one of the more interactive rowing machines on the market. I say this because you get workout programs to help bring your workout to the next level. This is great for those that tend to get bored and need a little bit more challenge during their workouts.
This machine uses a magnetic system which has been known to be virtually silent each time you are rowing. Not only that, but you should expect each row to be smooth and fluid.
Here are some of its other features:
12 workout programs, 6 cardio profiles, 4 custom user programs and 1 heart rate monitor. Giving you variety as you work out to help you stay engaged in your workout.
Fitness monitor to help keep track of your progress as your work out. Keeping track of stats like time, distance, calories burned, strokes per minute, pulse and watt.
The monitor also allows you to adjust the workout time and resistance as your work out for increased intensity.
LCD backlit fitness monitor
Aluminium rowing beam for durability
In terms of features, this machine offers quite a bit. Honestly, I'm a bit surprised that this machine hasn't gotten more reviews than it currently has on Amazon. You can click the link below to learn more.
But in terms of effectiveness, the variety it offers, along with its tracking system, makes tracking your progress so much simpler. Not only that but having 12 workout programs to choose from gives you options on the type of workout you want to perform.
And you don't have to worry about other people working out to your profile as there are 6 profiles to choose from. This helps keep your stats protected as you go about your daily exercise routine.
Stamina InMotion Rower
Stamina Rowing Exercise Machine Foldable
Additional $5 shipping charge applies Row away fat and burn calories Rowing is one of the best exercises for more efficient calorie and fat burning without impact on your joints
Every time you pull back, you're strengthening and toning your legs, arms, back, abs and buttocks
Like the sunny health row machine, the stamina in-motion rower has a bar with handles as a form of resistance. The only difference is it doesn't have 12 adjustable levels of resistance like the sunny health machine.
But this is also a machine for those that are on a very tight budget. It doesn't have all the fancy gadgets you would see in the more expensive units, but it can still get you an effective workout without the high price tag.
Some of its other features include:
Solid steel construction, so you can be sure that it is durable enough to last years of workout sessions.
5 levels of resistance that allow you to challenge yourself as you progress with your workout routine.
Comfortable stitched seating gives you a comfortable feel as you row yourself into better shape.
Pivoting footplates with adjustable closure, giving you that added security each time you row.
This machine can be stood up in the upright position allowing for easy storage in your home. There are no wheels, so mobility will be a bit of an issue. But not too heavy to move around.
As you can see, in terms of fancy gadgets, this machine doesn't have a lot to offer. But if all you're looking for is a good workout at a fraction of the cost, then this machine gets the job done. No need to break the bank for something that can be just as effective as other machines.
It has a decent amount of reviews listed on Amazon, making it a worthy choice for those looking to save some bucks. Take a look for yourself and see what others are saying about how this machine has helped improve their overall health. Just click the link below.
WaterRower Club Rowing Machine
WaterRower Club Rowing Machine with S4 Monitor | USA Made | Original Handcrafted Erg Machine for Home Use & Gym | Best Warranty
THE ORIGINAL WATERROWER - HANDCRAFTED AND BUILT TO LAST - Designed in the mid '80s by Yale and US National Team Rower John Duke. WaterRower continues to combine stylish design, handcrafted workmanship, our unique WaterFlywheel resistance and ethically sourced materials create the world's finest rowing simulator
MADE IN USA - Hand-built in Rhode Island; all timber used in the manufacture of wooden WaterRower rowing machines is sourced from sustainably managed hardwood forests in the Appalachian Mountains. The Club is handcrafted in solid Ash and stained for color
Considered one of the more popular types of rowing machines, this water-powered rower is attractive to many due to its wood-like construction. This is usually ideal for those that like to participate in outdoor rowing activities.
Because of its patented water flywheel design, it is made to emulate the same dynamics one would feel as if they were on a boat moving through water. Giving you one of the more naturals feels without actually being in the water.
Some of its other features include:
Flywheel sits in the enclosed water tank, providing a very smooth, quiet, self-regulated resistance. Great for anyone the plans on keeping the machine inside the home instead of the garage or basement.
Series 4 performance monitor that will help track your workout intensity, stroke rate, heart rate, and other important stats.
Solid ash construction is designed to absorb typical sounds and vibrations that come with rowing machines.
Stores are in the upright position, so something to keep in mind before deciding to purchase.
If you can pony up the cash, I would highly recommend this rowing machine. The design alone makes it very attractive for those looking for high-quality equipment. In terms of technology, this machine gives you a lot, which should be expected with its price tag.
If you look on Amazon, those who have decided to make the purchase of this machine, have a lot of good things to say about it. If you're interested in reading their review, you can def take a look by clicking the link below. You should be able to find everything you need.
Things To Consider Before Choosing a Rowing Machine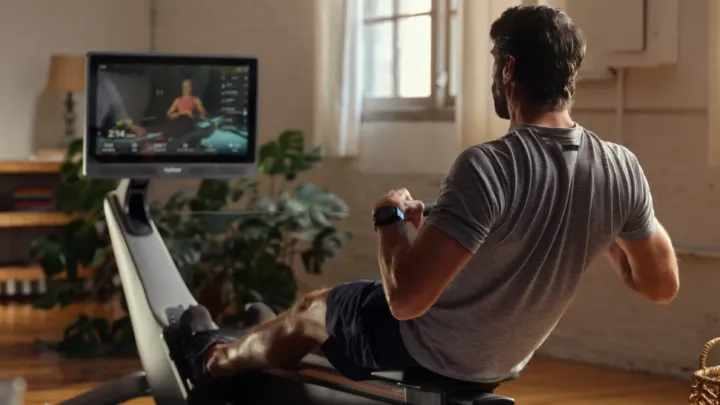 Although your decision to choose which rowing machine is right for you will ultimately come down to price, there are other factors to consider as well. When making this type of purchase, you want to make sure you are getting the best machine to help get you in the best shape.
So here are 3 things to consider:
Space
One of the most important things to consider when deciding to purchase any type of exercise machine is the available space within your home. Most rowing machines tend to be longer in length than width.
Not only do you need to worry about having enough space within your home, but also the type of flooring your machine will be lying on. If you've ever used any rowing machine, some tend to slide a bit when in the rowing motion.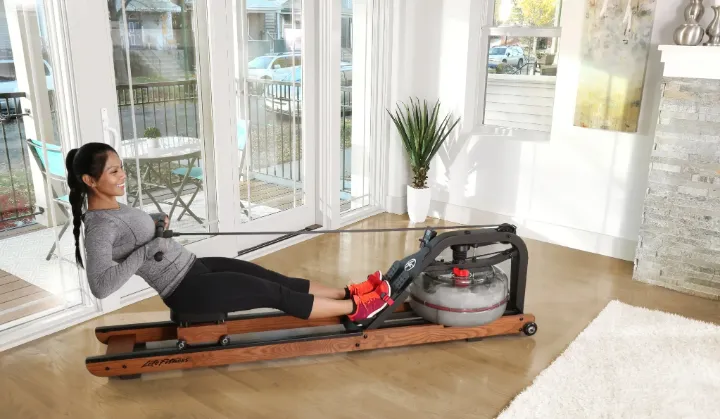 This could cause a bit of damage to your floors. Some machines are better than others when it comes to this issue, so it's important to keep this in the back of your mind when choosing.
Most users tend to have their exercise machine either in their basement or garage, depending on the setup of their home. These are ideal places to put a machine like a rower, where you don't have to worry too much about damaging the floors.
There's usually adequate space that doesn't get in the way of others that occupy the space. As we go through each machine, I will make sure to mention space-wise how it may affect your choice.
Noise Level
If you've ever been to the gym, then you can understand the noise level while working out. You have dozens of people using machines looking to get in a good workout. So it makes sense why it would be so loud in there.
And although rowing machines tend not to be the loudest machines out there, they can cause a bit of disturbance. Of course, this will all depend on where you choose to keep your machine to perform the actual workout.
But if it is kept in a place other than your garage or basement, others may find it annoying hearing the machine as you exercise. Being able to exercise in peace is key to making sure you get an effective workout.
There are some rowing machines that are quieter than others. But it really depends on the type of machine you get since not all rowing machines are the same.
So as you go through each machine I have listed, it's important to keep in mind the noise level the machine you select has as you workout.
Resistance Type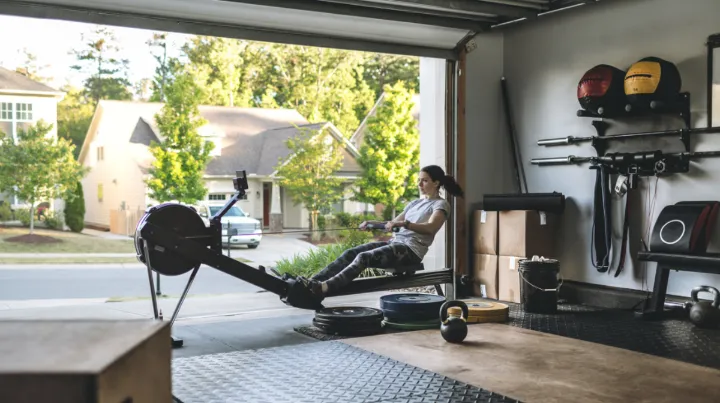 Those that are not that familiar with rowing machines tend to think that most rowing machines are the same. There's a handle with a chain attached to it, pulling at the wheel, causing resistance in a row-like motion.
But those with experience know that there are a few options to choose from when it comes to the types of rowing machines available. You have your hydraulic rowing machine, flywheel rowing machine, Magnetic resistance, and water-powered rowers.
Each type offers a different type of feel when it comes to resistance. Some are considered to give you a more realistic type of feel as far as rowing goes. So if you are a former rower, this factor may be very important for you.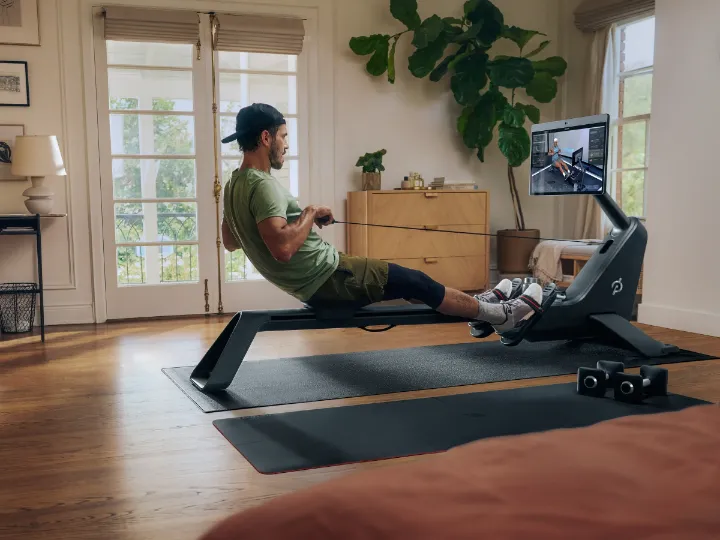 If not, then other factors like noise level, which both the magnetic and water-powered machines are thought to have very low noise levels.
Knowing this will help you as you go through my list below to find the best rowing machine for you. I will make sure to list these features in the specification details for each machine.
Final Thoughts
As you can see, there are a variety of rowing machines to choose from when deciding which one will work best for you. Making sure you factor in things like size, noise level, resistance type, and price, of course, you should be able to make a sound decision.
Regardless of which one you choose, each machine on this list should be able to give you a pain-free but effective workout. Not only will you be working out your upper body with each pull, but you all get in some lower body work as well.
And maybe the best thing about row machines is that they add very little stress to your joints. So if you are someone that suffers from any joint pain, instead of getting your workouts from other exercise equipment, row machines are a great option.
Well, I hope you enjoyed this guide on finding the best home rowing machines for 2023. If you have any questions or thoughts about it, please feel free to share them below.