Every woman needs a boost before they hit the gym and whether your training involves lifting weights or more of a cardio-based plan, a pre-workout for women can contain all the most beneficial ingredients for reaching your goals. There are plenty of things to consider before you start looking for the ideal product as the right caffeine content and knowing what ingredients to avoid is important.
We have created a list of the best pre-workouts for women and each one has been designed with the female form in mind. Everything from the best for increased power to the best tasting has been considered. To make sure you end up with a safe and effective pre-workout, take a look at our list.
Reviews
Best Overall: RevLabs ENAMOUR Women's Pre-Workout for Her
No products found.
Because it ticks all the right boxes, this is the best pre-workout for women and it even comes with a 60-day money-back guarantee. It contains everything you need to get the most out of your workout so expect to get results because of the ingredients that help you to burn fat, experience increased energy and gain lean muscle. The green tea extract is a gentler way of getting the benefits of caffeine, what sweetens the deal is that it helps to burn fat.
Because the beta-alanine dosage is sensible you get the benefit of greater endurance so you can train at a higher intensity for longer. We like the inclusion of L-carnitine as this helps to use fatty acids as fuel so you can make the most of what your body already has. Vegan-friendly and made with a serious trainer in mind, this is an excellent pre-workout for women who want a little help to get results.
PROS:
Works as a pre-workout, and fat burner, and helps with recovery
Includes a 60-day money-back guarantee
Vegan friendly
Good dosages
Best Stimulant-Free: ProSupps Dr. Jekyll Stimulant-Free Nitric Oxide Boosting Pre-Workout
Because of its lack of caffeine, this is the best stimulant-free pre-workout for women and a favorite for a lot of men as well. This means it is going to be well tolerated by most and some ingredients are designed to promote blood flow and get it to the important places during your workout – your muscles. It has been tested for banned substances and is caffeine-free and contains zero sugar.
We like to see a 100% satisfaction guarantee which is what ProSupps give you with this product. If you don't get the results you want within 30 days you can ask for your money back. With no proprietary blends in sight, you get to see all the ingredients and dosages so you can see that the Beta-Alanine content is optimal for prolonged endurance and there is everything you need to work up a sweat without having to worry about jitters.
PROS:
Caffeine and stimulant-free
Zero sugar
Comes with a 100% satisfaction guarantee
No proprietary blends
Best All-In-One: RSP AminoLean – All-in-One Pre Workout
Because it has benefits for your cognition, fat burning, and gym session, this is the best all in one pre workout for women. The reputable brand RSP has ensured that this is suitable for both men and women so adjust the dosage to ensure you get the benefits of its natural caffeine-fuelled formula. The green tea extract ensures you get a smooth energy boost in the gym without the crash that can happen with other variants.
You can use it any time you need an energy boost and with 5 g of amino acids, you get an enhanced recovery after the gym when your muscles need it the most. The likes of green coffee beans have been included to help with weight management as it helps to prevent the body from storing as much fat.
We like that there are 0 sugars in this formula and there are even ingredients to help you concentrate in the gym. With a variety of flavors, you can choose from fruit punch, green lemonade, passion fruit, and more.
PROS:
Green tea extract for a smooth energy boost
5g of amino acids for better muscle recovery
Includes cognitive enhancers
No jitters
Zero sugars
Best For Strength: Pre Workout, Best All Natural Keto PreWorkout Supplement. PURE POWER
Pre Workout, Best All Natural PreWorkout Supplement. Pure Power, Healthy Pump, Clean, Keto Vegan, Paleo, Pre Work Out Powder for Men & Women, Strength & Energy - 390g Raspberry Lemonade
ALL NATURAL 100% KICKASS PRE-WORKOUT: Get Serious Strength, Explosive Power and Max Your Mass
REVOLUTIONARY! DUAL CAFFEINE FORMULA: Immediate and Lasting Energy, No Jitters , No Crash!
There is a reason this product is called pure power as it has everything you need for increased muscle mass. The combination of creatine and Asian ginseng root extract ensures it gives your muscles a boost as you make your way through the weights. There is no filler in this product so expect no artificial colors and well-selected caffeine which won't result in a crash or jitters.
It also contains herbal nootropics to keep you focused as you train and it is also vegan-friendly and made in a GMP-certified facility. The green tea content ensures it is also good for burning fat so it works with your body as you work up a sweat. The fact that it is all-natural is also reassuring and the 30 servings you get to ensure you have enough to power you through plenty of workouts.
PROS:
Good creatine content
No artificial colors
Natural formula
Contains 5 herbal nootropics
Best Taste: Batch 27 Pre-Workout Powder
Batch 27 Pre Workout Powder - 8g Citrulline, 3.5g Beta Alanine, 2.5g Betaine, 325mg Caffeine | Instant Energy, Focus, Pumps, & Strength | Nitric Oxide Booster & Powerful Preworkout 20sv Cherry Bomb
Clinically Dosed Preworkout Energy Powder - Batch 27 preworkout supplement contains key ingredients to take your workout to the next level. With science-backed L Citrulline Malate, Betaine Anhydrous, Beta Alanine, & Caffeine, this pre workout energy drink will deliver every time.*
Clean Energy, Insane Pumps, & No Crash or Jitters - Our scientifically formulated, two-stage sports performance drink ensures you get the best results from this long lasting, energy boosting preworkout drink for men. We've also added L Theanine for a smooth, natural energy kick, making this pre workout for women perfect for all sessions!
Although we found this to be the best-tasting pre-workout for women, it also makes its way onto our list on merit via other criteria. The L-Theanine content ensures it gives you a smooth energy boost and the ingredients have been carefully selected to ensure there is no energy crash.
The nitric oxide boosting ingredients help with those muscle pumps and the although the caffeine content might be on the high side for some people, it is possible to reduce the dosage. Gluten-free and with zero sugar or carbs there are 3 tasty flavors including cherry bomb and sour gummy bears that have proven popular.
PROS:
3 popular flavors
Smooth energy boost
Lots of nitric oxide-boosting ingredients

Pre Workout For Women Guide
We all want to unleash our full potential but on the days when you don't feel like going to the gym, a little extra help can go a long way. This is why so many are looking for the best pre-workout for women that will help to go that extra mile or lift those bigger weights. If you aren't sure what a quality product should contain, it can be difficult to make a sensible decision.
Not all products are made with safety in mind so to help you make an informed decision, we have created the following buyer's guide.
What To Look For In A Pre Workout For Women
Proven Ingredients
Any ingredients you cannot find relevant information on or some that are too difficult to pronounce can mean you are looking at a product that is not going to be as safe as you might hope. The best products are those that don't use ingredients that you cannot find out about in medical journals and have plenty of backing for enhancing your workout.
Enhanced Focus
Not all pre-workouts will give you ingredients that have nootropic benefits but they can really help you to stop stagnating in the gym and get on with the task at hand. We've all been guilty of sitting on our phones in the gym so look for a pre-workout for women that contains ingredients similar to L-theanine that keeps you calm whilst increasing focus and alertness.
Sensible Dosages
This is where you need to consider your safety. A lot of the quality pre-workouts on the market are designed for both men and women and while this can be a little difficult to gauge the right dosage, the company should give a clear indication as to how much you should be consuming.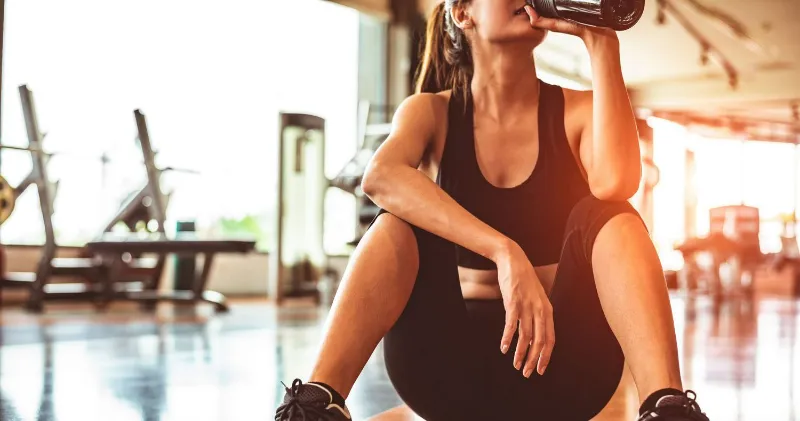 This also relates to the ingredients. Check on the caffeine content for example as many experts agree that 400 mg is a sensible upper limit per day. Although this is not going to be the same for everyone, consider your tolerance to this and other ingredients.
Adequate Testing
This goes for the ingredients as they should be tested for banned substances but also for the manufacturing process. A cGMP USA-certified facility is usually sufficient to reassure you that they are made to high standards.
Flavor
Although flavor options are great, and some companies make pre-workouts for women in a wide range of interesting flavors, you will find a lot of people who are less than satisfied with the taste of some brands. If you think you will find it hard to stomach a pre-workout that doesn't taste as pleasant as you might hope, look for what people are saying about the flavor.
Fat Burning Ingredients
There is no reason why your pre-workout cannot contain some metabolism boosters and other ingredients that turn fatty acids into energy. These are great for shedding some extra pounds so as you work hard, your supplements do too.
Amino Acids
Because they can give your muscles a boost and help to fight fatigue, BCAA's are a popular ingredient in a pre-workout for women. They enhance your muscular performance and prevent them from breaking down.
Money-Back Guarantee
Because pre-workouts are part of a results-based business, a lot of companies include a satisfaction guarantee. Most of the time this is around 30 days which gives you ample time to see if their product has had the desired effect. Some companies give you more but anything will mean you aren't at risk of wasting your money.
What Is A Pre Workout?
Technically a pre-workout can be anything from a snack bar you eat before the gym, a banana, or a supplement such as the ones we have reviewed. They usually come in a powder form that you add to water and sometimes milk to take around 30 minutes before you exercise.
Not only do they enhance performance but they help to keep fatigued at bay so you can train at peak levels for longer. Most products contain a mix of ingredients that are ideal for weight training and cardio.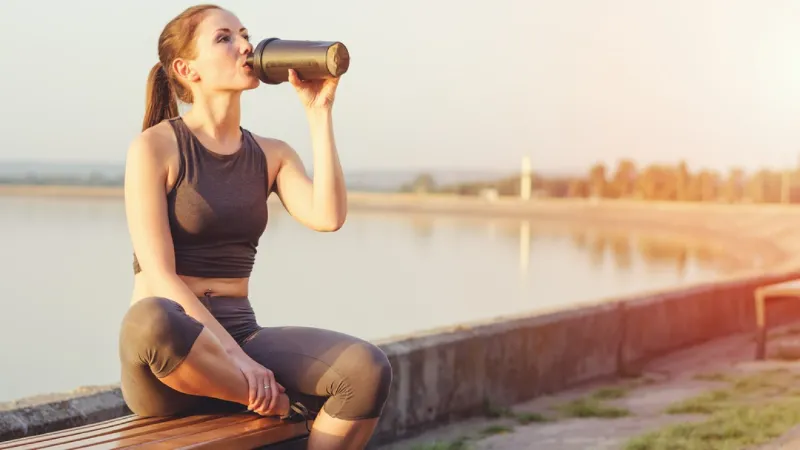 Stimulants Vs No Stimulants
Not everyone gets on with stimulants and whilst there is no guarantee of side effects, there is something to be said for products that do not use stimulants. It is difficult, however, since a pre-workout is designed to give you an extra kick and a simple way of delivering this is via caffeine or other stimulants.
Not only do stimulants help to reduce fatigue but they are more efficient than just having a cup of coffee before you hit the gym. If the product you like does not contain stimulants, look for other energy boosters or ingredients designed to enhance blood flow for bigger muscle pumps and recovery.
You can also choose a pre-workout that contains gentle stimulants or those that are known for being less likely to cause jitters such as green tea extract.
Do Pre Workouts Have Caffeine?
It is not true to say that all pre-workouts contain caffeine although it is an ingredient that features most commonly. Because of its ability to provide an effective energy boost, many pre-workouts include it as part of their formula.
A cup of coffee contains around 95 mg of caffeine so if your pre-workout of choice has around 300 mg of caffeine per serving, it is the equivalent of 3 cups.
How Long Does A Pre Workout Last?
Generally, a pre-workout should last for anywhere between 1 – 3 hours depending on the product. However, if taking the product will result in a sharp increase in your regular caffeine intake then you might want to start with a smaller dosage and work your way up.
What Are The Side Effects of Using A Pre Workout?
If you choose a reputable brand and adhere to the recommended dosage instructions then you shouldn't experience side effects. This being said, many products you try for the first time can cause your body to react differently from others.
The most common side effects of using pre-workouts can include diarrhea, vomiting, cramps, and jitters, as well as more serious reactions such as cardiac arrest. Make sure you read the label and choose a product with sensible dosages.