Being able to carry everything you need for a gym session means you don't have to borrow equipment and can always fit spare clothes, towels, and protein shakes should you wish to. The best gym bags for women look great but are also practical and capable of carrying all your accessories so there is no excuse to skip the gym. Most of them have plenty of small pockets and neat features but what do makes the best gym bags for women different?
We have compiled a list of the better products on the market which are all favorites of women new to the gym, instructors, pros, and everyone in between.
Reviews
Editor's Choice: Boost Sports Gym Bag with Wet Pocket & shoe Compartment for Women
These excellent bags won't break the bank and offer plenty of storage making them the ideal gym bags for women. Using high-end Oxford fabric they are breathable and resistant to wear and tear. The strap has a comfortable padded area to take the strain off your shoulder and they are so versatile you can use it as an overnight bag or take it camping.
There is a shoe compartment on the side so you can keep an odor away from the rest of your clothing as well as a wet towel pouch so everything else can stay dry after a swim or hot yoga session. What stands out most is the value you get as it is a fraction of the price of other brands and you still get everything from a side pouch to a durable leather bottom.
PROS:
Good value
Side pocket for shoes
Space for wet towels
Leather bottom
Best Value: Vooray Iconic Duffel Bag, Weekender Bag, Gym Bag for Women (Guava)
We love this gym bag for women because not only does it have tonnes of room to fit in bulky towels and a change of clothes but it looks great. Also, the appealing design of the duffel-style bag means it would not look out of place n virtually any setting so no one needs to know you're carrying your gym equipment. A lot of women comment on the additional spaces such as the side zip pocket and the phone slot that is hidden out of sight but also allows convenient access.
With a 27-liter capacity, it can easily double up as an overnight bag and because the exterior is made from 100% polyester, it is durable enough to last a long time. The shoulder strap is adjustable and although others are padded and a little more comfortable when the load is heavy, this remains an attractive and good-value gym bag for women.
PROS:
Large 27-liter capacity
Looks great
Has a zipped side compartment
Doubles up as an overnight bag
Best For Yoga: Kindfolk Yoga Mat Duffle Bag Patterned Canvas with Pocket and Zipper
With a design that makes you want to look twice, this is not only one of the best gym bags for women, but it is also ideal for Yoga. This is because of the length of the bag as it can easily fit a yoga mat, other equipment, and a change of clothes. Kinfolk also donates $1 of every purchase to end slavery and sex trafficking so you get the sense that it is made by an ethical company.
They can fit a mat of up to 26 inches wide and it is made from animal-friendly leather and features a zipper pocket for phones and keys. You can organize your belongings in an included pouch and it is fast becoming one of the most popular gym bags for women thanks to its durable materials and well-thought-out design.
PROS:
Ideal for yoga
Can fit a mat of up to 26 inches wide
Features a zipper pocket
Good value
Best For Swimming: Speedo Unisex-Adult Large Teamster Backpack 35-Liter
Anyone who likes to go to the gym to swim or enjoys a dip at the end of their workout will appreciate the room and functionality of Speedo's 35-liter backpack. There is plenty of room for your workout clothes and towels if you are looking to fit a trip to the gym in your lunch break and it feature a removable dirtbag to keep any wet belongings separate. You also have a raised 15-inch laptop sleeve so if you are on your way home from work you can keep it safe and out of the way of any damp items.
Everything from the zippers to the materials used on the exterior is durable so expect an abrasion-resistant gym bag with 15-inch shoulder straps that have a good amount of padding to ensure it is comfortable to carry in and out of the gym.
PROS:
35-liter capacity
Includes removable dirt pouch for wet items
Raised 15-inch laptop sleeve
Durable materials
Most Versatile: Nike Women's Gym Club Bag, Black/Vast Grey, One Size
For many people, this is the style of gym bag for women you picture when looking for a new one. The durable materials ensure everything inside is well protected and it has a rugged feel so it will last for many trips to the gym. A dual zipper seals the main compartment to keep everything safe and secure. Inside there is an internal divider to keep items separate and on the outside, the heathered material looks great so you can step into the gym in style.
There are plenty of pockets for small items as well as an easy-access storage area on the outside so you can grab your gym pass as you pass the barrier and get ready to hit the treadmill or weights.
PROS:
Lots of room
Attractive style
Lots of compartments
Best For CrossFit: King Kong Backpack II – Military Spec Nylon Gym Backpack with Expandable Pockets
With room for everything from your water bottle to your gym shoes, a lot of people consider this to be the ideal gym bag for women who do CrossFit. Made from tough military-grade nylon it is durable and they say it is virtually impossible to rip. The 1000D Nylon is both water-resistant and tough with expandable pockets that help to keep your accessories such as a water bottle or shaker safe.
Everything from the buckles to the shoe compartment is designed with durability and practicality in mind so you will have no problem making this your gym bag for years to come. It even has a padded sleeve for a 15-inch laptop so if you are on the way back from work, there is no reason why you can't get to the gym.
PROS:
Includes shoe compartment
Water-resistant
Plenty of space and durable materials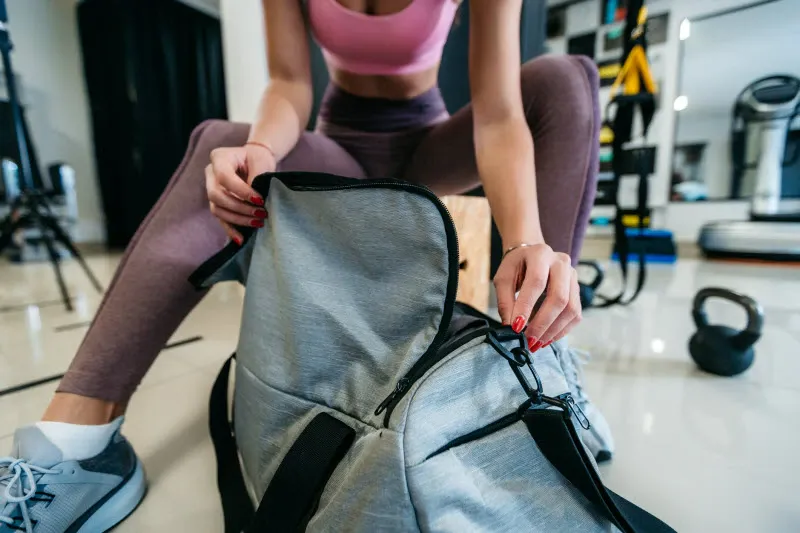 Gym Bags For Women Guide
A trip to the gym can mean anything from a bit of cardio, HIIT, CrossFit, a swim, tennis, weights, and just about anything else. Because of this, you need a bag that can be used for different types of equipment. The best gym bags for women are durable and have plenty of storage but it can be difficult to find a quality product with so many pretenders on the market.
To help you avoid an embarrassing situation where the strap of your gym bag breaks or a supposedly waterproof area leaks onto your laptop, we have created the following buyer's guide.
What To Look For In A Gym Bag For Women
Plenty of Room
Above all else, the gym bag you are considering needs to have a roomy main compartment. It can have all the side pockets in the world but if it can't fit your yoga mat and that is its main purpose, you will be wasting your money. Consider what you will be using the women's gym bag for and then you will know how much you need to fit.
Durable Handles/Strap
Being able to carry your women's gym bag comfortably will be down to having a well-made handle or strap. The better products will have a bit of padding in this area or give you the option to hold it rather than sling it over your shoulder.
Different Pockets and Compartments
Most of reputable brands give you additional spaces to store your items as it is important to be able to find your keys easily or grab your gym pass as you get to the barrier in reception.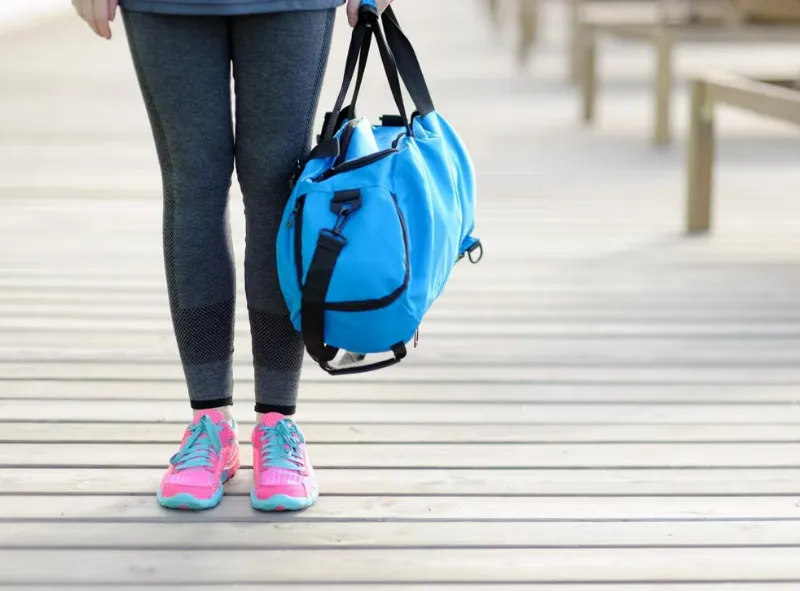 Separate Area For Wet Items
After showering at the gym you want to b able to keep your towel in a different area from your other clothes and especially your laptop. The best gym bags for women will have a separate area where you can seal wet clothing and towels or a dirtbag that you can keep them in.
Laptop Compartment
Because a lot of people like to go to the gym on their lunch break or on their way home from work, it is important to have an area to keep your laptop where it is safe and secure. Some come with a 15″ compartment to keep your laptop dry and away from any wet items such as towels.
Ventilation
Some bags are made from a breathable material, others have a meshed area, whilst all of them should have ventilation holes. Gym equipment can get smelly, and there"s no way around it so to keep your bag from having to live outside, buy a product with adequate ventilation.
Style
This is entirely up to you but the good news is that there are plenty to choose from. The better products aren't always the ones with a floral design as it depends on what you are into.
Also, you have to consider the shape and type of bag you like. Any gym that you have to cycle to might mean you need a backpack-style gym bag, the same goes for if you want to take it camping from time to time. If you are carrying lots of equipment or spare clothes then a duffel bag has a large main compartment and these are also popular for carrying yoga mats as well.
The duffel bag style also doubles up as a good option for a weekend bag.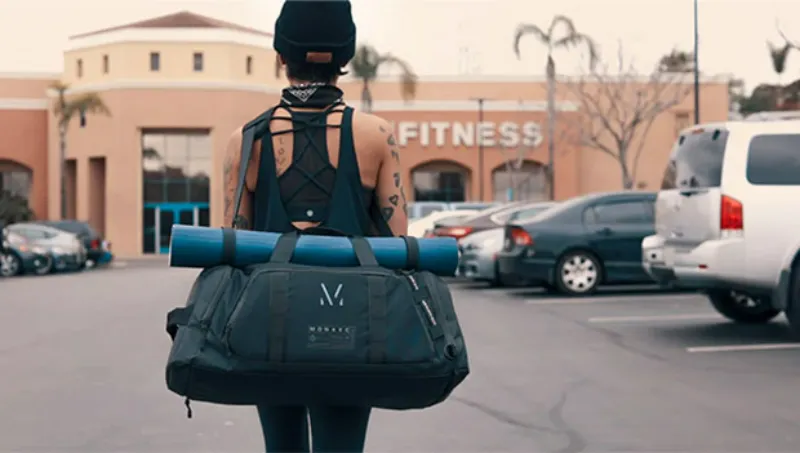 What Are Some of The Items To Keep In A Women's Gym Bag?
We all forget to put those essential items in our gym bags but there are also those things you never think to keep free. Some of the most essential items to make sure you always have included the following:
Spare Headphones: Even an old, worn pair can help save you from the monotony of a treadmill without music, arguably the most important item to keep in a side pocket.
Spare Socks: The comfort of putting on clean, dry socks is not to be underestimated, especially if you have really pushed yourself and have to get back to work.
Odor Balls: This might be the one item you hadn't thought of but it can make your bag smell heavenly or just much better than it would without them.
Reusable Water Bottle: Better for the environment and essential for any workout, stay hydrated, and give it your all.
Gym Clothes: It seems like a silly thing to suggest, but you'll be surprised.
Towel: Not everyone showers at the gym but if you like to have the option or just want to wipe off the sweat, don;lt forget the towel.
Shower Bag: This includes all the essentials such as deodorant, shower gel, and shampoo. Never be caught short without these.
Dry Shampoo: If you don't have time to wash your hair but you fear it might need a spritz, dry shampoo can be a lifesaver, especially if you are looking to go out after the gym.
A Snack: Some sort of protein gives your body the fuel it needs to recover from a workout. Even if you are looking to burn fat, it is a sensible idea.
What Are Gym Bags Called?
You can call a gym bag what it is – a gym bag but otherwise, many people call the typical style a duffel bag.
How Much Do Gym Bags For Women Cost?
With so many options on the market, you don't have to spend a lot to get good value but if you want to add a little flair and style as you walk in and out of the gym then you might have to pay a little more.
Generally, you can buy a decent women's gym bag for around $25 but for extra compartments, more eye-catching design, and durability, expect to part with $40 and above.