With what seems like endless possibilities, it is a great idea to have quality dumbells for at-home use. Even the frequent gym go-er can benefits from a little home gym time in between sessions and when you know how to use them correctly you will find there are some great products for building and toning muscle.
There is a lot to learn though, with some products being more durable and suitable than others which is why we have created the following list of the best dumbells. Each product has something different to offer and there is everything from good value to gym-quality dumbells. Whether you want a set, something small and easily portable, or heavy-duty dumbells, we have found the best available.
Reviews
Editor's Choice: Bowflex SelectTech Adjustable Weights
Bowflex SelectTech 552 Dumbbells (Pair)
WIDER WEIGHT RANGE: Each dumbbell adjust from 5 to 52.5 lb. in 2.5 lb. increments up to 25 lb.
TURN OF A DIAL: Select the weight you want with the turn of the dial – no more picking up 15 different dumbbells to give you the results you want.
Easily the best dumbells for your at-home gym there are easily adjustable to give you a wide range of possibilities. You can change the weight in 2.5 lb increments to tone or build and they can be made as light as 5 lbs each or as heavy as 52.5 lbs. They seamlessly adjust from one weight to the next so there is no messing around and because of the compact design, you save lots of space on having to find room for multiple sets of dumbells.
This gives you 15 sets of dumbells in one convenient package and it comes with a two-year warranty which compared to a lot of other brands is pretty generous. The initial investment might seem a little pricey but it won't take long for you to reap the rewards and if you don't go to the gym, you will have saved money within a few months. You can use them alongside the Bowflex workout app that gives you plenty of suggestions and ideas for using the dumbells and with durable molding for a quieter workout, these are easily the best dumbells.
PROS:
Up to 52.5 lbs per dumbell
Adjustable weight
Saves space
Comes with a two-year warranty
Includes storage trays
Best For Toning: WF Athletic Supply Dumbbell Set with Storage Rack
These are a popular women's dumbell set for at-home use and come with a storage rack to ensure they can be kept out of the way. You get to choose the number of sets you want with every purchase with 20 lbs up to 60 lbs options. With an iron core and dipped in neoprene to add to their durability they are comfortable to hold and give you a good amount of grip to tone at home.
The hex-shaped heads prevent them from rolling which can cause accidents and a lot of people use them for their HIIT training regime or even hold them whilst walking for a tougher workout. The pastel colors look great but you can also buy them in a slick black design and there is plenty to like about them which is why they are popular with beginners.
PROS:
Neoprene coating makes them durable
Come with a storage rack
Hex-shaped heads stop them from rolling
Best Powerblock: PowerBlock EXP Stage 1 Adjustable Dumbbell Set (1 pair)
PowerBlock EXP Adjustable Dumbbells, Sold in Pairs, Stage 1, 5-50 Lb. Dumbbells, Durable Steel Build, Innovative Workout Equipment, All-in-One Dumbbells, Expandable with Expansion Kits
ADJUSTABLE DUMBBELLS SET: Elevate your fitness and performance with strength-training equipment that adjusts with you. These PowerBlock dumbbells have a range of 5-50 pounds per hand, an open design handle, and easy weight identification.
COMPACT & PORTABLE: The adjustable, convenient, and compact dumbbells provide innovative strength training for an easy-to-use solution. Bring the workout with you anywhere. Dimensions are 12" L x 6.5" W x 6.5" H
For many people, the ease of transitioning between heaviness makes the power block design the best dumbells for at-home gyms. The weight range is good as it gives you between 5 – 50 lbs to choose from so you can use them for longer sets or gaining muscle. You can go up in increments of 2.5 lbs and there is also the ability to expand it to 70 and 90 lbs with additional purchases.
Essentially when you buy this product you are saving space on buying 16 pairs of dumbells which is what makes them so popular. Because of the open draft design of the inside, it allows for a wide range of motion with plenty of grip from the rubber handles.
PROS:
Adjustable weight between 5 – 50 lbs
Can be increased in increments of 2.5 lbs
Saves space
Easy to move between weights
Most Versatile: Yes4All Adjustable Dumbbells 40, 50, 52.5, 60, 105 to 200 lbs
These are some of the most versatile dumbells for at-home gym use and give you plenty of options in terms of how much weight you can use for curls and lifts. They look like your typical dumbell set and although the star locks can be a little fiddly when changing the weights they are reliable and stay in place well. Yes4All has also ensured these are good value as they do not cost as much as some of the other brands on our list.
We have taken a look at the 40 lb version but you can get them in larger weights such as 50, 60, 105, and even 200 lbs with connector options as well. The chrome handles have a grippy texture and a sturdy feel to them and there is everything you need for the likes of lateral curls, shrugs, one-arm dumbell rows, and more.
PROS:
Available in different weights
Adjustable via the star lock
Good value
Rugged durability
Best For Heavy Weights: Merax Deluxe 71.5 Pounds Adjustable Dial Dumbbell with Weight Plate
Many people will tell you the quality of these dumbells makes them a bargain at the price and they offer a wide range of weights for a serious lifter. You can move in increments of 5.5 lbs and go from 11 lbs to 71.5 lbs making them heavier than a lot of the other options. They use a dial system that makes it easy to move up and down the weights to give yourself a complete body workout.
This gives you the equivalent of 12 pairs of dumbells and they have an anti-skid handle to provide plenty of grips. There is a base to hold the dumbells when not in use so they won't mark your floor and are shipped individually so be aware that they may arrive separately.
PROS:
Anti-skid handles
They give you 11 lbs to 71.5 lbs of dumbells
Easy dial system to switch between weights
12 weight increments
Best Affordable: AmazonBasics Cast Iron Hex Hand Dumbbell Weight – 25 lbs
We have selected the 25 lbs version to look at closer but there is a variety of hex-shaped dumbells for your at-home gym. Choose from 10, 15, 20, 25, 30, 35, 40, 45, and 50 lb versions to build your gym from the comfort of your home and enjoy these cast iron options that offer some of the best value in the niche.
Because the ends are hexagon-shaped they stay in place when in storage and come with a one-year warranty. They are sold individually and are versatile enough to be used for a variety of exercises. Although they are not as durable as some o the others and the coating might start to chip a little sooner, you are getting great value as they cost a fraction of the price of a lot of the other dumbells.
PROS:
Good value
Sturdy construction
Hexagon shaped so won't roll around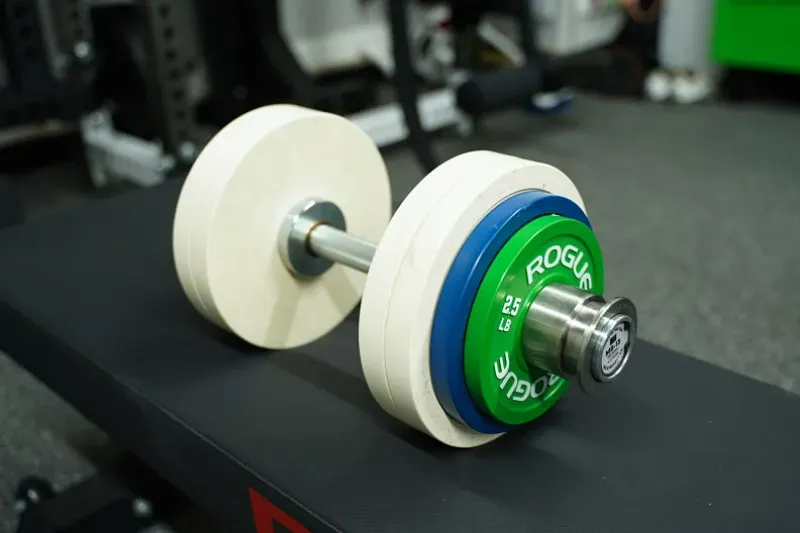 Dumbells Guide
Your fitness routine doesn't have to start and end with the gym. Not everyone has the time to go and the convenience of being able to use dumbells at home means there are fewer excuses for getting into shape. Your health is your wealth and a dumbell workout can go a long way toward making you feel and look great.
This is only possible with high-quality dumbells as some don't give you much in the way of quality. This is why we have created the following buyer's guide, to help make this decision an easy one.
What To Look For In Dumbells for At-Home Gym
Durability
The coating of your dumbells will go a long way toward ensuring they are durable. Some products are better at this than others whilst you can get a stand for your dumbells to rest on which protects them from damage. Adjustable dumbells can come with a weight plate that helps to keep them in place but also ensures they are less likely to get damaged.
Lots of Weight Options
This is only possible with adjustable dumbells or a dumbell set but being able to increase and decrease the weight will mean you do not miss the options that the various equipment in the gym gives you. If you want to increase your muscle mass then you should look for something that allows you to go up the weights when you are ready.
Design
Not everyone gets on well with the PowerBlock type of dumbells as the transition between weights can be a little fiddly. Choose the design that suits you and remember that there are plenty to choose from. Some people prefer the hexagon-shaped heads that stop the dumbells from rolling whilst others prefer the feel of neoprene in their fingers.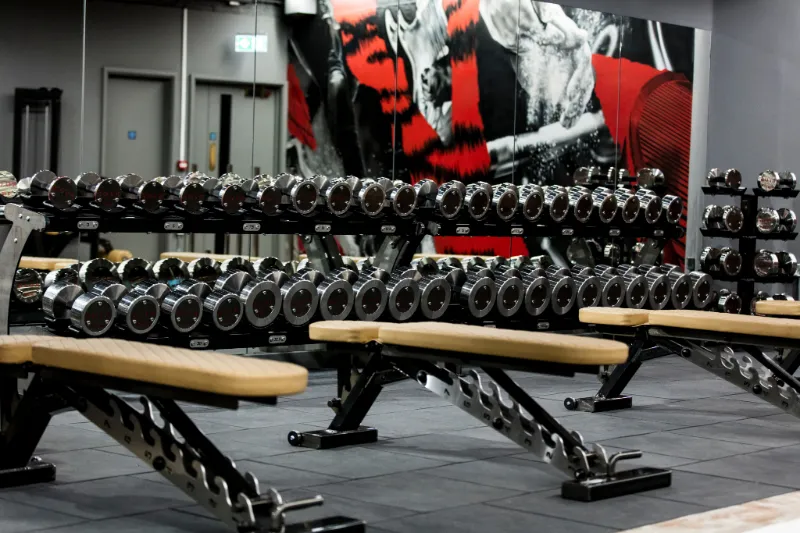 Anti-Skid Handle
The handle is important to your comfort, especially as you increase your weight. Some have a grippy texture whilst others are made from rubber to ensure you get the right amount of grip. Above all, go for the material that feels best in your hand.
Easy Storage
Not everyone wants to leave their dumbells lying around the room which is why storage is so important. If you do not have a specific gym room then you might wish to slide your dumbells under the bed or keep them in a cupboard. The best option for storage is the adjustable dumbells which save you from having to store multiple sets of dumbells.
Different Types of Dumbells
Beginners
These tend to be lower in weight and are made with a softer coating such as neoprene. You will often see joggers running with these in hand or a speed walkers using them to tone as they go.
A lot of the time they will come with a stackable tower to make them easy to store and because you might find yourself moving up the weights quite fast they often come with different-sized dumbells.
Because it is important to concentrate on the form when you start using dumbells, uses lighter weights for comfort before you up the intensity.
Adjustable Dumbells
These are popular options for serious athletes as they give you more options without having to sacrifice space. They don't take up a lot of room and give you the equivalent of multiple pairs of dumbells.
Because of this, they can be all you need to complete your at-home workout routines. The better options offer low-weight increments so to get the most out of the adjustable dumbells and a simple transition. Expect them to come at an expense compared to other options.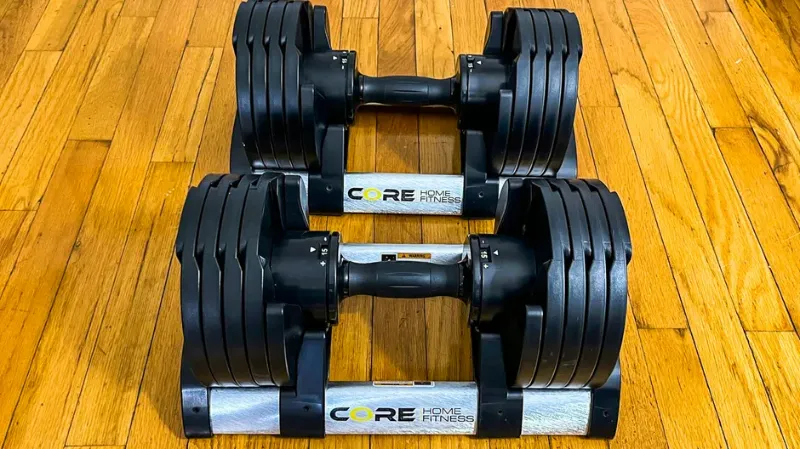 Regular Dumbells
These are how you might expect dumbells to look and some are adjustable with a spinning lock mechanism that secures the dumbells but allows you to take some of the weights on and off when necessary.
Others are standalone dumbells that are one weight, the same as you might see in a gym. You will need more of them to complete different exercises which means they take up more space but they are a more affordable option.
What Are The Best Dumbell Exercises?
Even a single-weight pair of dumbells gives you hundreds of exercise options and if you go to the gym, it can be a good idea to ask a personal trainer for some advice on some of the easiest to do at home. A lot will depend on if you have a workout bench available as this opens up more possibilities.
Some dumbells come with access to a fitness app that can give you some ideas or YouTube is an excellent resource for dumbell workouts.
The great thing about having dumbells is they seem to offer endless possibilities so it doesn't matter if you prefer HIIT or other types of exercise, they can help to tone or build muscle and even lose weight.
Some of the most popular dumbell exercises include curls, incline curls, chest flies, front raises, and shrugs among many others. It is best to look for a complete workout that targets different areas.
Do Dumbells Help Build Muscle?
Ask any expert and they will tell you that dumbells are some of the best equipment for building muscle. Better than a resistance machine, dumbells can be used for an all-over body workout and when you have adjustable weights you can increase the intensity and weight to help you build muscle when you are ready and able.