Whether you are looking to get ready for the next summer in advance or just want to be the best version of yourself, a treadmill for under 1,000 can make a huge difference to your life. Not only are there some quality products available with numerous settings, quiet operation, and that doesn't take up a lot of room, but having 1,000 to play with gives you the option of buying a top brand.
Some people would say this is a way of finding a cheap treadmill but our list of the best treadmills under 1000 shows that you can still get the likes of Bluetooth connectivity, lots of speed and incline settings, and tonnes of other features.
Reviews
Editor's Choice: NordicTrack T Series Treadmills (6.5S & 6.5Si Models)
NordicTrack T Series 6.5S Treadmill + 30-Day iFIT Membership
30-Day Ifit Membership Included; Stream Live & On-Demand Workouts On Your Equipment With Global Workouts & Studio Classes; Elite Trainers Adjust Your Equipment (15 Dollar Value).Maximum Horsepower : 3 Horsepower
10% Onetouch Incline Control; 10 Mph Smart Onetouch Speed Control; With Ifit, Your Trainer Auto-Adjusts Your Speed And Incline Through A Smart Bluetooth Connection
You can choose between a 10 or a 5-inch display size for this quality treadmill under 1,000. You can purchase a separate membership to iFit an interactive trainer to help with your motivation or select the best settings for your needs. There is a 10% one-touch incline control to step things up when you're ready and up to 10MPH one-touch speed control so you can fly through the speeds once you have built up your stamina.
The 20 x 55-inch tread belt is a comfortable size that will ensure you have plenty of space to work up a sweat and there is even an integrated tablet or phone holder. with a quiet yet responsive motor, you can run, jog, or walk your way to optimal fitness and it folds away into a compact size for easy storage. You can customize your runs to stimulate certain terrains or just switch it on and go.
PROS:
Compatible with iFit memberships
One-touch speed and incline control
20 x 55-inch tread belt is big
Quiet motor
Best High Capacity: Exerpeutic TF1000 Ultra High Capacity Walk to Fitness Electric Treadmill
This is one of the most impressive treadmills for under 1,000 because it has a powerful motor and a weight capacity of up to 400 lbs. It is designed with those who want to start losing some lbs as it has a maximum walking speed of up to 4 mph. This is great for building confidence and getting into the habit of exercising at home.
The treadmill belt is 20 inches wide so there is plenty of room and the safety handles are oversized at 18 inches long. You can increase the speed by increments of 0.1 mph at a time and the easy to read LCD screen displays time, distance, speed, pulse, and calories burned. Foldable and with a quiet motor it is one of the best treadmills for burning extra calories when you don't know where to start.
PROS:
400 lbs capacity
Wide treadmill belt
Oversized safety handles
Quiet motor
Best Affordable: Weslo Cadence G 5.9 Treadmill Series
One of the most popular treadmills under 1,000 and not because of the price. The value you get is hard to beat and it has a tonne of adjustable settings to choose from. With a weight capacity of 275 lbs and the 2 position manual incline it covers a lot of the basic needs but also has a heart rate monitor. Just place your thumb on the reader for an accurate display of your heart rate.
The blue-backed LCD screen is easy to use and it displays all the essential information you need such as speed, time, calories burned, and distance. It reduces the impact of every step thanks to its cushioning and ensures you can choose from the 6 personal workout options in comfort.
PROS:
Heart monitor is easy to use
6 personal workout options
LCD screen is easy to use
Best Compact: ASUNA Space Saving Treadmill, 8730/G
Sale
SUNNY HEALTH & FITNESS ASUNA Space Saving Treadmill, Motorized with Speakers for AUX Audio Connection - 8730G
EASY-TO-USE DISPLAY: Watch your workout progress in real-time with the 4-window display. View your time, distance, speed, and calories burned all at the same time. Use the integrated pedometer to track your steps during each exercise session.
EXTREMELY PORTABLE: This running treadmill can be easily and securely folded flat with the included folding key. Take advantage of the low-profile design, which makes it easy to slide the machine under surfaces and move it from room to room.
With a powerful yet quiet motor, this is a great option for anyone looking for a treadmill under 1,000. The digital monitor display keeps things simple and doesn't take up lots of room. It is still able to show distance, speed, pedometer, calories burned, and time. It folds down flat to make it easy to keep under a bed and has transportation wheels on the side so it is easy to move into storage.
There is a headphone port and a tablet or phone holder and the sturdy design can hold up to 220 lbs at a time. The running deck is shock absorbent and you can use it for speeds between 0.6 mph to 8 mph.
PROS:
Simple display
Compact design folds down flat
Shock absorbant running deck
Good value
Best For Built-In Workouts: Sunny Health & Fitness Folding Treadmill with Device Holder
Sale
With this treadmill under 1,000, you get to choose from speeds of 0.5 – 9 mph. The running space is big enough for most people although you might find other brands offer a bit more, still 49L x 15. 5W seems like enough for most. The soft drop system means you can take your treadmill out of storage and easily assemble it but what we like is the easy to use handrail controls.
These make it easy to switch the speed or start and stop a workout. You can also choose between 9 built-in workouts and to make running more enjoyable, you can hold your tablet or phone in the storage slot. There is a bottle holder and 3 options for incline, although these need to be adjusted manually.
PROS:
9 built-in workouts
Can change speed between 0.5 – 9 mph
Easy to assemble
Handrail controls
Easiest Installation : Reebok i-Run 3
This compact product comes from the reputable brand that is Reebok, offering one of their best treadmills under 1,000. Every impact is cushioned by an 8-piece elastomer to take the heat off your joints. The LED control area isn't as large or vast as some of the other products on our list but this can be picked up for a fraction of the price of other brands.
It has the capability of going up to 8 mph and is so compact when folded that it can easily fit under a bed. There are two manual incline levels and there is no installation necessary, it is ready to go within minutes of being unboxed. It features an integrated heart monitor sensor and offers 12 preset workouts giving you plenty of options to help get you back to your peak.
PROS:
Compact design
It has speeds of up to 8 mph
12 pre-set workouts
No installation required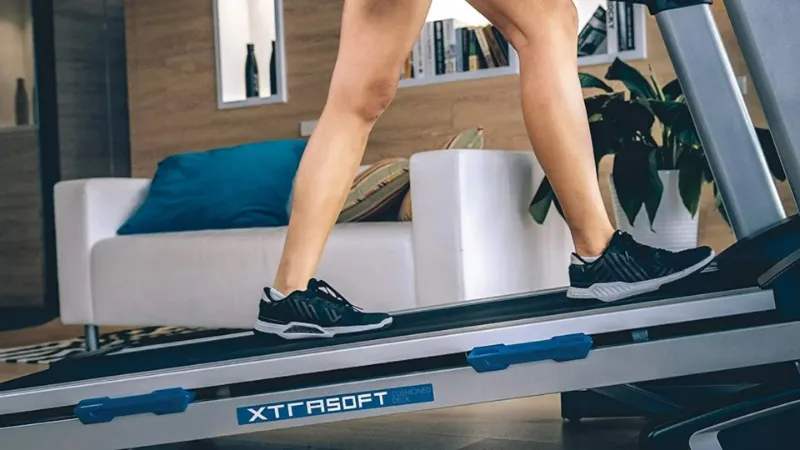 Treadmills Under 1000 Guide
Staying fit can be costly. Not only does healthier food seem to cost more, but a gym membership can cost a lot of money over the years. Also, not everyone has the time which is why so many people have a treadmill for under 1,000 at home. This might not seem like it will get you a lot but you will be surprised.
Most products tend to have everything you need and more and fold away into a compact size so you can store them out of sight. There is more to finding the best treadmill under 1,000 though which is why we have created the following buyer's guide.
What To Look For In A Treadmill Under 1000
The Correct Weight Capacity
We're all starting from somewhere and the main thing is getting started. This is why it is important to look at the maximum weight of the treadmill under 1,000 you are considering. Most products are fine for the majority of the population but there are some brands that have a greater weight capacity which might be more suitable for some.
Lots of Adjustable Speed Settings
An experienced runner might find some brands to be too limited in the speeds they can offer. You might need more than a walking and jogging setting and even the fastest running speed of some can be limiting for fast runners.
A maximum speed of 9 mph is more than enough for most people but if you like to use a treadmill for interval training then 9 mph is going to give you more options.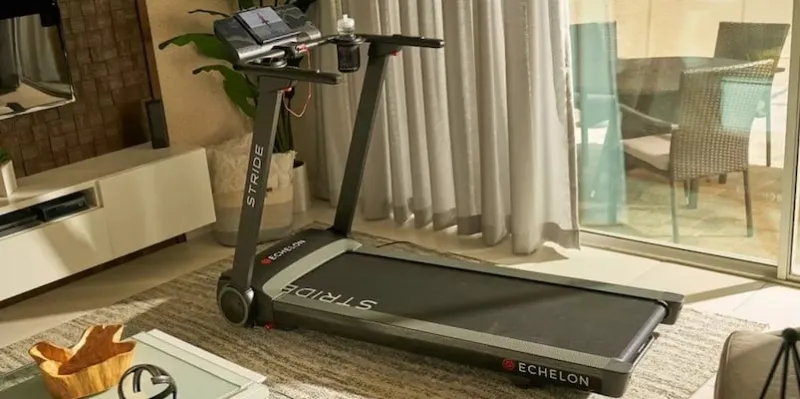 Tablet / Phone Holders
Using your phone to listen to your tunes is an essential part of running and the same goes for your treadmill under 1,000. You need somewhere to put it or a tablet to watch your favorite show as you get into your stride. The best products tend to offer you a place to keep a device safe as you run.
Compact When Folded
Not everyone has space to comfortably fit a treadmill and leave it there. Because of this, it is important to find a product that folds down to a convenient size so you can store it with ease. The easier it is to put together and fold away, the more likely you are to use it.
Deck Length
Everyone's strides are different but someone who is on the tall side or anyone who likes to run fast should be able to do so in confidence. The length of the deck needs to be as close to 60 inches as possible, and a bit more can be even better.
LCD Screen 
Every treadmill under 1,000 is going to have an LCD screen but it is what it displays that should matter the most. Of course, it needs to be a good size so you can read the statistics but you want to be sure you get the likes of speed, pedometer, calories burned, distance, and time among others.
Adjustable Incline
Although we prefer an incline that you can change at the click of a button, a manual incline is better than nothing. Not everyone likes to use them but they can be great for burning calories and making your workout a little more challenging.
Added Features
The closer you get to 1,000 the more options you have and part of this is in the added features you can get. Some products are Bluetooth enabled so you can connect to a certain fitness program or even speakers.
Other products may have a built-in fan or more pre-programmed workouts to choose from.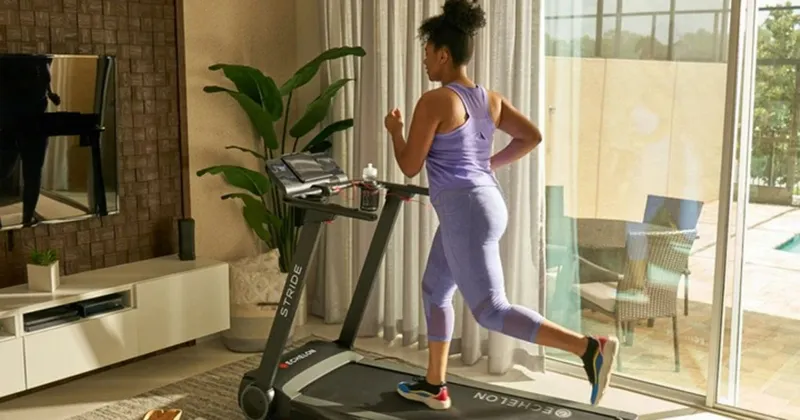 Quiet Motor
Although your family might be happy for you to take on the challenge of getting fit, they might not be so keen if the treadmill you buy is loud. The motor should be quiet enough that it doesn't boom around your home. Your family and neighbors will thank you for that.
Handlebar Controls
Not all treadmills under 1,000 are going to give you this but it can make your run a lot more enjoyable. Being able to up the speed or pause your workout via the handlebar can be super convenient, especially when you have been working up a sweat.
Warranty
A treadmill can be a major purchase and the more you use it, the more likely it is that something could go wrong with it. If the product you buy comes with a warranty then you don't need to worry about buying another.
Does A Treadmill Need Shock Absorption?
Every treadmill under 1,000 should still be able to offer something in the way of shock absorption. Look for the reviews to make sure it is known for being comfortable otherwise you will find your joints and knees suffer over time.
The best products give you enough support so your run is not heavy when it comes to impact.
Can You Get A Good Treadmill For Under 1,000?
The short answer is yes. Of course, there is no doubt that doubling your budget will land you a superior product but a treadmill under 1,000 should still give you plenty of options.
The best products have a roomy tread deck to make your runs comfortable, lots of adjustable settings and tend to be smaller and easier to store than the more expensive, bulky products.
Why Buy A Treadmill For Home?
The convenience of having a treadmill at home means you never have an excuse not to go for a run. There is, of course, a layer of self-motivation required but for a lot of people, exercise can be a personal thing, especially when you are getting started. Being able to run in the privacy of your home can be the kick start you need.
When the weather is chilly, you don't always feel like getting out and going for a run. If you have a treadmill at home, you can watch the rain fall down the window as you burn calories in comfort.