Not everyone likes to run on a treadmill or hit the pavement several times a week, for a lot of us, a workout on the punching bag is both therapeutic, and helps to get a sweat on. Punching a bag can be hard on your hands and wrists which is why you need to protect yourself before you start jabbing away. The best heavy bag gloves are easy to put on and off, comfortable, and make it safe to punch a heavy bag.
They come in a range of colors and styles although this shouldn't be your highest priority. Finding a quality pair that protects you in the right places and are durable enough to last a long time is important. We have selected our list of the best heavy bag gloves to help make this purchase easy.
Reviews
Editor's Choice: Everlast Pro Style Training Gloves
For many people, Everlast is the go-to brand for boxing equipment which is why it is no surprise that these heavy bag gloves are considered among the best. You get a 120-day warranty with these should you find anything wrong with the way they are made but the 80% Polyurethane and 20% Polyester has a quality feel to them.
You can pick them up in a few colors and different sizes and get to pick from 12, 14, and 16 oz. They are great value compared to a lot of the competition and will take many sessions on the bag before they start to show signs of wear and tear.
The velcro strap makes it easy to fix them on yourself and there is a good amount of padding and wrist protection. With enough ventilation to keep your hands from sweating too much and a sturdy feel, it is no wonder these are some of the most popular heavy bag gloves available.
PROS:
Good value
Easy to put on
A good amount of padding
Well ventilated
Best Affordable: Hawk Boxing Gloves for Men & Women Training Pro Punching Heavy Bag Mitts
Not only do these heavy bag gloves look great but they are super comfortable with breathable holes for added ventilation. These also make them hygienic by preventing bacteria build-up.
They are also convenient to put on compared to other brands thanks to the hook and loop velcro strap meaning you can put the second one on with ease. We like that they come with a 5-year replacement warranty and extra thick shock foam to increase the level of wrist and knuckle protection.
Hawk makes some of the most versatile boxing gloves and these can be used for sparring as well as heavy bag workouts. The range of sizes is also impressive as you can get these in 8 oz kids sizes up to 16 oz.
PROS:
5 year replacement warranty
Thick shock foam to protect knuckles and wrists
Breathable holes
Lots of size options
Best For Wrist Protection: Venum Elite Boxing Gloves
Sale
Venum is well known in the combat world for making some of the best heavy bag gloves and those that are safe for sparring so expect them to crop up on lists such as this one. The triple-density foam helps to protect your knuckles and wrist and you can grab a pair of these in a variety of sizes (there are everything from 8 oz to 16 oz gloves available). We like that the palm has been reinforced to give you added impact absorption so the glove takes the brunt, not your hand.
Even the seams have been strengthened to ensure they last a long time and the thumb is fully attached to protect against injuries. Handmade in Thailand from 100% premium skin tex leather they have long cuffs and are easy to get on and off after pounding the bag.
PROS:
Lots of size and color options
Triple density foam
Durable design
Good value
Best Professional: Cleto Reyes Hook & Loop Training Gloves
Cleto Reyes Hook and Loop Boxing Training Gloves Blue, 16 OZ
All the quality and craftsmanship you have come to expect from an authentically produced Cleto Reyes product
These training gloves are manufactured under strict quality control in goatskin leather with water-repellent lining to keep the hands dry and comfortable as you reach your athletic and fitness goals
These are some of the highest quality heavy bag gloves you can find with superior craftmanship behind their reputable products. They are made from goatskin leather and a water-repellent lining they keep hands dry and hygienic when you're working up a sweat. The attached thumb is there for safety and with two inches of latex foam padding, there is more than enough protection for your hands and wrists.
With hook and loop closure these are great for use at home or for a spar and come in a variety of eye-catching colors. The quality control these are produced under ensures they are durable and last a long time which you might expect given the price tag. Don't let this put you off if you are looking to purchase an elite pair of heavy bag gloves.
PROS:
Hook and loop closure
High-quality goatskin leather
Water repellent lining
Latex foam padding
Most Versatile: Twins Special Boxing Gloves Velcro
Twins Special Leather Boxing Gloves - BGVL-3 - w/Velcro Wrist Strap (Black, 16oz)
Experience for yourself why Twins Special Boxing Gloves are widely considered the best boxing gloves in the world. Made in Thailand at the Twins Special factory, these leather boxing gloves are crafted from the finest materials and constructed with care to endure through years of use in the toughest Muay Thai, Boxing, and MMA gyms in the world.
Inside the boxing glove, high-quality multilayer foam protects your hand from impact. The foam is skillfully shaped to best support your hand while you are punching.
For many people, these are considered the best heavy-bag gloves available which are why they are so popular in Muay Thai, Boxing, and MMA gyms around the world. There are multiple layers of foam inside the glove to protect your hand upon impact and the velcro strap is easy to close and adds to the secure feel of these quality gloves.
There is a wider selection of sizes available and you can get everything from 6 oz gloves to 18 oz. They are some of the most comfortable gloves and you can feel the quality of the real leather. Because they are so well made they are ideal for pad work, heavy bag workouts, and sparring.
PROS:
Plenty of foam padding
Available in lots of sizes
Made from 100% genuine leather
Best For Muay Thai: Fairtex Muay Thai Bag Gloves
Ideal for Muay Thai heavy bag workouts, these are some of the most reputable gloves available. The Fairtex name is one that is trusted by many in gyms around the world. They have the pre-curved look and a made in Thailand from real leather. The latex foam inside the glove is plentiful leaving you with loads of protection and support that is enhanced by the velcro wrist wraps that help to keep your wrist safe.
You can find them in a handful of colors although other brands have more size options the snug feel makes them worth considering. Perfect for Muay Thai or any heavy bag training.
PROS:
Made from real leather
Plush latex foam
Good wrist support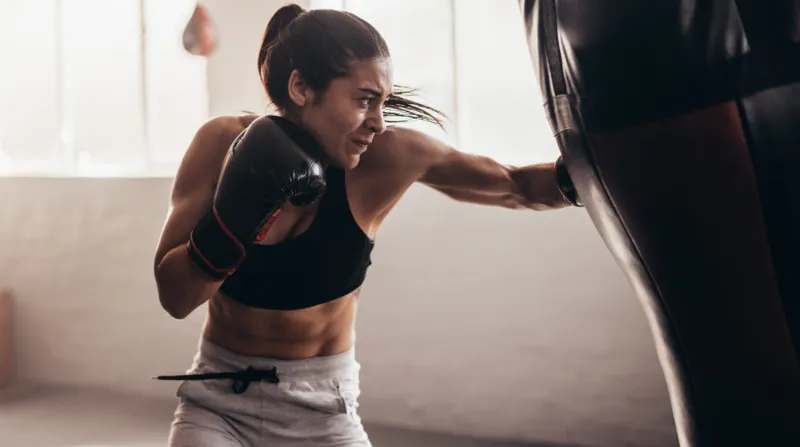 Heavy Bag Glove Guide
Whether you have already sourced your punching bag or not, you shouldn't consider hitting it until you have a quality pair of heavy bag gloves. The best products will give you the right amount of protection so you don't damage your hands or wrists in any way. They should also be easy to get on and be able to withstand a lot of punishment as you force them against the heavy bag regularly.
A lot of the quality will come down to the materials and when you know what the better products are capable of, it makes it easier to find the right product. We have created the following buyer's guide to help make the decision simple.
What To Look For In Heavy Bag Gloves
Size Options
Being able to get the right-sized glove is important as it will help to protect your hands with the right amount of padding. The typical glove size for the competition is 10 oz and 12 oz which means you might want something with more padding for sparring. A heavy bag glove can be 10, 12, or 14 oz for your protection.
Velcro
Most people want to buy heavy bag gloves with a level of convenience as having to lace up gloves on your own is near impossible. A velcro glove is easy to get on and off and gives an extra layer of support around the wrist.
Quality Padding
To protect your knuckles, it is good to find a heavy bag glove that has high-quality materials inside the glove. The best products tend to use plush foam padding and a high density at that. These don't lose their shape and are ideal for everyday use.
Some brands use gel padding but a lot of experts advise against them as they don't offer as much support.
Design
If you are kitting out your home gym or the corner of your garage where your heavy bag hangs, buying a funky color or design can be fun. Although it might not be high on your list, there are plenty of reputable brands that offer different color options without having to compromise on the quality of the glove.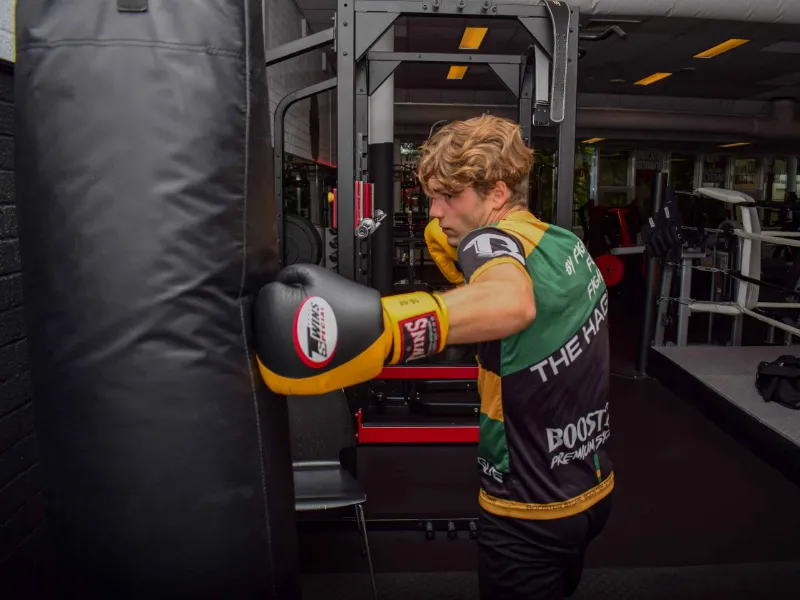 Value
This will depend on how seriously you take your heavy bag work. Anyone just looking to punch a heavy bag every now and then will find good value in a reasonably priced glove like the ones from Everlast. Someone taking their training more seriously will find a better value in a glove that is going to last a long time.
Thumb Attachment
There are two different thumb designs for heavy bag gloves and a lot of people prefer the straight thumb over the curved one. Remember the glove should comfortably allow you to make a fist but above all – it should always be attached. This protects you and a potential opponent from injury and although they are not so common anymore, it's always best to make sure you can't poke someone else in the eye.
Wrist Support
A lot of professionals prefer gloves that keep their wrists straight because of the added power and support this offers. As long as the gloves don't force your wrist into an uncomfortable position upon impact and lengthy, sturdy wrist support then you should find injuries are rare.
What Size Gloves Are Best For A Heavy Bag?
The thicker the padding the less responsive it will feel as you hit the bag but you do need a layer of protection to avoid injuries. Typical sizes range from 8 oz for kids to 18 poz for heavyweights although the most common for heavy bags are 10, 12 oz, and 14 oz.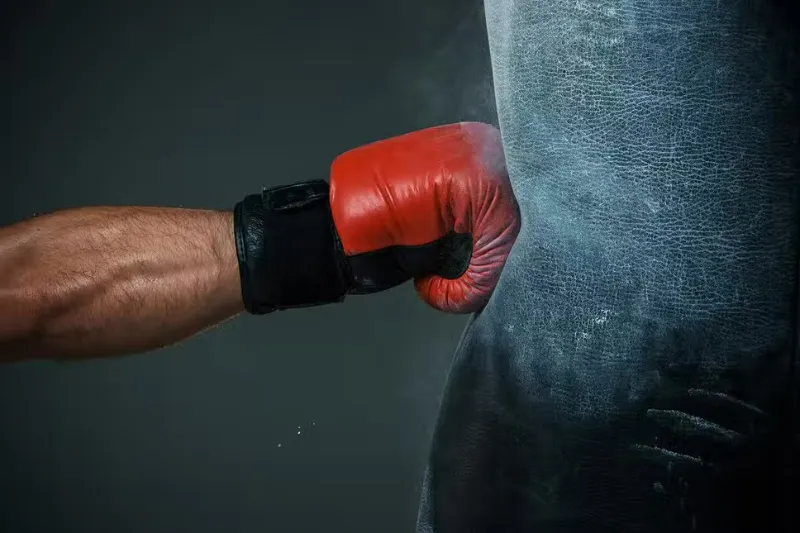 You don't want anything too big or your hand can move around which is also a risk. Keep in mind that a heavier glove will slow your punching speed down. A lot of professionals train with heavier gloves so their hands feel lighter and faster on fight night.
Do You Need Gloves For A Heavy Bag?
Most experts would say if you want to hit a heavy bag at 100% then you should always wear boxing gloves with your hands wrapped properly. This protects all the parts of your punch from your knuckles to your wrist, as long as it has a good amount of padding.
Hand injuries can be hard to recover from with some athletes never able to hit the same after so the best thing you can do is to punch with good form and wear adequate protection from quality heavy bag gloves.
How Do I Punch With More Speed?
One way you can punch with more speed is by training with heavier gloves from time to time. When you transition to a smaller glove you will feel a noticeable difference in your hand speed.
Don't go too big or you may end up causing yourself an injury.
Can I Use MMA Gloves For A Heavy Bag?
Because the padding is lighter and the knuckles are more exposed it is not a good idea to wear MMA gloves for heavy bag work. Any open-finger glove is designed for different purposes and will not give you adequate protection from injury when punching a heavy bag.
What Are The Best Heavy Bag Gloves?
This is a matter of preference as there is no denying that the best heavy bag gloves will cost you over $250. Gloves such as the Cleto Reyes Hook & Loop Training Gloves we reviewed fall into this bracket as the high-quality goat leather material and comfortable padding ensure these are going to last a long time and feel great.
However, not everyone's budgets stretch so far which is why we recommend Everlast Pro Style Training Gloves. They are great value, offer a good amount of padding and protection, and feel good as you jab and hook the heavy bag.