You don't have to choose practicality over style when it comes to the gym with a range of products being made to show off your great shape or conceal it as you work harder to get back into fitness. The best gym shorts make you more comfortable and are tailor-made by gym go-ers. This is great news for a lot of people who don't want to wear the same shorts they bought for soccer practice last year.
The best gym shorts make you feel good, have adequate moisture wicking to keep you comfortable, and look great as you squat a new PB. We have selected a handful of the best gym shorts. Some are made with cardio in mind whilst others are versatile but one thing is for certain, they are going to be a vast improvement on a regular pair.
Reviews
Editor's Choice: Under Armour Men's Raid 10-inch Workout Gym Shorts
With a light and ultra-soft feel, these are the best gym shorts available. They make any workout a bit easier and are comfortable enough to rack up the miles on the treadmill when you want to switch to some cardio. They are made from UPF 30 fabric to help protect your skin from harmful rays and when you need more flexibility on the squat rack, the 4-way stretch construction allows for better movement.
They are made with moisture-wicking material and dry faster than a lot of the competition so as you work up a sweat, they work hard to keep you comfortable. These 10-inch gym shorts come in a variety of colors and have a loose feel that means they won't start to bunch when you're working your way up the weights. The HeatGear technology ensures you stay cool even when you up the intensity.
PROS:
Stretchy fabric for ease of movement
Have a loose feel
UPF 30 fabric protects the skin from harmful rays
Lightweight fabric
Side pockets
Best Value: Hanes Men's Jersey Short with Pockets
Hanes Men's Jersey Pocket Short
COMFORTING COTTON - Pure cotton jersey that's as soft as your favorite tee shirt.
EASE AT THE WAIST - An elasticized pull-on waist with an interior drawstring is all about comfort.
Because they cost a fraction of the price of other products and still make for a comfortable session, these are the best-value gym shorts on our list. They have a drawstring closure that makes them feel secure and a soft feel from the cotton jersey-type fabric. This does make them feel a little heavier than other brands but the no-fuss appeal makes them great for relaxing at home as well as for a gym session.
The generous side pockets make it easy to keep your phone to hand so when you're looking for the ideal song to motivate you before a bench press there is plenty of room. There are a handful of color options for these seriously comfortable gym shorts.
PROS:
Drawstring closure
Great value
Very comfortable
Side pockets
Best Compression: 2XU Men's MCS Run Compression Shorts
These are the best compression gym shorts and they work to help reduce fatigue, allowing you to go for longer at your peak. They compress the legs via a muscle support system to reduce the likelihood of injuries and soreness. They are lightweight which helps to keep you nimble and although they can be worn on their own, a lot of people like to wear them under a pair of gym shorts. They are ideal for getting low on a deep squat as they give you a lot of support that a regular pair of gym shorts cannot provide.
There are a large zippered pocket and reflective logo and they are antibacterial and give you SPF 50 protection. They work because of the targeted compression that helps to support the major muscle groups that work harder during certain workouts.
PROS:
Reduces the likelihood of injuries
Moisture-wicking
Good for low squats
Large zippered pocket
Best Breathable: Adidas Men's Designed-2-move Shorts
These are some seriously breathable gym shorts making them ideal for a range of workouts. They are made with climalite fabric technology that keeps moisture away from your skin so you can rack up the miles or get through the weights in comfort. There is a meshed back insert and side panels to add ventilation so they keep you cool and are available in a range of colors.
They have side pockets although some people believe they are on the small side for using them at the gym there should be more than enough room for everything you need. With a regular fit, they are ideal for different sports and workout activities so you can save money by purchasing one pair.
PROS:
Breathable
Keeps moisture away from the skin
Side pockets
Durable material
Best For Body Building: Global Men's Bodybuilding Gym Running Workout Shorts
Gerlobal Men's 5" Gym Workout Shorts Fitted Running Athletic Bodybuilding Shorts for Men with Zipper Pockets
[4-Way Stretch Fabric] - 80% Cotton,15% Polyester&5% Elastane fabric that is constructed using a proprietary surface treatment that produces a lightweight and incredibly cozy fabric. Created with excellent stretch and shape retention qualities, these shorts are made of incredibly durable material, built for performance. Body-accentuating seam work creates a fitted, athletic silhouette while the breathability of the garment allows the wearer a comfortable look - designed to withstand any exercise
[Leg V Cut] - Stretch-Woven Gusset Extends Through the Leg Opening for Added Flexibility and Room,Slim Throughout with a Straight Leg Opening;
Versatile and stylish these are some of the best gym shorts for both cardio and weightlifting. The polyester fabric is both lightweight and breathable but they have a durable feel about them so you can put them through a fair bit of punishment. A neat feature is the third zipper pocket on the back to keep your belongings safe and out of sight. With a drawstring and elastic waistband, they have a comfortable feel and because they are seamless, irritation is much less likely.
They don't chafe no matter what range of motion you are using and are fine for any activity outside the gym and are even comfortable as loungewear.
PROS:
Breathable fabric
3 zipper pockets
Seamless construction
Best With Liner: Lululemon Men's Pace Breaker Short
Lululemon PACE Breaker Short - BLK (L)
Run, lunge, or stretch in these lined shorts with a classic fit and lots of storage space.
Made with lightweight, four-way stretch, and sweat-wicking Swift fabric and feature a Mesh fabric vent on the back.
For a high-end pair of gym shorts, look no further than Lululemon. They make some of the most popular yoga and workout equipment around in the Pace Breaker shorts you get sweat-wicking fabric that will keep you comfortable no matter how long you spend on the treadmill. They are also stretchy enough to make them good for weight lifting and if you have to get low whilst squatting, they remain comfortable.
Even after stretching they retain their shape and are made from a lightweight fabric with a zipper closure on the side where you can keep your keys and cards safe. There is a supportive liner although you can also purchase them without if that's how you like to roll.
PROS:
Moisture-wicking
Stretchy fabric retains its shape
Zipper closure
Available with or without liner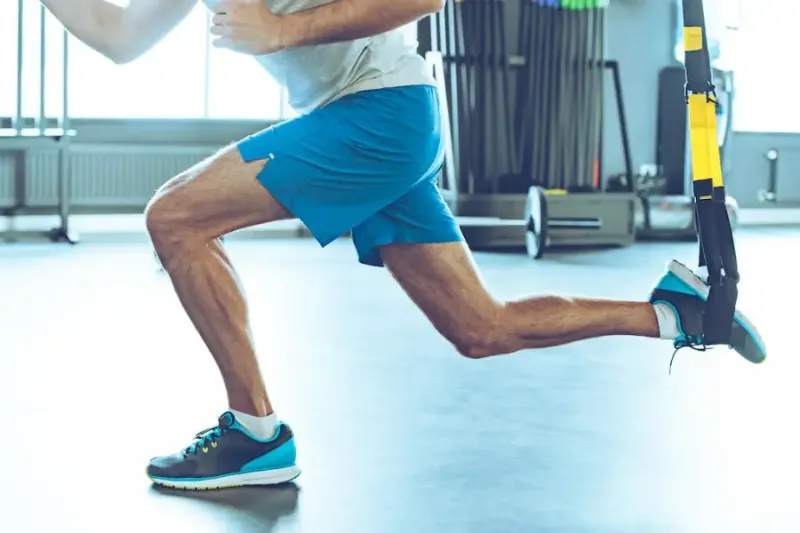 Gym Shorts Guide
The best gym shorts should be versatile enough so you can warm up on the treadmill and then hit the weights hard. This means you can't wear any pair of shorts as you need more than moisture-wicking and the right length to stay comfortable. Thankfully, you don't have to compromise on any of the necessary attributes of a quality pair of gym shorts as there are so many great products available.
Before you purchase your next pair, you need to know what the best products offer. Here is our buyer's guide to help clear a few things up.
What To Look For In Gym Shorts
Roomy Pockets
Because not every gym has a locker available, many people need enough room to fit a wallet, kets, and their phone. The best gym shorts have plenty of room to accommodate your belongings and some even have a zipper-closing feature. This is great as certain motions can mean your items slip out of your pocket.
This can be distracting but not if you protect yourself from losing important belongings.
Moisture Wicking Material
You don't want gym short that absorbs moisture as this can cause them to become heavy and uncomfortable. The best gym shoes are those that keep moisture away from your skin so they do not chafe and you stay comfortable and dry throughout your workout.
Reliable Waistband
Although you might want to be able to store a heavy wallet or phone in your pocket, the last thing you want is to be pulling your shorts up every couple of steps. A reliable waistband that has durable elastic or a pull-string cord to keep everything in place is important for your comfort and makes sure you don't get caught with your gym shorts around your ankles.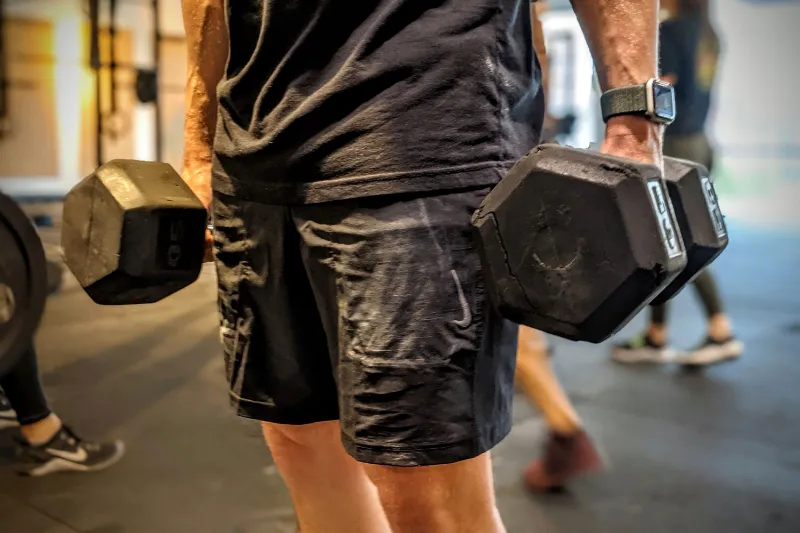 Breathable Design
Some gym shorts have mesh panels that make them airy whilst others just have a light, breathable fabric to ensure there is plenty of airflow. Anything that can stop them from feeling stuffy and cause them to sweat more than they should be going to go a long way toward helping them go the extra mile in the gym.
Value
Not everyone has $70 to spend on a pair of gym shorts which is why it is a good idea to stick to your budget. Sure, the $15 pairs won't give you the same features and maybe won't be quite as comfortable but there is something to be said for getting on with your session without worrying about what is coming out of your wallet.
Light Material
There is nothing worse than wearing heavy gym shorts as they can put more strain on your body. The best gym shorts tend to be so light you don't notice they are there.
Comfort
Above all else, your gym shorts need to be comfortable. This is why a lot of them double up as loungewear that you can chill in at home or wear for a jog. Some are even fine for golf and soccer but be sure to find a product that is comfortable for the type of exercise you are intending to wear them for.
Do Some Gym Shorts Dry Faster?
Yes, some specialist gym shorts are made from certain fabrics that dry faster. This will be noticeable after washing but mostly in the gym when things can start to get damp, it will take longer for them to follow suit.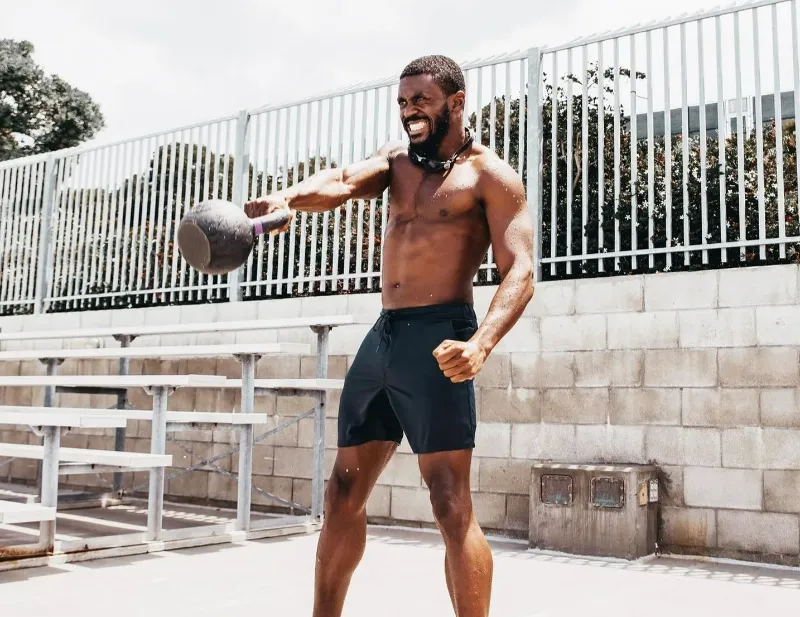 How Should Gym Shorts Fit?
This depends on what makes you feel comfortable but a lot of people consider the best gym shorts to be those that land just above the knee. For most people, this tends to mean a 9-inch short although anything a little longer can give you a good amount of coverage. Consider the fact that squats will cause them to bunch up if you don't have the right length and you want to make sure they are covering you in the right areas.
Should You Wear Leggings or Shorts To The Gym?
Again this depends on what makes you comfortable but also the type of training you are doing. For a lot of gym go-ers, a legging type of pant can give you added compression to help with certain types of weight training. They also increase blood flow to certain muscles and take some of the strain off them.
However, for cardio and most workouts, shorts give you more ventilation which can make for a more comfortable session at the gym.
Why Wear Compression Shorts In The Gym?
Not only do they help to reduce fatigue but compression shorts have been found to increase blood pressure to the muscles. This can help reduce the chances of an injury.
Compression shorts are becoming increasingly popular with weight lifters because they help to rebuild muscles and they can be discreet. This is why you might notice people wearing a pair of shorts under their shorts, if they are tight to the skin then the chances are they are wearing compression shorts for the above reasons.
How Much Do Good Gym Shorts Cost?
Although you can pick up a basic pair of gym shorts for around $15, there is something to be said for the superior fit and comfort of the better products. These might set you back around $50 or more but for the style-conscious gym enthusiast, this might not seem like a lot.
Spending this much can get you a pair of gym shorts that are more breathable, versatile, and durable than other brands.
What Is The Best Fabric For Gym Wear?
There is a lot of debate over the best fabric but a lot of people agree that polyester is among the most comfortable. Because it has a good mix of breathability, comfort, lightweight, and it is not absorbent so any moisture and sweat don't stick around, it is ideal for gym wear.
That being said, when it comes to shorts it might be less important than your choice of upper wear where you are going to be dripping in a sweat if you choose the wrong fabric.