If you have a half marathon coming up or are just long overdue an upgrade to your long-distance running shoes then the search ahead can be a difficult one. With so much technology going into running shoes now, it can be hard to tell what makes the good ones so impressive. With added cushioning to absorb every shock and put a spring in your step and those better suited to short runs, there is a lot to learn.
This is why we have created our list of the best long-distance running shoes. Every product is going to make a big difference in how you run, the distance you can cover, and how comfortable you are along the way.
Reviews
Editor's Choice: Brooks Men's Ghost 12 Running Shoe
Brooks Mens Ghost 12 Running Shoe - Blue/Navy/Nightlife - D - 12.5
THIS MEN'S SHOE IS FOR: Neutral runners looking for a lightweight shoe and a smooth ride without sacrificing cushioning. Whether you're a Ghost loyalist or are lacing one up for the first time, you'll find plenty to like.
SUPPORT AND CUSHION: The neutral support type provides high energizing cushioning. Ideal for road running, cross training, the gym or wherever you might want to take them! Predecessor: Ghost 11
Hands down these are the best long-distance running shoe and they can easily be picked up around the $100 mark. Lightweight and for the neutral runner it offers loads of cushioning making it perfect for road running or hitting the treadmill. The incredibly soft feel still has a good balance to it and they are available in lots of different designs and colors.
Ghost 12 uses its integrated shock absorbent technology to reduce the impact of every step no matter what part of your foot hits the ground first. Meshing in all the key areas, also ensures you get the breathability to make the long run comfortable. For seamless heel-to-toe transition or anyone who needs high arches with added cushioning, the Ghost 12 from Brooks is a great option that has the durability the last plenty of miles.
PROS:
Great value
Lots of cushioning
Breathable meshing in plenty of places
Plenty of different color options
Best Design: ASICS Men's Gel-Kayano 25 Running Shoes
ASICS Men's Gel-Kayano 25 Running Shoes, 9.5M, White/Blue Print
I.G.S (Impact Guidance System) Technology - ASICS design philosophy that employs linked componentry to enhance the foot's natural gait from heel strike to toe-off.
Dynamic DuoMax Support System - This evolution of DuoMax system enhances stability and support, with reduced weight and increased platform support.
Using their impact guidance system, Asics has created a long-distance running shoe that gives added heel-to-toe support and ensures you are hitting the road in comfort. Their integrated support system allows the user to get into their stride, knowing the shoe is going to help not hinder their progress. With enhanced midsole gait efficiency and a premium sock liner for an added rebound, there is a lot to like, especially with the moisture rebound technology that keeps feet dry.
With breathable outsoles and flyte foam Lyte cushioning that is 55% lighter than standard EVA, these are some of the most advanced long-distance running shoes that feel as comfortable as the first time you lace them up, even after plenty of runs.
PROS:
Premium sockliner
Efficient midsole gait
Integrated support system
Durable
Best Trail Running: ASICS Men's Gel-Venture 7 Trail Running Shoes
ASICS Men's Gel-Venture 7 Running Shoes, 8.5, Black/TAN Presidio
Ortholite X-40 Sockliner: This premium sockliner features higher rebound properties while providing excellent moisture management and a high-level of breathability (Ortholite is a registered trademark of O2 Partners LLC.)
Rearfoot GEL technology cushioning system: Attenuates shock during impact phase and allows for a smooth transition to midstance.
These are the best long-distance running shoes for trail runners and feature a breathable fabric lining to make them extra comfortable no matter what terrain you wear them on, and whatever the weather is doing. They have a sturdy feel when on but are lightweight enough to help you pace through any distance and are made with an Asics gel cushioning system. This is what absorbs every impact and gives you a smooth transition into midstance.
It is the outsole that is specific to trail running as it has reversed lugs that provide loads of traction whether you are going uphill or downhill. As you might expect, it is incredibly durable and the support is neutral to under pronation. You can pick these shoes up in a variety of colors but we are a fan of the black/tan Presidio.
PROS:
Sturdy and with plenty of traction
Durable yet lightweight
Breathable
Available in lots of colors
Best Value: Adidas Men's Ultraboost
For a lot of people, these will be among the best-value long-distance running shoes. This isn't just because of the reputation behind the brand but it features Adidas" most responsive cushioning ever so expect plenty of bounce in every step. This also means the harder you push, the more you get out of them. With a molded heel counter you get the right amount of movement for the Achilles but a natural fit as well.
There is a torsion system between the heel and forefoot to allow for a stable feeling and they always feel snug. The knit design is what makes it so breathable but it also looks great in our opinion. Whether you are running wet or dry, the continental rubber on the sole makes sure you get plenty of traction.
PROS:
The Knit design is super breathable
Lots of grips
Good value
Responsive cushioning
Best Affordable: Mizuno Men's Wave Rider 23 Running Shoe
Mizuno is one of the most reputable brands when it comes to long-distance running shoes and in the Wave Rider 23, it is easy to see why. Known for their low top from the arch shaft and their superior cushioning, the comfort is best described as ultra-soft, and when inside the shoe, your foot feels secure. You get plenty of breathability from the meshed design which also contributes to how lightweight they are.
Mizuno has added its dual compound midsole technology to make them highly responsive. Known for being a neutral long-distance running shoe it gives you lots of shock absorption and sends your foot back with a burst of energy. One of the most popular long-distance running shoes available, Mizuno is a brand favored by professionals and amateurs alike.
PROS:
Plenty of shock absorption
Neutral running shoe
Highly responsive
Best For Walking: HOKA ONE ONE Men's Clifton 5 Walking Shoe
These are some of the best-value long-distance running shoes because they won't cost you a lot but offer a decent level of performance. Anyone who wants to use them for walking, training their way up to a marathon, or even a 10k will appreciate the quality of the meshed construction that gives superior breathability. The eye stays have been reinforced to add to their durability and there is also a full EVA midsole that gives you plenty of cushioning.
The heel bevel allows for a comfortable heel transition in every step and they make your feet feel stable as you rack up the miles. They are light, known for being very fast and smooth, and have removable insoles should you need to replace them with an orthopedic.
PROS:
Reinforced eye stays
Enhanced breathability
Good value
Very comfortable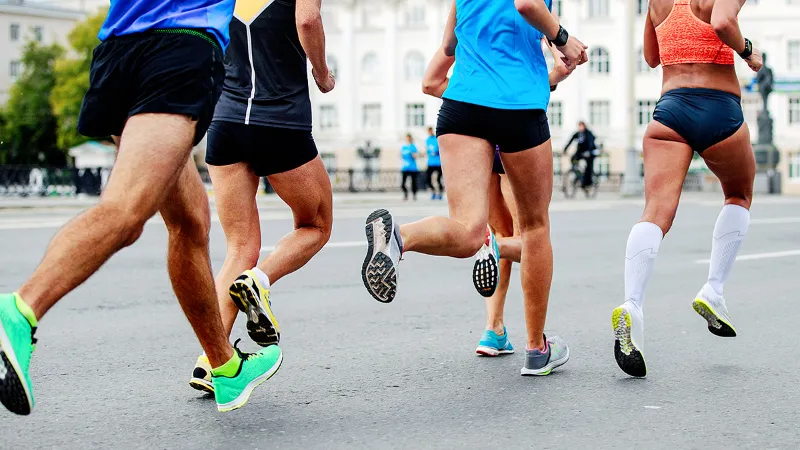 Long Distance Running Shoes Guide
With so much technology going into modern long-distance running shoes, it can be hard to tell which products are effective and reliable, and which ones are not going to retain their cushioned feel for long. The reputable brands all provide plenty of options but some products are just better than others.
It doesn't matter what stage of your training you are currently at, you need a quality pair of shoes to see you through those long runs. This is why we have created the following buyer's guide.
What To Look For In Long-Distance Running Shoes
Traction
The rubber outsole is a major part of the quality of a long-distance running shoe because it determines how durable they are. It also influences how well it grips a surface and what sort of terrain it can be used with.
It stops the shoe from wearing as fast and adds to the stability of every step, something not all brands do well.
Cushioning
This will often run the length of the shoe and will have some sort of fancy name that the brand has given it using its unique technology. Cushioning is important though as it can either put a spring in the step of the user or be to your detriment. You need a running shoe that gives you a bounce in your stride and helps to push you into your next step.
Breathability
Most products will have some sort of breathability and that can be in the form of a meshed upper or a knit design. This allows your feet to stay cool no matter what the conditions and will also ensure they are dry.
The Right Terrain
Some long-distance running shoes are designed to be used on certain terrains such as hard ground or trail running. An urban shoe will be the easiest to find as it means you can use it for road running or in the gym.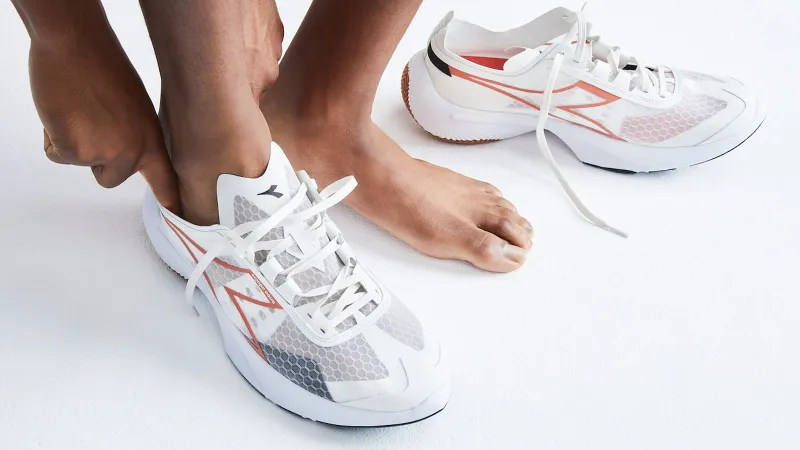 Style
This might not be high on your list of priorities when you start looking for the long-distance running shoe but for a lot of people, it is one of the top concerns. Whether you prefer to wear simpler designs such as all-black running outfits or like to express yourself through color, most brands have plenty of designs to choose from.
Comfort
For a lot of people, the running shoes they go for need to be comfortable. A flexible upper will help your foot feel comfortable and breathability also comes into this. The way they are secured and laced up as well as the sole are all contributors but so are the reviews.
Durability
Because a pair of long-distance running shoes can be a bit of an investment, you need to make sure the pair you buy is known for being durable. The outsole, moisture-wicking, and sturdy upper are just some of the things to look out for.
Are Brooks The Best Running Shoes?
Everyone has their personal tastes and although Brooks is known for being one of the top brands when it comes to running shoes, they aren't for everyone. We chose them as our top pick because Ghost 12 offers great value for an advanced long-distance running shoe but not everyone will want to stray from their favorite brands.
Their pure line range is some of the most advanced running shoes and there are plenty of others that Brooks has created over the years that have earned them a reputation as one of the best and most reliable.
Should I Buy More Than One Pair Of Long Distance Running Shoes?
Although having one pair can mean you save money, there is something to be said about having at least one in reserve. Using a single pair will cause them to lose their shape a lot faster and the cushioning can feel less comfortable sooner than you might expect.
Having another pair available also means that should anything happen to your initial pair, you won't have to break a new pair of long-distance running shoes in. This can be particularly painful if you are about to run a marathon or other competition.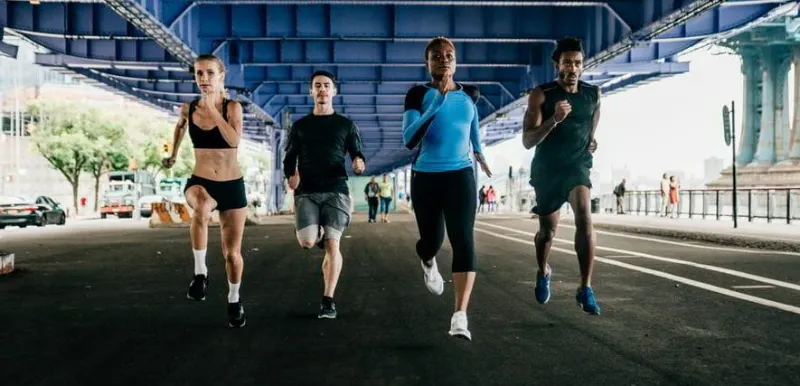 How Long Do Long Distance Running Shoes Last?
No two pairs are the same but as a general rule, you can expect your long-distance running shoes to last up to 500 miles at the same high level you expect when you first buy them although some brands are closer to 300.
This means that if your run 20 miles a week they should be fine for around 6 months. The serious runner might find that their shoes don't last quite as long but other things like the terrain can contribute.
How Much Does A Pair Of Long-Distance Running Shoes Cost?
This depends on a few factors as the type of running shoe you need will influence your budget but most people will find a quality pair for around $100.
This being said, the more you spend the greater the number of features you tend to get. Also, you can get a decent pair for around $75 but don't expect them to last as long.
Can Old Running Shoes Be Recycled?
Yes. Take them to a recycling center or if they still have some life in them, a charity shop will gladly receive them and sell them. Just because they can't give you the same support that they used to doesn't mean that someone else can't find a use for them.
Can You Use Running Shoes For Walking?
There is a specific amount of cushioning in a running shoe that is better equipped for greater impact for it to be effective. Although this will give a walker some comfort, other shoes that are designed specifically for walking will be much more compatible. This is especially the case if you are hiking or walking on uneven terrain that requires a higher amount of support around the ankles.