There are a lot of us who use eyeglasses. People with glasses know how much a pair goes through in a typical day.
If you are someone who spends the majority of their time indoors, chances are you lay down your eyeglasses here and there. And that eventually ends up scratching your expensive eyewear.
But what if you got an eyeglass holder as a solution?
There are tons and tons of different eyeglass holders out there. Some are designed to be slick and fashionable; others are geared toward rugged protection.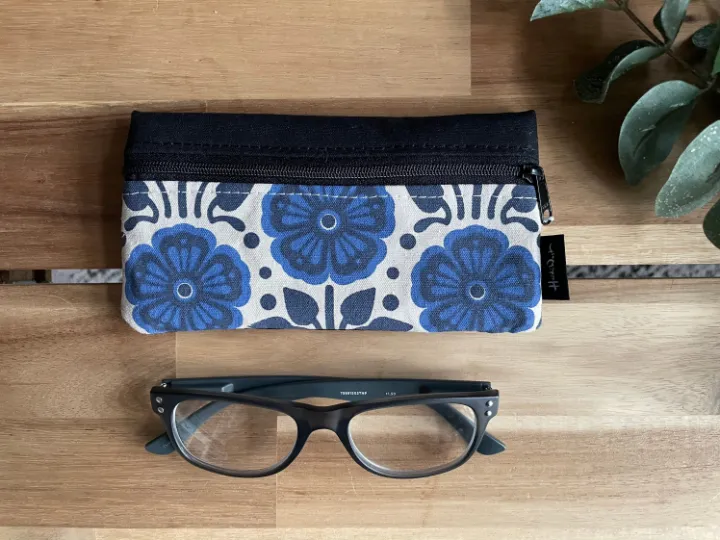 So, which one of these is the best eyeglass holder? And what should you consider before buying them? Let's find out in our in-depth review.
What to Look for in Eyeglass Holder
As we have already mentioned, eyeglass holder comes in all shapes and sizes, with some being purpose-built ones. With the options at hand, it becomes much more difficult to make the correct choice for an eyeglass holder.
However, it should depend on your style sense and functionality. Here are some of the points you should consider before buying an eyeglass holder.
Size
Eyeglass holder size is one of the important determinants when it comes to buying one. In addition to personal preference, there is also the size of eyeglasses that should be considered.
There are different sizes of eyeglass holders available. You can either go for a big holder or a smallholder. Whichever one you buy, make sure to check the fit of the eyeglass. If the eyeglass holder size is too big, the glasses will wobble around inside the case.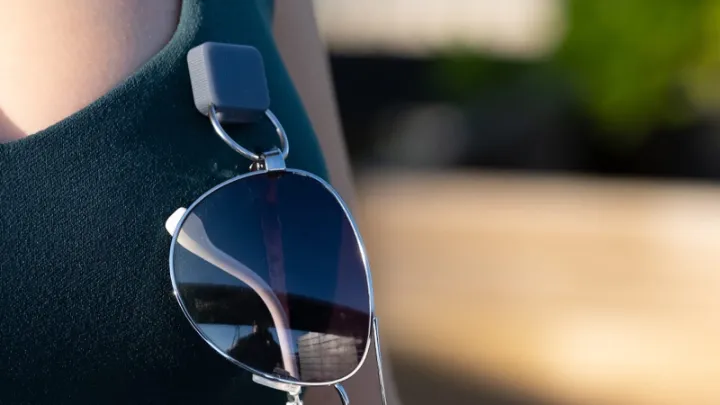 And if you go for a model too small, it might not close properly or bend your eyeglass. It all comes down to finding the right balance between practicality and functionality.
Material
You will be surprised to find out the different types of materials used for eyeglasses. Whether it's plastic, wood, aluminum, or even silver or gold, there seems to be a plethora of case materials available.
This is again a matter of personal choice and budget. Regardless of the material you're choosing, they will be good enough to do the basic functionality of protecting your eyeglass. It's more about the personal style statement than anything else.
Lining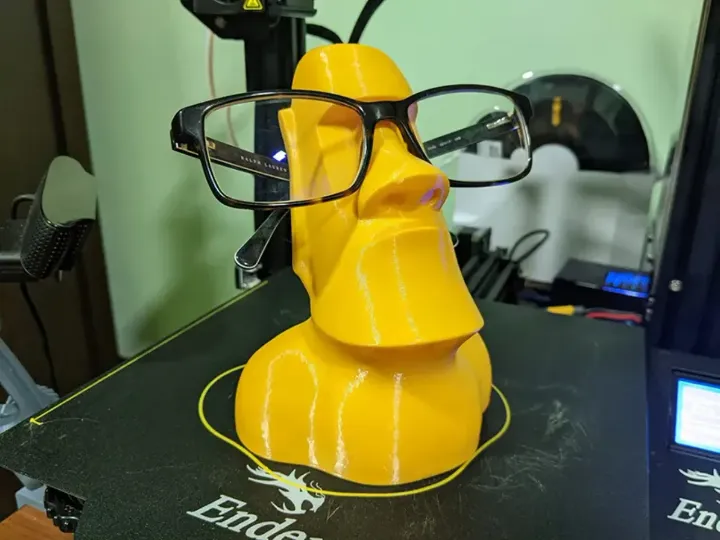 This might be a trivial point but an important one nonetheless. Just like the case material, there is also a host of inlays options available with an eyeglass holder. It can be a simple texture, from plastic to Alcantara to soft leather. Some are even lined with microfibers to keep your glasses clean.
However, you should be careful if you use chains or cords with the eyeglass. The choice should depend on your use case scenario. If you're someone who travels around a lot with their glasses, you should go for soft inlays. The rest are suitable for stationary storage.
Our Recommended 5 Best Eyeglass Holder Reviews in 2023
Fintie Plush Lined Eyeglasses Holder
Sale
The first one on our list is from Fintie. This is great for those looking to add a dash of high fashion and art to their eyeglass holder.
The most distinctive thing about this holder is the furry inlays. The inner lining is massive with protruding inlays, which gives the holder an aesthetic appeal.
Fintie has included a range of design options to choose from. This is a single glass holder with a flatbed design. The flatbed helps to keep the holder flush. This is perfect for the table, kitchen, or washroom basin.
One of the common gripes with eyeglass holders is that they often tend to be too big. As a result, the glass wobbles around in the holder and, in some cases, might even fall out.
However, Fintie has introduced an innovative solution in this regard. The conical design focuses on the base grip, which gently holds onto your glasses without adding any extra pressure. It's also great for eyeglass cords and lanyards.
The thick inlay ensures that your eyeglasses are protected against any type of dirt and dust. It's also the perfect scratch-resistant solution for your glasses. This holder can be a great gift option for anyone looking for a smart storage solution for their glasses within a budget.
Highlighted Features:
Thick furry linings
Conical shape for added protection
Fun and aesthetic design
Budget-friendly.
Readers Magnetic Eyeglass Holders
How many times have you put down your glass and forgotten where you kept it? The most common problem associated with wearing glasses is accidental misplacements and subsequent search troubles.
Well, not anymore! The reader has come up with a unique solution in this regard.
Their magnetic eyeglass holder is a smart little gadget that latches onto your clothes in a convenient position. This is a perfect place for dresses that don't have a front pocket. It's a two-part magnetic holder meaning one part goes inside the cloth, and the other works as the hook for the glasses on the front.
The four neodymium magnets ensure that no matter how fancy or heavy glasses you might use, they'll securely hold them in position.
Worried about the color choices to match your profile? The reader has got you covered there too. You can choose from a wide range of colors.
This is a simple, small, and functional gadget that does so much more than just hold your glasses, easily making it the best sunglass holder out there. It can be used as a badge strap or ID card holder as well.
Overall, if you're looking for something that will be a style statement as you walk around, this is your ideal option.
Highlighted Features:
Strong magnetic clasp
Multifunctional use
Perfect for pocketless dress
Easy to put on and put off
Sivert Eyeglass Holders
Siveit Eyeglass Holders, PU Leather Eyeglass Holder Stands with Soft Plush Lining, Black, Brown - 2 Packs
【Top Class Material】 Our eyeglasses holders are made from high quality luxurious leather exterior and premium soft plush lining, along with a non-slip base. Comes in black and brown, one of each. Plush lining will better protect your glasses from scratch and dust
【Multi-function】Two Pack leather glasses holders can be used to store glasses, less than 4.7-inch mobile phones, remote controls, pens, scissors, rulers and other tools. Organize your desktop to make your room or office looks cleaner and elegant. Each Eyeglass Holder measures 4.72L x3.2W x 4.52H inch. They are large enough to fit most standard-sized glasses and sunglasses.
If modern fashion and extravagant design choices aren't your things, we've got you covered for that.
There really isn't anything like premium leather that speaks of quality and refined taste. Leather isn't just for show; rather, it's a durable material meant to last for a long time. The eyeglass holder from Siveit is a prime example of that.
The premium leather can be found all around the outside of the holder, including the base. Just like the Fintie one, there are soft plush linings on the inside here as well. The thick lining ensures that your glasses will stay protected against any type of dust and scratches.
A common problem with eyeglass holders is their base. While most offer flatbeds, not many emphasize the underside of the base. This one from the Soviets has a non-slip coating on the base, which prevents it from any sort of accidental slippage.
The premium leather outer coating can be easily wiped off in case of dust accumulation.
The holder is designed to fit most standard-sized eyeglasses. So no matter what size of eyeglasses you might use, the brand has you covered. On top of that, the holder is actually designed for multiple usages.
You can store a similarly sized phone, remote, pens, and whatnot. However, this model does not come with any glasses holder strap.
Highlighted Features:
Premium leather finish
Thick plush linings
Non-slip base
Money-back guarantee
WhopperIndia Hand Carved Rosewood Nose-Shaped
What if eyeglass holders were a showpiece as well for your home décor? Sounds too good to be functional?
Well, here comes the nose-shaped eyeglass holder from WhopperIndia.
An eyeglass holder doesn't have to be specifically purpose-built for holding your eyeglasses. It can be designed to increase the overall aesthetic of your while not compromising on functionality.
The nose-shaped eyeglass holder is made from polished wood. Each of the pieces is hand carved, giving it a premium feel. The holder is made for any standard-sized eyeglasses. Whether it sits on your office desk, bedside table, or in your drawing room, the eyeglass holder stands out on its own.
The entire holder sits on a cubical-shaped wooden base. The base doesn't protrude much to take away the focus from the holder. It sits flush on any surface thanks to the evenly chiseled base.
What's even more fascinating is the craft that has been passed down through the generation. So when you're buying one of these, you're buying into heritage as well.
The only gripe we have with this one is its open design. There are neither plush linings nor any enclosure. As a result, your eyeglasses might accumulate dust over time if you leave them on the holder for a long time.
Highlighted Features:
Innovative design
High-quality material
It has a gift option
Great for décor
Calabria Desktop Eyeglass Holder
Calabria CA-500 Desktop Eye Glasses Holder Soft Lining Weighted Base Red Unisex Eyeglasses Stand Desks Nightstand PU Leather
Convenience and Protection: The Calabria CA-500 Desktop Glasses Holder offers a practical and decorative solution to keep your eyeglasses secure when they are not in use. Display it on your desktop, nightstand, or vanity space, providing a protective place that shields your glasses from scratches and scuffs. A convenient feature of this product is its soft lining which helps in preserving the quality of your eyeglasses. (Glasses NOT Included).
Multiple Color Options: Available in six stylish colors: Black, Blue, Brown, Grey, Red, and Snakeskin Yellow. Choose a neutral color for a minimalist look or select a vibrant color to add a dash of personality to your workspace. Whatever your aesthetic preferences may be, there's a Calabria CA-500 Desktop Glasses Holder that matches your style and decor.
The last one on our list is from the Calabria store. This is a simple eyeglass holder for the minimalists out there.
The holder comes in four colors – red, brown, black, and yellow snakeskin. While others are fairly bland and minimalist to look at, the yellow snakeskin really stands out in our opinion.
Depending on your preference, you might or might not like the base design with this one. Unlike the other ones on our list, this desktop eyeglass holder doesn't have a base. Instead, you're getting a weighted base that helps to keep the holder from toppling.
The build of the eyeglass holder is fairly simple. It's made of plastic on the outside and soft material on the inside. It's just soft padding and not any kind of plush lining. However, the semi-deep holder can be a good choice if you have an eyeglass chain.
The design of this one is sort of opposite to the ones we already had before. While others stand out from the rest, this one seamlessly blends into its surroundings, making it a perfect choice for office usage.
Highlighted Features:
Weighted base
The hard plastic outer shell
Soft inner lining
Minimal design
Comparison Chart For Eyeglass Holder
| | | | |
| --- | --- | --- | --- |
| Product Name | Lining Materia | Enclosure | Build Quality |
| Fintie Plush Lined | Plush Lining | Conical enclosure | Medium |
| Readerest Magnetic | No lining | Pinup | High |
| Siveit Eyeglass Holders | Plush Lining | Round enclosure | Medium |
| Hand Carved Rosewood Nose- | No lining | No enclosure | High |
| Desktop Eyeglass Holder | Soft lining | Round enclosure | Low |
Frequently Asked Questions
Should you keep the eyewear retainer attached while using the holder?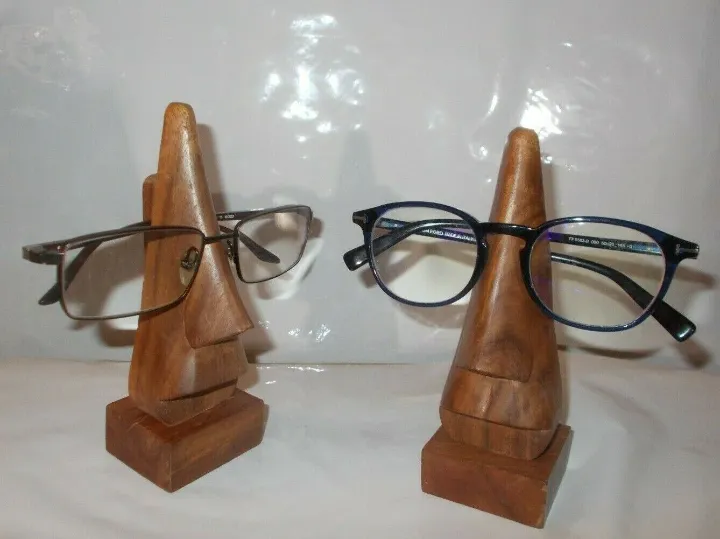 Answer: Yes, you can choose to keep the retainer attached while using any standard eyeglass holder. Most eyeglass holders are designed with an easy fit in mind. As a result, you won't have to worry about cramming the retainer inside the holder.
Should I buy a soft lining or a plush lining holder?
However, they both do a great job of protecting eyewear. But if you want added protection, the plush lining one would be the best eyeglass holder for you.
Should I buy an eyeglass holder with an enclosure?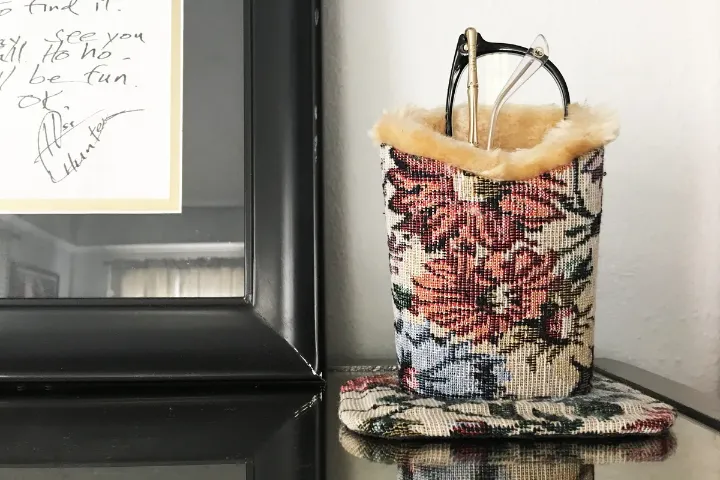 This depends on the environment and setting you're living in. If you are someone who lives in a dust-prone area, it would be wise to get a holder with an enclosure. However, if dust isn't the issue, you can get whichever one suits your needs.
What should be the material of the eyeglass holder?
Most eyeglass holder comes in either plastic or wooden build. These can be a great choice considering the longevity as well as usability.
Final Thoughts
So, there you have it, our roundup of the best eyeglass holder you can buy right now. We tried to be comprehensive in our product choice, including different ranges and designs.
Be sure to check out the buying guide for eyeglass holders so that you can make an informed purchase.