It doesn't matter how well you know your way around a punching bag; using one regularly can be great fitness, not to mention good for practicing self-defense. You have to be careful, though, as buying a sub-par product can mean you run the risk of injuring yourself, or it might not be suitable for the space you need to use it.
Whether you are into boxing, Muay Thai, or anything in between, the best punching bags are going to be lots of fun and help get you into shape. There are different types to consider, and we have handpicked the very best on the market. This is in our list of the top products for you to consider, and each one is going to make a worthwhile purchase. Some come with everything you need, whilst others are just known for quality.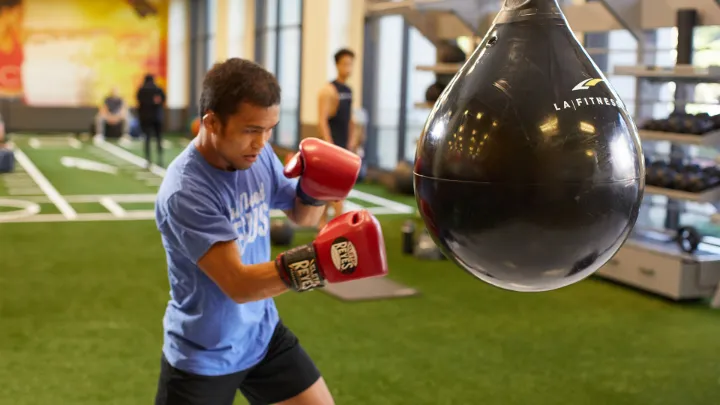 Reviews
Editor's Choice: Everlast 70-Pound MMA Heavy-Bag Kit
Everlast 70-Pound MMA Heavy-Bag Kit , Black
Kit includes 70-Pound heavy bag, heavy bag gloves, 108-Inch hand wraps and bungee cord
Heavy bag stuffed with a custom filling of natural and synthetic fibers blended with sifted sand
This has everything you need making it the best punching bag combination available. Included is a 70 lb bag capable of taking a heck of a beating, as well as gloves and 108-inch hand, wraps to keep you safe when dishing out some punishment. The bag itself is filled with synthetic and natural fibers, so you can jab, jab, and hook your way into fitness. The adjustable chain it comes with means you can place it at a convenient height, and the bungee cord gives more resistance, so it isn't going to go flying.
For added stability, you can also purchase the Everlast heavy bag anchor; if you consider yourself a bit of a big puncher, this might be a good idea. To practice your MMA reflexes, boxing skills, agility, or just work up a sweat, this is a great kit to get you started.
PROS: Includes gloves, wraps, and bungee cord
70 lb bag
Adjustable height
Great value
Best Heavy-Duty: Outslayer Filled Punching Bag Boxing Training Practice MMA Heavy Bag 100 Lb
Sale
Made in the USA, this is the best punching bag for a serious athlete or anyone who needs the most durable option in their home or gym. The heavy-duty vinyl cover is reusable, and the bag itself comes with a 10-year guarantee, so you get a sense of how much Outslayers stand by the quality of their product.
It is 55 inches tall, so there is plenty of room for kicks and punches so you can practice combinations, and there are 6-inch straps included as well. It is only filled with fabric which means it will maintain its shape without sinking as low-quality options can. Many people consider this to be an elite punching bag which is why it is often featured near the top of the list of the best punching bags.
PROS: Includes a 10-year guarantee
Durable
Only filled with fabric
Maintains its shape well
Best Freestanding: Everlast New Omniflex Freestanding Heavy Bag, Black Red, 67
At 67 inches tall, this is big enough for most people to enjoy some high kicks with some punches and elbows thrown in for good measure. Because of its durable design, it is the best freestanding punching bag available, and the outer shell is made from a never tear material. The omniflek neck takes the impact of every blow well, absorbing and rebounding with minimal movement from the base. This is what keeps everything in place, so you won't be following the heavy bag around the room.
When the base is filled with water, the device weighs around 130 lbs, and the shock is absorbed by high-quality foam that protects your hands and legs when striking. Because it has an adjustable height, you can set it up for different striking positions.
PROS: Never tear surface
Absorbs every blow well
Minimal movement
Foam softens every blow
Best Value: RDX Punch Bag for Boxing Training
This is another excellent all-in-one punching bag combination that has everything a beginner or experienced martial arts enthusiast. Included is everything from the steel chains to hang the heavy bag, a swivel, jump rope, boxing gloves, mini boxing gloves for hanging, wraps, wall bracket, a 4 ft or 5 ft punching bag, and more.
Every bag is filled with shredded material to protect your wrists and hands from every impact and is protected by high-quality leather. It has been made with heavy impacts in mind so it can absorb whatever you throw at it, whether you are heavy-handed or have a fierce kick on you. The multi-layered gel padding is what makes this bag so durable, so you can hand out a series of punishing blows day in and day out and expect it to last a long time.
PROS: Great value
It comes with everything you need
4 ft or 5 ft punching bag
Multi-layered gel padding on the bag
Best Human Shaped: Century BOB XL with Base Unit
Closer to real combat in some ways, this man-shaped punching bag features a lifelike upper torso for you to spar with. It also allows you to target the body to create a more realistic experience at home. The plastisol body feels responsive as you punch it, partly because of the urethane foam. The Polyethylene base is durable and capable of holding up to 270 lbs of sand or water to keep everything in place.
With adjustable height settings, you can tailor it between 60 to 82 inches tall. This means you can get a comfortable position to make your workout more enjoyable, and it is great for self-defense training whether you are teaching your kids or just want a realistic sparring partner.
PROS: Realistic sparring experience
Adjustable height between 60 – 82 inches tall
Does not move a lot after you strike
Best Empty: Last Punch Heavy Duty Pro Punching Bag with Chains Empty, Red
This is a high-quality punching bag, although buyers should be aware that it does not come filled. This does mean you can tailor your filling to your needs to get the level of cushioning you prefer. The bag itself is 50 inches when filled and on chains or 33 inches otherwise. The canvas outer makes it durable, and some buyers have filled it with the likes of old clothes.
It doesn't weigh a lot without the filling, and considering the reasonable price, it is an excellent value that can be hard to find anywhere else. Many people say it is durable enough to take a fair bit of punishment, but if you need something that is going to last a long time, there are more suitable options.
PROS: Great value
Canvas outer looks great
Can fill it with whatever feels comfortable
Punching Bag Guide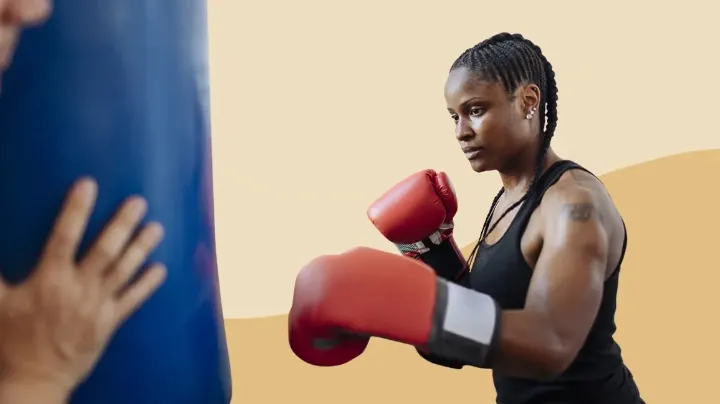 Combat sports have seen an increase in popularity, with certain superstars capturing the imagination of the public in a way that hasn't been seen for some time. Because of this, there has been an increase in the demand for the likes of punching bags and other equipment. This is both good news and bad news for the consumer because, for every quality punching bag available, there are two sub-par products.
Because of this, we have created a buyer's guide to make this purchase a simple one. By the end of it, you will be able to kick, punch, elbow, and work up a sweat with the best punching bag for your needs.
What To Look For In A Punching Bag
Size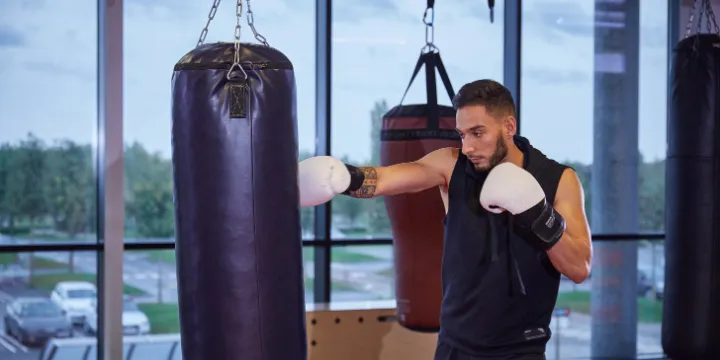 For most people, this is up there in terms of importance. Because they usually come in short or long versions, you need to get the right one for the area you are looking to use it in, as well as the type of training you wish to do.
A short punching bag will hang a little higher, which is fine for punching and high kicks, but you won't be able to practice kicks that would usually target the body. This is where a long punching bag is most suitable. If you are boxing, then a 4 ft punching bag might be sufficient. Otherwise, 5 ft is best.
Bag Material
The outside of the punching bag will determine how durable it is. Some are made from canvas, but they are difficult to clean, whilst the leather is a popular choice. Be careful when opting for the former. Synthetic leather is not as durable, so unless the product you are looking at is made from genuine leather, don't expect it to last as long.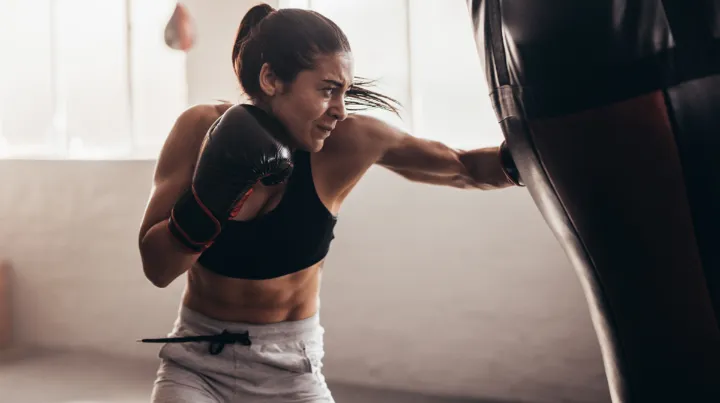 Your budget might not stretch so far, in which case, synthetic leather can still protect your hands and provide good material for sparring the bag without breaking the bank.
Extras
If you are looking for an upgrade to your current punching bag and have all the equipment you need, then you might not be keen on all the extras, but some brands make a complete punching bag kit. This means you get the gloves and hand wraps to protect your hands, but some go the extra mile and include skipping ropes, among other items.
Be mindful that purchases with lots of extras might not be as high quality, although they can be enticing.
Adjustable Height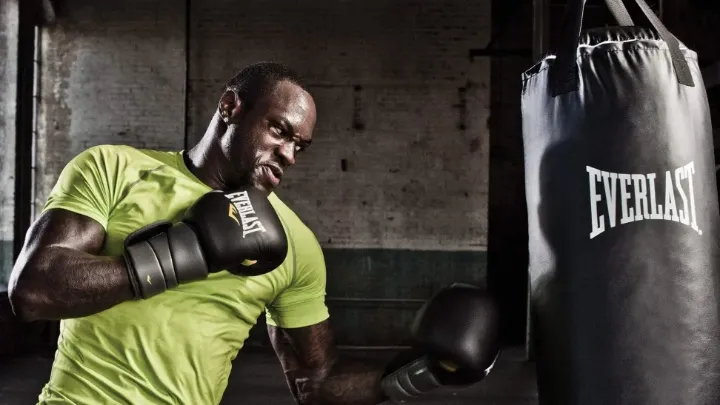 When you hang your punching bag, you need to be able to ensure it rests at a comfortable height for your frame. You shouldn't have to punch up or down to hit the right areas, so an adjustable height is vital. Both freestanding and wall-mounted punching bags should offer this.
Weight
This is important as some people like a heavier punching bag that doesn't move around as much, but this can be harder on your hands. The weight of the bag will determine how responsive it is too heavy punches and kicks, although some people prefer a bag that moves as it is the closest thing to a live opponent.
For most people, a 70 lb heavy bag is a good amount, but the heavier you are, the more you will need something closer to 100 lbs.
Warranty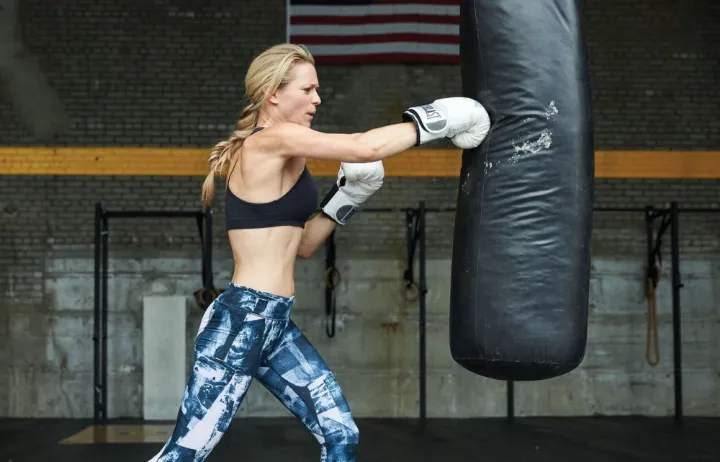 Not every brand is going to give you a warranty for something you punch and kick, but there are some that stand by the quality of their product. The more you pay for your punching bag, the more you are going to want to protect your purchase with a warranty.
Hanging Vs. Freestanding Punching Bag
There is something to be said for both options as they have their benefits, but a lot will come down to personal preference. A freestanding punching bag can be moved anywhere, so you can take it outside on a warm day or use it in the garage when the weather is not so good.
It also means you don't have to find a place to mount it, making them better for anyone in rented accommodation. The main issue with freestanding punching bags is that they tend to move around after you strike them.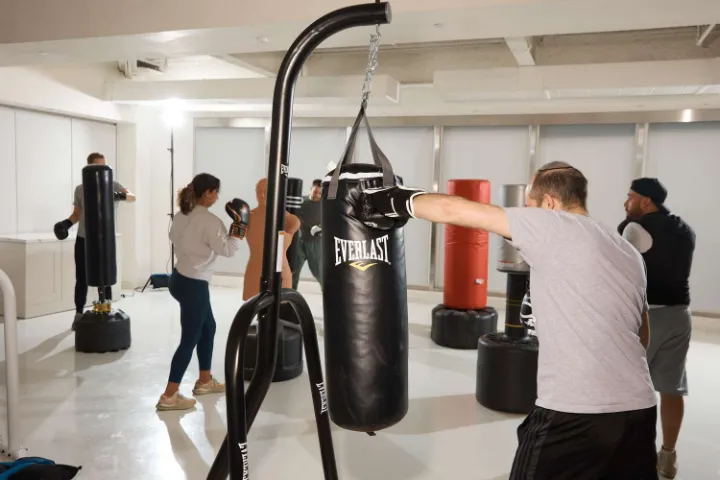 A hanging punching bag is good for anyone who needs to save a bit of space, and they never tip in the way that a freestanding bag can.
Are Heavier Punching Bags Better?
They have a greater resistance, so it will take more force to move, but anyone looking to develop more power will find that a heavier punching bag is better. However, a lighter bag will mean you have to move a bit more, which can help to increase your stamina.
Filled Vs. Unfilled Heavy Bag
Although some people like to have the option of filling a heavy bag, anyone who isn't sure should be a pre-filled bag. Yes, you can tailor the weight and resistance to your preference, but for the uninformed, having a pre-filled punching bag is going to be more convenient, and when you buy from a quality brand, it can help to protect you from hard spots that can cause injuries.
How Much Does A Punching Bag Cost?
You can spend as little as $60 on a punching bag that will last for a fair amount of time. These are good for the casual enthusiast who just wants something to punch every once in a while. Anyone who is looking to take their fitness seriously and sees a punching bag as a big part of their routine will want to spend north of $150 to ensure they get the quality and durability they will need with regular use.