Whether age is catching up with you a little or you are on the road to recovery, running shoes for bad knees can make a big difference in your life. They can take the strain out of every step and give you the confidence to open up your stride and run as you want to, not how you feel you ought to. This is only possible when you buy a quality pair of running shoes, something that is easier said than done.
They need to offer you the right amount of support and cushioning in the ideal places if they are going to make running fun again, and shock absorption is a must. We have identified the top running shoes for bad knees to help take the strain out of your search.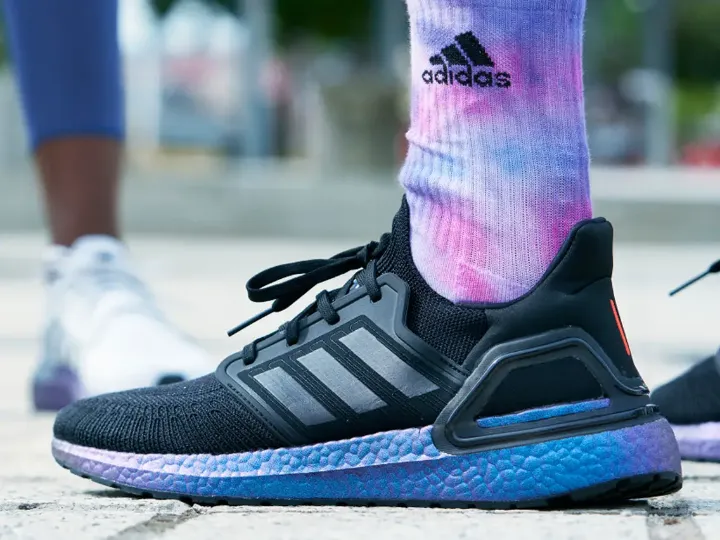 Reviews
Editor's Choice: Brooks Mens Glycerin 17 Cushioned Road Running Shoe
Often considered the top brand when it comes to running shoes, it is no surprise to see Brooks top our list of the best running shoes for bad knees. Not only do they have tonnes of cushioning to take some of the strain out of your run, but they are known for their softness. The slick style ensures you don't have to compromise on looks, and because of the DNA loft cushioning that has become synonymous with a lot of Brooks' best running shoes, you are going to get plenty of shock absorption and a soft landing for every step.
They take the impact off your knees and feature an OrthoLite insole making them springier than a lot of the competition. Because there is an internal stretch bootie, they hug your feet and feel great, and the midsole technology ensures you get lots of arch support.
PROS: Lots of arch support
DNA loft cushioning
Slick look
OrthoLite insole
Best For Trail Running: Saucony Men's Cohesion 10 Running Shoe
This is one of the best running shoes for bad knees for anyone on a tight budget, as depending on where you buy them; you can pick them up for a real bargain. The outsole has been designed to withstand the rigors of trail running, making them incredibly durable and also ensuring you get the chance to try different terrains, even with bad knees. The heel has a grid system that helps to cushion every impact, taking the strain off your knees.
The meshed upper has been designed to allow optimal airflow, and they have focused on stability as well as cushioning which will be good for anyone making their way back from a bad injury. They are worn by marathon runners and those who are edging their way up from fast walks, so you get a sense of how versatile this running shoe is.
PROS: Good value
Ideal for trail running
The heel grid system takes away a lot of the impact
Breathable meshing
Best Women's: New Balance Women's Fresh Foam 1080v6 Running Shoe
We like the meshed material that gives a good amount of wiggle room and flexibility, so they aren't too rigid. With a sock liner inside, it feels well-supported and comfortable whilst remaining a lightweight option that is great for long runs if your knees are up to the challenge. Another big brand is making a running shoe for bag knees, and this is their women's shoe that has a glowing reputation. With a shaft that measures around 2.25 inches from the arch, it is the fresh foam midsole that makes it so good for anyone with bad knees. It is incredibly cushioned, taking the strain off tired or injured knees and giving a genuine spring in the step when pushing back off.
PROS: Lots of cushioning
Breathable meshing
Lightweight running shoes
Look great
Best For Heel Cushioning: Mizuno Men's Wave Inspire 13 Running Shoe
Some people consider these shoes to be a bargain, considering you get the reputable brand name of Mizuno and plenty of quality in every pair. In terms of running shoes for bad knees, other brands give you a bit more in the way of support, but unless you are coming back from a serious injury, these have sufficient cushioning to ensure you can enjoy a comfortable running experience. With loads of technology in the heel wedge that has been tailored towards reducing impacts – they are ideal for bad knees.
The midsole is another area packed with the latest cushioning, and it makes for a responsive running shoe that takes the strain off of all parts of the knee. With a soft collar and lots of meshing to make them nice and airy, these are some of the best running shoes for bad knees, especially for those on a budget.
PROS: Great value
Lot of heel cushioning
Responsive
A soft collar adds to the comfort
Best Traction: ASICS Women's Gel-Venture 6 Running-Shoes
Not only are these some of the most popular running shoes for bad knees, but they are some of the best value. With the reputable Asics name behind them, you expect quality and have a gel cushioning system that takes the impact and shock of every step, providing a smooth transition to midstance. This makes them ideal for anyone something from knee-related complaints, as does the removable sock liner that can make way for an orthopedic option instead.
The reversed lugs ensure you have plenty of traction when running uphill or downhill and make them well-suited to trail runs. The Gel-Venture range is an option for men as well, so if you want all the comfort and performance of this excellent running shoe that is great for bad knees, then no one has to miss out.
PROS: Gel cushioning system takes the impact
Removable sock liner
Lots of traction
Best Heel Bevel: Hoka One One Mens Bondi 5 Running Shoe
Even though they are number 6 on our list, a lot of people would say they are the best running shoes for bad knees. This is because of the excellent cushioning, as the EVA midsole and curved sole allow for a springy transition between strides. This is what takes a lot of the impact from your knees, as does the ortholite insole that gives them a plush underfoot feel to them.
The heel bevel is what helps to give the user a smooth roll between heel-to-toe transitions, and the breathable fabric ensures your feet stay dry. Protected by a durable outsole, these are some of the most advanced running shoes, although the meta-rocker style might take some getting used to for some people.
PROS: EVA midsole
Lots of cushioning
Durable outsole
Running Shoes For Bad Knees Guide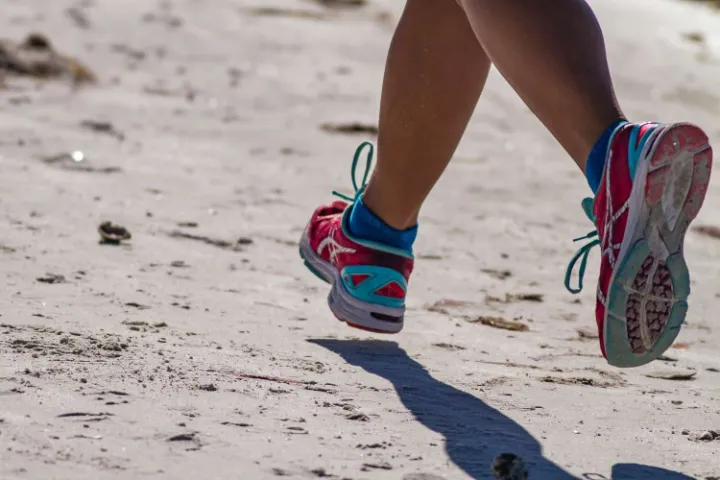 Most runners want the most advanced shoes possible to aid their runs and help them reach a new personal best, but anyone with bad knees will find they have an extra need for quality running shoes. Although most products tend to give a decent amount of cushioning, this isn't enough if your knees tend to become sore over long distances.
This is why we have created the following buyer's guide. By the end of it, you'll know what a quality running shoe for bad knees should offer, making your purchase easier.
What To Look For In Running Shoes For Bad Knees
Heel Support
This is one part of what makes some of the strain from your knees as it will absorb most of the impact from every stride. The best running shoes for bad knees tend to have an oversized heel section with plenty of cushioning. Sometimes it will have a fancy name that the company has given their technology, such as 'foam fill,' but this is just their way of talking up the cushioning.
Shock Absorption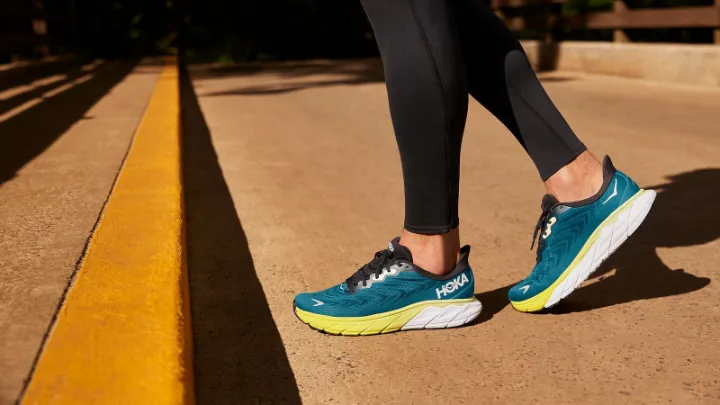 A lot of the difficulty people get with their knees is to do with the shock of running on hard ground, and over time it can take its toll. This is how some people end up with bad knees, as running shoes without ample shock absorption can create or worsen an issue. The better running shoes for bad knees will offer plenty of shock absorption to take the strain off your body.
Arch Support
Avoid low arches if you want to ensure your comfort when running with bad knees as it tends to take more effort and is more waring on your joints and knees. It also takes the strain off your heels.
Lightweight Design
Some running shoes are big and clunky, which doesn't make them suitable for people with bad knees. To take some of the strain off your joints, you need a certain amount of durability without the shoes being too heavy. This is why trail running shoes aren't always as good for those who want to run long distances on the road or on a treadmill.
Style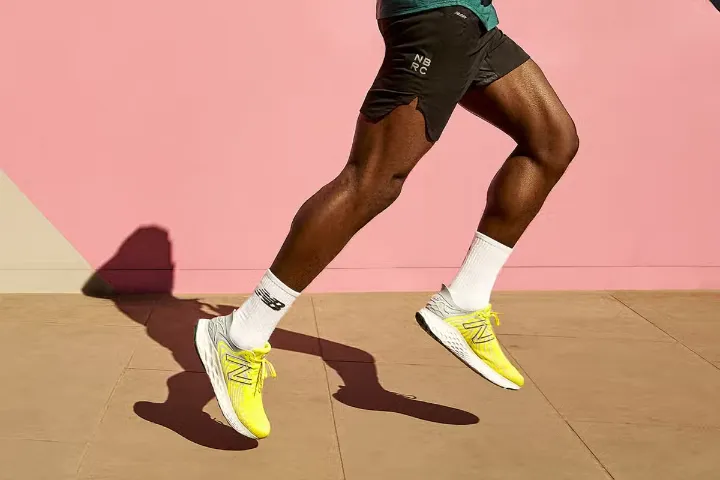 Although this shouldn't be high on your list of priorities if you have bad knees, a lot of people are drawn to certain brands because of their style options. The big brands tend to have plenty of color combinations and styles to choose from.
Flexible Toe Box
Everyone wants to be comfortable when they run, and when you have bad knees, it can make you nervous and reluctant to step properly in case you worsen an injury. The best running shoes for bad knees will offer a flexible toe box that allows you to run with the correct stance.
Breathability
Comfort is vital, but so is stability and the last thing you want is for a sweaty foot to be sliding around the insole of your running shoes. The best brands have a generous meshing area to ensure their product is breathable, which will allow for more airflow and a comfortable experience.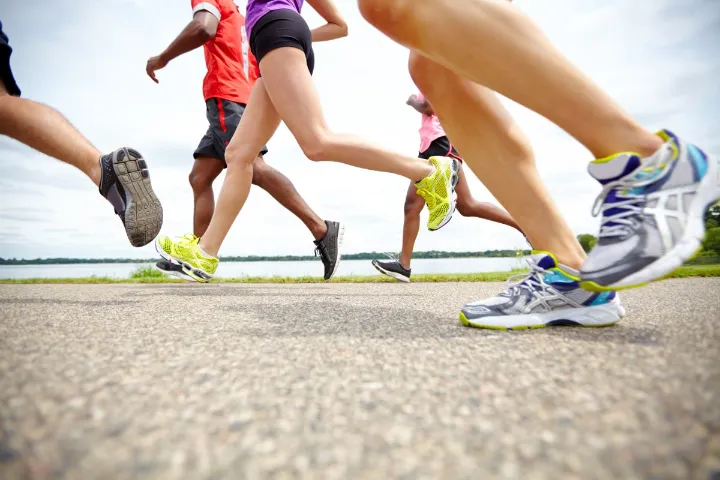 Does Running Cause Bad Knees?
If you are a casual runner who doesn't lace up their running shoes more than once a week, the chances are that running isn't the cause of bad knees for you. However, a regular competitor or someone that spends a lot of time on the tarmac will question whether running causes bad knees.
Most experts agree that running with a correct stance does not cause bad knees, but if you aren't doing it right, then you might develop bad knees. Other causes include being overweight, having short legs, or having a poor form.
Wearing low-quality shoes is also a contributor; if you do not have the right amount of cushioning, then you risk putting a lot of strain on your body's joints and ligaments instead of the shoe.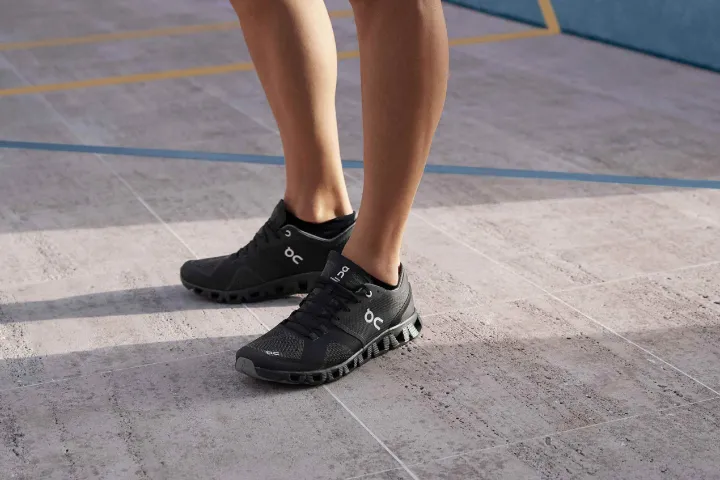 Is Running On A Treadmill Bad For Knees?
A common question from a lot of people related to the impact of using a treadmill for running and its impact on the knees. The same is true for road running in that it is only detrimental to your knees if you are running with poor form.
A lot of treadmills have a layer of cushioning to take some of the impacts away, and it can be a good place to practice proper form. It is important to land on the balls of your feet and not your heels and have an upright stance whilst remembering to be relaxed.
If you have any questions about your form, sometimes the best way to correct it is to ask an expert. When in the gym, ask one of the instructors to watch you as you run and see if they have any tips on how you can improve your stance.
Maintain a comfortable pace on the treadmill and don't up the speed until you are ready because this can cause injuries and contribute towards bad knees if your body isn't ready for the step up.
How Much Do Running Shoes For Bad Knees Cost?
Thankfully, there are no extra tariffs for having bad knees as the products that make up the best running shoes for this particular injury are regular running shoes, just with plenty of cushioning. They are also models with heel support and a good amount of meshing, and they are still good value.
This means that you can pick up a decent pair for around $70. However, we recommend upping your budget a little to get something a little higher in quality, especially when you need extra comfort. Around $100 will land you a good pair of running shoes for bad knees that are light enough not to put a strain on your joints.