Wolf Tattoo – The Best tattoos ever put to skin! Incredible designs and wolf tattoos for ideas and tips for getting your own tattoo. Amazing article.
Wolves are unique and magnificent majestic beasts. They are one of the most respected and tattooed animals. That's because a wolf tattoo always speaks well of its wearer and wolves make amazing spirit animals.
As a totem, wolves have some of the most striking meanings out there, they are noble beasts that deserve our full admiration. They are insightful, loyal, smart and spiritual animals, that are also very respected among many cultures, like Native American.
The wolf also symbolizes intelligence, freedom, a connection with instincts, good leadership, wilderness and wisdom.
As animals, wolves are hardly a domesticated species, so a wolf tattoo should tell you something about the wilderness of the wearer, the way you should approach them and being ready to deal with a smart creature.
If you talk with someone whose spirit animal is a wolf, you'll be dealing with the leader of the pack, a very social person with a keen eye to identify threats.
So if you find yourself related to the wolf as your spirit guide, you may want to consider a wolf tattoo for yourself. And if you're not sure what kind of wolf tattoo you want, fear no more! Here are some of the best wolf tattoos you can find online. Let us know if one or more worked for you!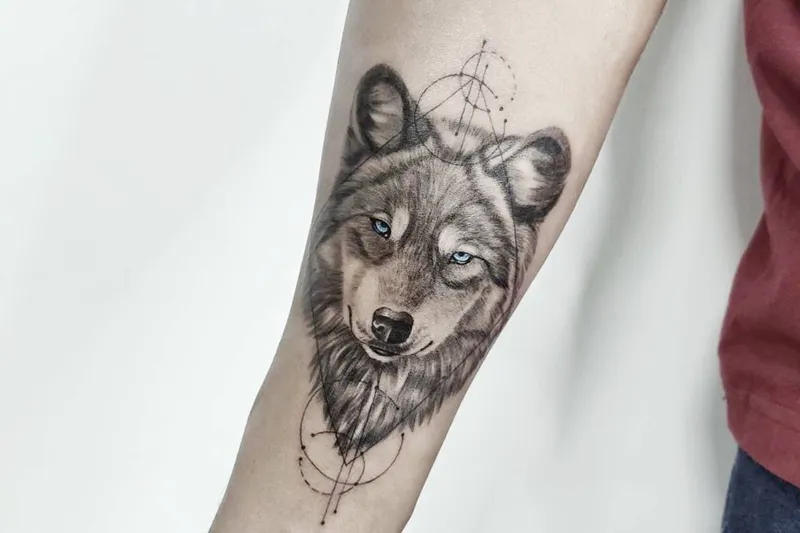 SIX-EYED WOLF TATTOO
This is an awesome design with a very traditional-looking aesthetic of a sex eyed wolf
WOLF AND CROW TATTOO
Crows are also very mystical and majestic animals, just like wolves, so this wolf tattoo depicts them both.
WOLF TATTOO SLEEVE
Sleeves are a great way to show wolves habitat and a story related to them, in this case, we see a huge realistic wolf.
LOBA WOLF TATTOO
This tattoo says in Spanish "that (she) wolf is special".
HOWLING WOLF WITH SYMMETRIC DETAILS TATTOO
A very cool design for the back of the wearer.
INK STROKE WOLF TATTOO
Amazingly detailed tattoo of a wolf made of ink brushes and strokes.
YIN YANG WOLF TATTOO
This is another amazing design of a yin yang made of one wolf, with a lot of details and amazing technique.
SKETCH WOLF TATTOO ON FOREARM
This forearm tattoo shows a wolf made of lines like a sketch, is very symmetric and cool.
WOLF HAND SIGN TATTOO
What makes this tattoo very cool is the details of the child's hands making the sign of a wolf to make a shadow of a real one.
HALF WOLF HALF FOREST AT NIGHT TATTOO
Animals heads make great tattoos like this: half and half. We will come across a few of them here.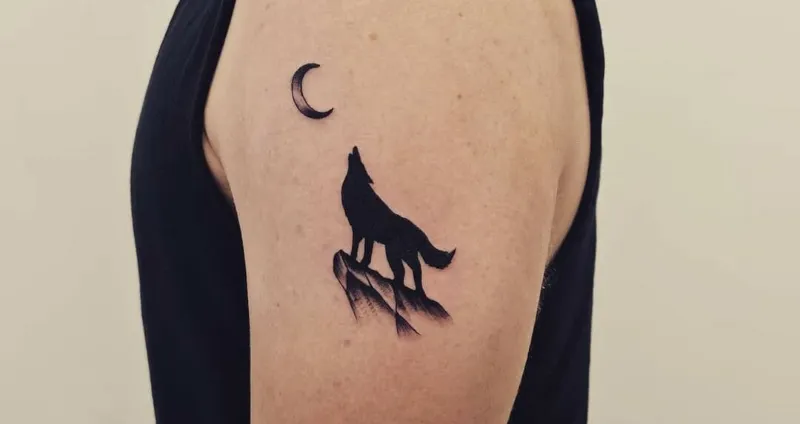 SERIOUS WOLF TATTOO
This upper back tattoo shows a wolf surrounded by a few crows.
KEYS TO THE WOLF'S HEAD TATTOO
This is a very original design placed on the chest of a male model. It is heavy detailed and the expression of the wolf looks vivid.
DOT WORK WOLF TATTOO
Great technique in this tattoo of a wolf and a heart made of some amazing dot work.
FOOT WOLF TATTOO
This great tattoo of a wolf with red eyes and a rose, placed on the foot of the wearer is full of color.
GIRLY-LINED WOLF TATTOO
This design has some feminine details and some dot work that makes it look magical.
WOLF CUB TATTOO
This to me looks like a wolf cub since it's kinda chubby and looks cute.
HOWLING WOLF SILHOUETTE
Amazing design for a side tattoo of a forest within the silhouette of a wolf.
BADASS STOMACH WOLF TATTOO
This design looks aggressive and badass AF, a great tattoo for the stomach of a female model.
NATIVE AMERICAN WOLF TATTOO
Wolves are very important in Native American culture, since they symbolize wisdom and decision-making skills.
SPIKE WOLF TATTOO
This is a very alternative and original design that looks great on a man.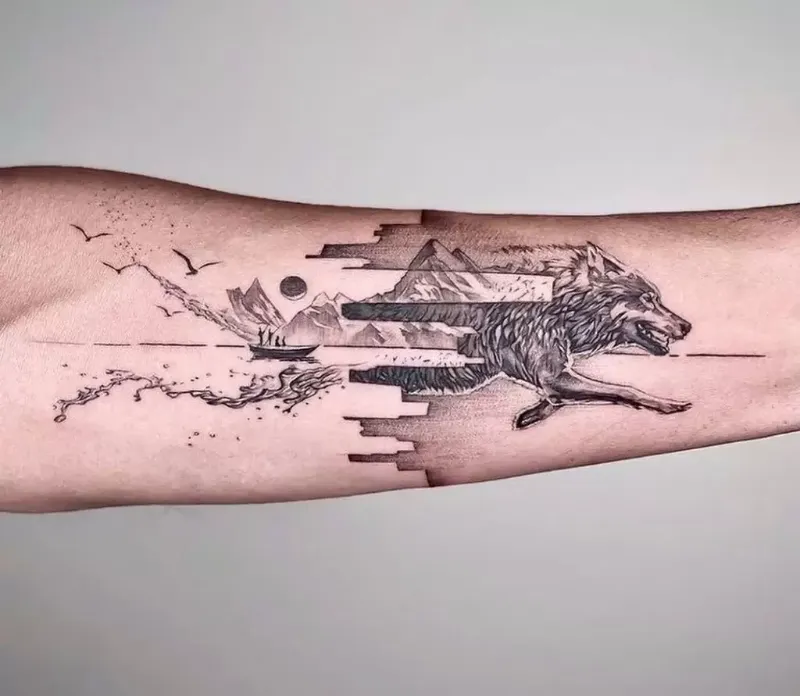 WRIST WOLF AND INFINITY TATTOO
This is a very discreet and cute design of a wolf, very well detailed for its size.
NEO-TRADITIONAL WOLF
Great tattoo very similar to the first one but with just 2 eyes.
SKETCHY UPPER BACK WOLF TATTOO
Another design that looks like a sketch but this one is larger in size. The eyes look mesmerizing!
MATCHING WOLF TATTOOS
A cute design for a couple or friends.
SERIOUS WOLF ON FOREARM
Another design showing the wolf very serious and majestic.
WOLF AND SHE-WOLF TATTOOS
This is another take of a matching tattoo for a couple.
WOLF AND MANDALA TATTOO
Beautiful leg design of a simple mandala and a wolf with similar looks of the first one, but less traditional-esque.
SPLIT WOLF TATTOO
Another approach of the half and half trend of wolf tattoos. This one shows a polygon one on one side.
SHE WOLF TATTOO
Great design very popular for girls, a she wolf on the side of the thigh of a female wearer.
ANGRY FRONT WOLF TATTOO
This is a very interesting design since the wolf is facing you completely, something not commonly found.
WHITE-EYED WOLF ON CHEST TATTOO
Kinda creepy if you ask me but that's cool.
WOLF ATTACKING TATTOO
This neo-traditional looks on a wolf tattoo is very popular among guys.
WOLF PAW TATTOO
An interesting take on the paw tattoo showing a serious wolf.
SHE WOLF SKULL TATTOO
A half a skull tattoo of a she wolf, very feminine and full of flowers to make a balance between the skull and the "alive" side.
WHITE-EYED SHE-WOLF TATTOO
Great line work on this design!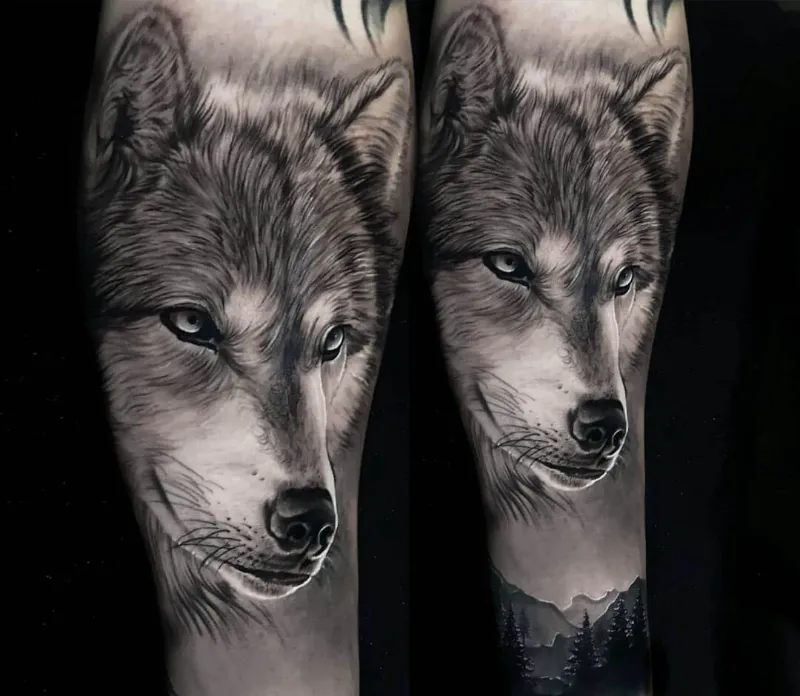 WOLF AND MOON TATTOO
Wolves and the moon go a long way back, this design is a tribute to it.
WOLF AND ARROW TATTOO
Both Wolves and arrows are very popular elements on Native American tattoos, by the way.
FESTIVE WOLF TATTOO
This is the face that you had when you were forced to use that fugly Christmas sweater.
HOWLING WOLF AND ROSE
The delicate rose makes a good balance with the howling wolf.
WOLF AND DREAMCATCHER TATTOO
Take a look at out dreamcatchers tattoo list!
WOLF MASK TATTOO
A glamorous mask for your wolf!
FIBONACCI WOLF TATTOO
I love it when people do this thing with pictures and the Fibonacci sequence.
HALF AND HALF AGAIN
This time on the arm of a male wearer.
ELEGANT WOLF
Those details that kinda look like some sort of tribal influence, make it look so elegant and high-class.
BICEP WOLF TATTOO
An amazing design, similar to the precious one, on the bicep.
TRIBAL WOLF CHEST TATTOO
If you were waiting for a more traditional tribal wolf tattoo, this is a good example!
We hope you enjoyed this carefully picked list of the best wolf tattoos online. As you can see, you can find almost every trend on this list and we hope you liked more than one for yourself!