Japanese Tattoo art, designs, artists, and best place to get a tattoo of Japanese art! You'll love our top pics for best tattoos out there today.
You can easily recognize a Japanese tattoo when you see it. Japanese tattoos have very particular and unique aesthetic and they usually have some elements on them that make them visually stunning.
In fact, there are just a few cultures that have so much history with tattoo art as the Japanese culture. And their style and aesthetics have become famous worldwide because they just make amazing tattoos.
From Koi Fish, to Geishas, Japanese masks, Yakuzas and warriors, dragons and flowers. Japanese tattoos can look good on anyone and, in fact, they are designed to become larger with time, that is, they go well together and you can start with a Sakura tattoo and keep going until you get a full sleeve Japanese tattoo.
Japanese tattoo art goes way back to centuries before us, and just to talk about the whole history of Japanese tattoos would take us hours and pages of amazing stories and facts. No wonder why so many people feel attracted by this trend and style.
If you're thinking of getting a Japanese tattoo you may already know a bit about them and you may also have an idea if what you want, but let us bot entertain you and enlighten you with this amazing list of the best Japanese tattoos that you'll be able to find online. Put that and a little bit of research and you're up for an amazing experience in tattoo art!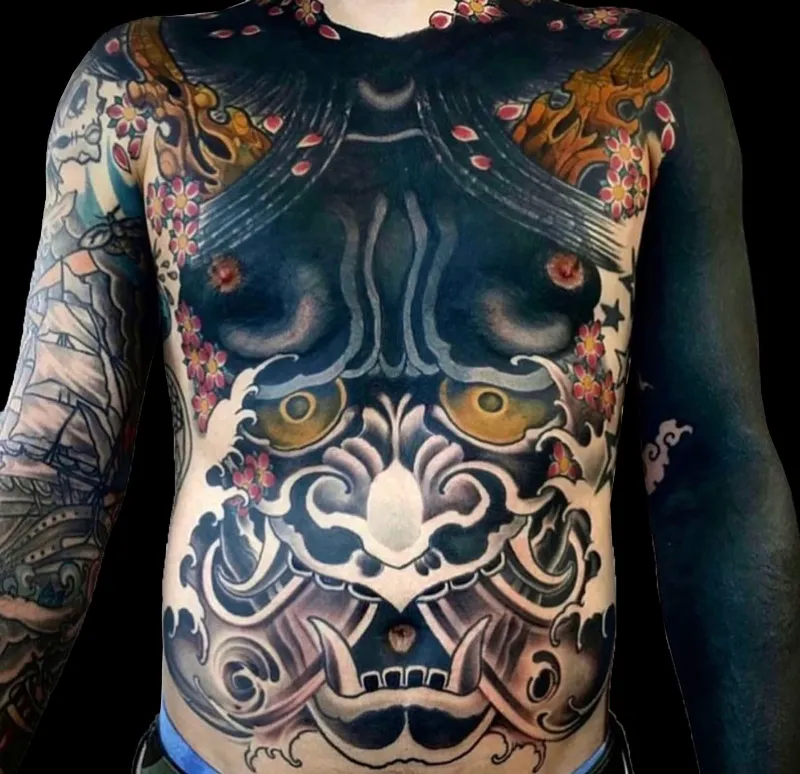 BLACK CLOUDS JAPANESE TATTOO
This is a strong way to start our list with an amazing black tattoo in the forearm.
FEMALE WARRIOR JAPANESE TATTOO
Amazing design with a lot of details and the contrast of the flower petals make it look much more poetic.
CUTE JAPANESE DOLL TATTOO
Not so traditional but very cute and appealing design.
JAPANESE MASK BLACK TATTOO
Usually demon masks are accompanied by flowers and other elements that make a balance.
KOI FISH SLEEVE TATTOO
Japanese Tattoos make awesome sleeve tattoos, full of colors and elements.
GEISHA JAPANESE TATTOO
A beautiful geisha on the back of the wearer.
WARRIOR JAPANESE TATTOO
This is an amazing design, very realistic and takes half the back of the wearer. This kind of designs are usually more appealing to guys.
JAPANESE ARMBAND TATTOO
Armbands are a great place to start to get tattooed, and this design shows the traditional waves of Japanese art.
SMALL SAKURA HAND TATTOO
Sakura (the cherry blossom flowers) are a very popular element in Japanese tattoos. This design is very cool since is all just pink and no other lines or outlines.
DEMON MASK ON HAND JAPANESE TATTOO
Japanese demon masks are very popular too and you can see why, since they are awesome tattoos.
JAPANESE WAVES TATTOOS
This leg design shows three waves with Japanese aesthetics.
JAPANESE FAN TATTOO
This is a very simple and beautiful design of a fan, placed on the back of the forearm.
JAPANESE LANDSCAPE TATTOO
Japanese tattoos also show landscapes usually with a traditional home and a waterfall.
NEKO JAPANESE TATTOO
Cats are very beloved creatures in Japanese and they make awesome traditional looking tattoos.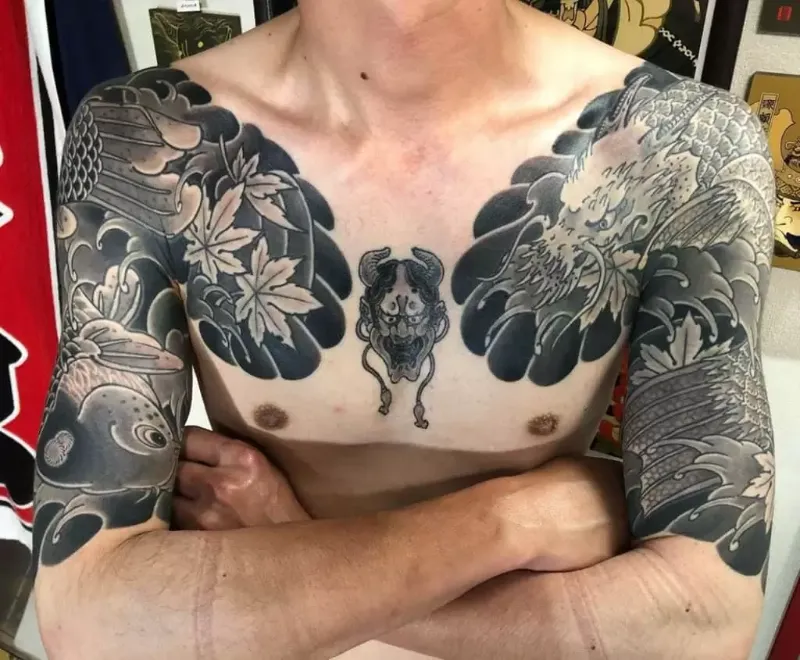 STUNNING JAPANESE TATTOO SLEEVES
God, let this be real because is just amazing!
DRAGON JAPANESE TATTOO
Dragons are also very important in Japanese culture and tattoo art. This one takes the whole side of the wearer and is just black and red ink.
FISH TATTOO
The strokes resemble a lot of the ink art of Japan and calligraphy style.
ORIGAMI CAT JAPANESE TATTOO
Not just the Origami, you can also see some Peony flowers.
PEONY AND BIRD JAPANESE TATTOO
Peony flowers are very commonly found in Japanese tattoos, and they usually are not alone. In this case, we also have a majestic bird.
JAPANESE CAT TATTOO
What makes this a Japanese tattoo is the artwork that can be seen within the silhouette of the cat.
PONY FLOWERS JAPANESE TATTOO
This stunning peony flowers look amazing also on their own although they seldom are. this is a great an very feminine thigh tattoo.
FIRE AND ICE JAPANESE TATTOO
Japanese artwork usually shows a duality, and the strokes have a very Japanese style.
KOI FISH HALF SLEEVE TATTOO
We can never get enough of Koi Fish!
PEONY ON HAND TATTOO
Black, gray and white Peony.
SAKURA LOWER BREAST TATTOO
Any excuse yo show off your perfect boobs!
FULL SIDE SAKURA JAPANESE TATTOO
For the real hard core sakura lovers, this is a great and huge tattoo.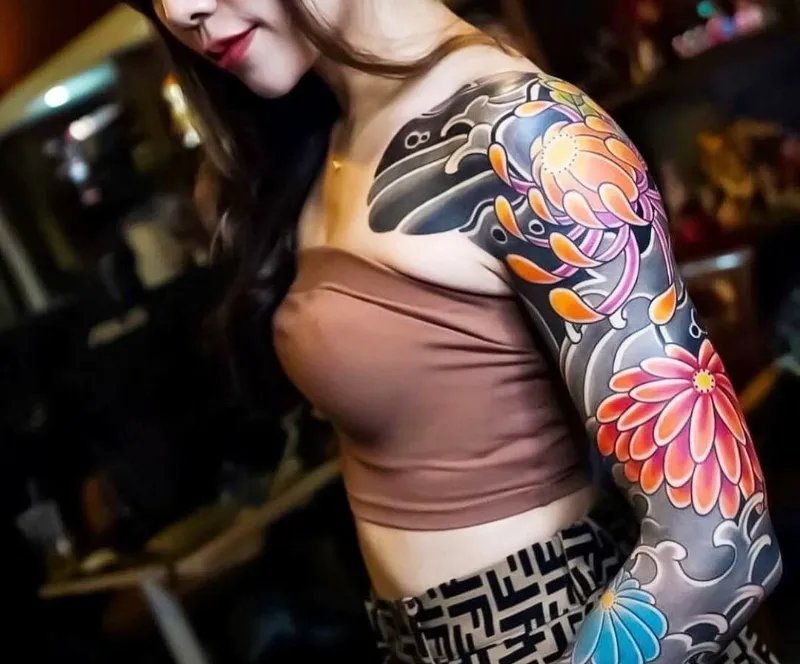 RAMEN JAPANESE TATTOO
This is a kinda funny and very original tattoo!
PEONY NAPE TATTOO
Peony tattoos are becoming one of my favorites.
ANGRY DEMON JAPANESE TATTOO
this leg tattoo will show the world you mean business and are no BS.
DOT WORK BUDDHA JAPANESE TATTOO
This is an AMAZING dot work tattoo that for some takes a second to realize what it is.
JAPANESE OCTAGONS TATTOO
It's like 9 tiny different and very cool tattoos!
FULL UPPER BODY JAPANESE TATTOO
Remember what I said about Japanese tattoos being made to, eventually, become larger? This is what I meant.
LOTUS FLOWER HALF SLEEVE
Lotus flowers are also very important in Japanese tattoo art. If you enjoy this tattoo, check our list of sleeve tattoos!
JAPANESE CASTLE TATTOO
Amazing artwork and craftsmanship to create this tattoo of a traditional Japanese building.
FISH MATCHING JAPANESE TATTOOS
To continue with the duality we mentioned before, this is a great matching Japanese tattoo.
JAPANESE SUNSET TATTOO
To some people this designs reminds them of Karate Kid.
JAPANESE ARMAND
Another great example of an armband with a Japanese aesthetic.
JAPANESE LEG SLEEVE TATTOO
An amazing design with gigantic peony flowers that are almost the same size as the dragon (or a very tiny dragon).
REALISTIC GEISHA JAPANESE TATTOO
This geisha looks very much like the one in the movie.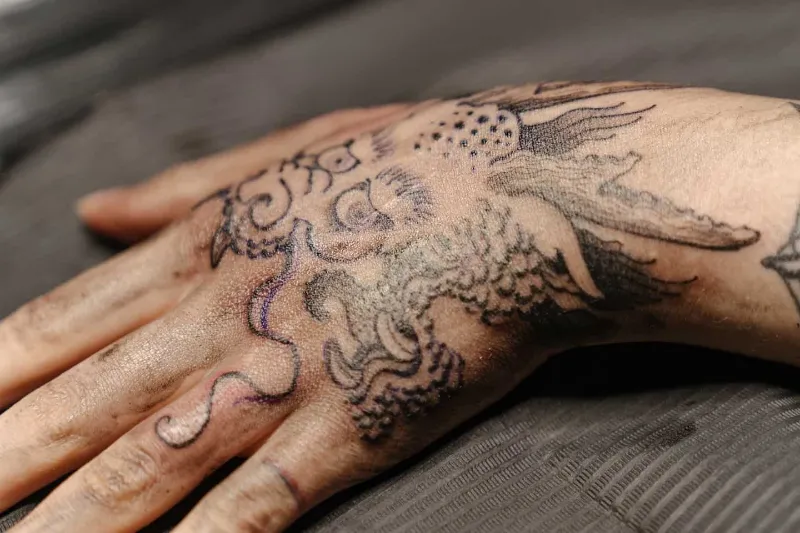 JAPANESE SLEEVES TATTOOS
This is another great way to show the duality that is usually found in Japanese tattoos.
PEONY CAT ON FOOT
Look at this beautiful fat cat!
EMPTY CAGE JAPANESE TATTOO
Beautiful Japanese aesthetic tattoo of a free and absent bird.
JAPANESE WAVE HEART TATTOO
I fell in love with this design of a heart made of waves of Japanese style.
BLACK JAPANESE SLEEVE TATTOO
A ridiculously awesome tattoo of a completely black sleeve and some flowers.
ANIME TATTOO
Let's not forget one of the greatest things that Japan has given us: Miyazaki. Let's celebrate him with an amazing Japanese tattoo.
SAMURAI ON BACK JAPANESE TATTOO
Looks like this warrior is ready to give his life in the battlefield.
BLACK AND PINK PEONY FLOWER TATTOO
This is the last one, I promise!
Let us know if you found the best Japanese tattoo for you here! And also, take a look at some of our other lists linked in here!