Sometimes a gym membership just isn't enough, and you need to get some gains from the comfort of your own home. Having the equipment ready is easier said than done, as some of the at-home gym equipment is not up to the high standards you might expect.
You need the weight bench you choose to be reliable, sturdy, and capable of holding firm under the added weight. This is only possible when you purchase a high-quality product, and we have created a list of the best weight benches to help make this decision easier. By the end of it, you will have seen a selection of products that set the standard for personal gyms, and there is something for every budget.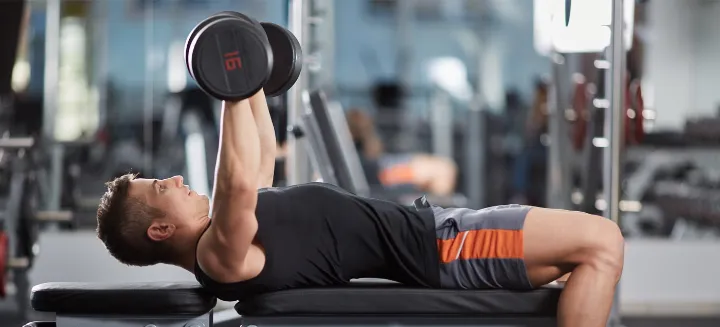 Reviews
Editor's Choice: Bowflex SelectTech Adjustable Bench Series
Sale
BowFlex 5.1S Bench
SPACE SAVING DESIGN: With an easy button click, lift and go process, the bench can be stowed offering over 50% space maximization when not in use.
TOTAL VERSATILITY: Robust, easy selection knob offers 6 adjustable angles for total versatility: 30°, 45°, 60° 90°, flat, and decline.
This is the best weight bench because of the quality you get, and it offers more adjustable angles than most other products in the niche. You can choose between -20°, flat, 30°, 45°, 60°, and 90°. It folds up small and wheels away for easy storage, although, with such a pleasant design, you might want to keep it out sometimes. The leg-down brace is removable to give you the support you need for a decline session, and the construction is made from high-quality steel.
It has a load capacity of 600 lbs meaning you get that barrel chest you have been working towards in no time. The click-lift-and-go process makes it easy to move into storage in seconds, and with an adjustable seat pan and plenty of foam padding, it is one of the most comfortable around.
PROS:600 lbs weight capacity
Lots of adjustable angles
Folds up easily
Lots of foam padding
Best Affordable: AmazonBasics Flat Weight Workout Exercise Bench
This might be a basic weight bench but what you get for your money is excellent value. Because of its strength, it is ideal for a beginner or an experienced gym enthusiast to use at home and helps you to save on space. It is made from a durable steel frame and has a smooth PVC-covered surface to make sure any moisture does not sink in. The T-shaped legs are always secure to allow you to work out in confidence, and it is backed by the Amazon 1-year limited warranty.
It is super easy to assemble and only weighs 24 lbs meaning you can move it from room to room or put it in storage between workouts.
PROS: Great value
It can be used for a variety of different workouts
Sturdy T-shaped legs
Easy to assemble
Most Versatile: FLYBIRD Weight Bench, Adjustable Strength Training Bench
This is one of the most versatile weight benches around, as it can be put into a variety of positions for different workouts. The steel construction is commercial grade and adds to the safety of the user. This is also part of what makes it such a strong weight bench, with its 620 lbs capacity. Adjusting the angles is easy, and when done, the bench stays in place so you can power through your reps in comfort.
There are 7 backbench positions and 3 seat positions, so you can bench press or get through some curls in comfort. The backrest and seat are made from leather and have plenty of foam cushioning to make you comfortable when you're pushing those heavyweights around. There is no assembly required, so you can use it as soon as you have unpacked it and set it to the ideal position.
PROS: Large 620 lbs weight capacity
7 back bench positions
3 seat positions
Lots of cushioning
Best Large Weight Capacity: Fitness Reality 1000 Super Max Weight Bench with Upgraded Wider Backrest
Sale
For many people, the simple design of this weight bench is all they need to power through a workout, and it has a massive 800 lb weight capacity. The wider backrest is great for those who are on the large side, which will be the aim for a lot of people when using this at-home workout bench. The bench itself is made from durable steel, and it has a maximum user height of 6 ft 4, so it is suitable for most people.
You get massive 12 adjustment positions that can be changed in 1/2 step increments, and because the backrests' thickness is 1.75 inches, it is super comfortable. The leg hold-down bar can be changed between 3 positions to make it ideal for your needs, and it folds down almost flat to make it easy to store.
PROS:800 lb weight capacity
Wide backrest
12 adjustable positions
Durable design
Best Compact Design: Marcy Deluxe Foldable Utility Bench Gym Equipment – SB-10100
Sale
Marcy Deluxe Foldable Utility Bench Gym Equipment - SB-10100 , Black
VERSATILE EQUIPMENT – The adjustable bench can be used to target multiple muscle groups. It allows you to perform an array of strength-training exercises. Pair this bench with a rack or cage or use it with free weights, barbells, or body weights.
HIGHLY ADJUSTABLE – The reinforced multi-position back pad allows flat, incline, decline, and military position. The adjustable seat height lets you set your body in the proper and safe lifting position to prevent injuries.
Because of the multiple positions this product can be set to, it is easy to concentrate on different muscle groups for an all-over workout. The backrest can be set to different angles, as can the seat. It is made from heavy-duty 14 GA steel and is made comfortable by a thick layer of foam over the high-density finish.
The 300 lb capacity isn't the largest on our list, but for most people, it will be more than sufficient, and the foam roller pads add to the comfort when you are pushing hard. The folding mechanism makes it easy to store away, so after you have used it for legs, arms, chest, and core, you can put it out of sight until the next time.
PROS:300 lb capacity
Easy to fold away
Foam roller pads add to the comfort
Best Steel Construction: CAP Barbell Deluxe Utility Weight Bench
Sale
CAP Barbell Deluxe Utility Weight Bench, Silver, Round Backpad
SPECS – Recommended maximum weight capacity of 500lb; For home use only. Assembled dimensions- 53 x 27 x 46 inches
FEATURES – Resistance band posts can be utilized for resistance band exercises; Attached wheels and handle for easy transportation and storage; Double-stitched, comfortable padding; Tubular steel frame with durable powder coat finish for longevity and durability
The all-steel construction of this weight bench ensures it is sturdy enough to support an experienced trainer. It features an area underneath where you can train with resistance tubes if you don't want to use dumbells. You can place it in several positions. When flat, it has a maximum weight capacity of 500 lbs, and when inclined, it can hold up to 400 lbs at a time.
You can also use it for core exercises such as leg raises, and because of the 7 different backrest positions, there are plenty of dumbbell exercises to get stuck into. It weighs 46 lbs, so you know it is going to be able to support a fair bit of weight, and when you're done, you can roll it into storage.
PROS:500 lb bench capacity and 400 lb incline capacity
7 backrest positions
Sturdy construction
Best With Preacher Curl: Body Champ Olympic Weight Bench with Preacher Curl
Sale
This is a versatile Olympic weight bench that has everything you need except the weights themselves. You can use it for preacher curls, bench presses, incline bench presses, ab crunches, and a lot more. The backrest included has 7 adjustable positions, and with comfortable foam rollers, you will be thankful for the multiple leg positions as well. The foam grip handles are comfortable when you're in your stride, and your safety has been accounted for in the no-pinch design and built-in safety hooks.
For most people, it only takes an hour to set up, which is more than others but shows how much you get for your money here.
PROS: Versatile Olympic weight bench
Adjustable positions
No pinch design
Weight Bench Guide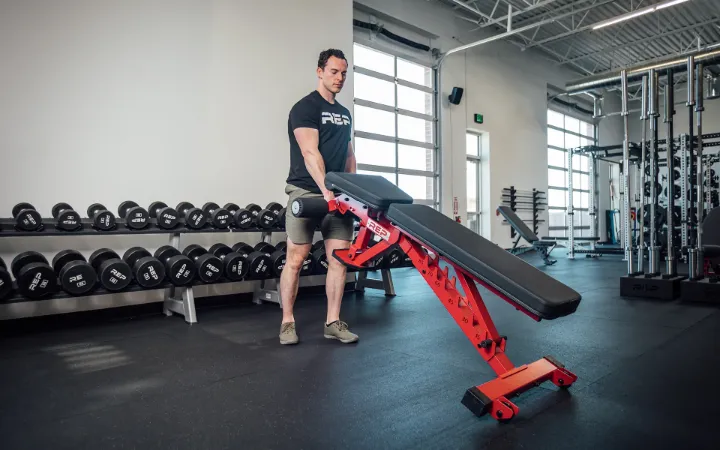 When looking for a new addition to your at-home gym setup, a lot of people find that a weight bench is one of the most important items. Not only can the best weight benches be put into numerous positions, which opens up lots of possibilities, but they are more affordable than you might think.
This is only if you know what the quality products are capable of. When you do, you'll find that you can make a sensible purchase which is exactly why we created the following buyer's guide.
What To Look For In A Weight Bench
Adjustable Positions
This is for both the backrest and the seat, as you need as many adjustable p[ositions as possible if you want to work on different muscle groups. The weight bench you choose should be easy to adjust without having to spend time getting the pin in the right position.
High Weight Capacity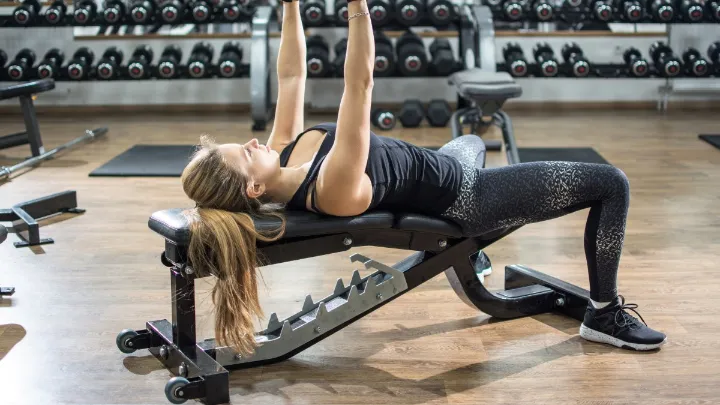 You might not realize it now, but over the months, you are going to need a weight bench that can hold some serious weight. This is why a lot of reputable brands have huge maximum capacities. A lot of them circle around the 600 lb mark, whilst others are a more modest 300 lb.
We've even found products that are closer to 1,000 lbs which seems less necessary.
Stability
This is one of the major factors as it links to your safety. The stability of the weight bench should not be something you need to compromise on. This might mean you need to up your budget a little to make sure you get a product that is made from a durable material such as steel.
Foldable Design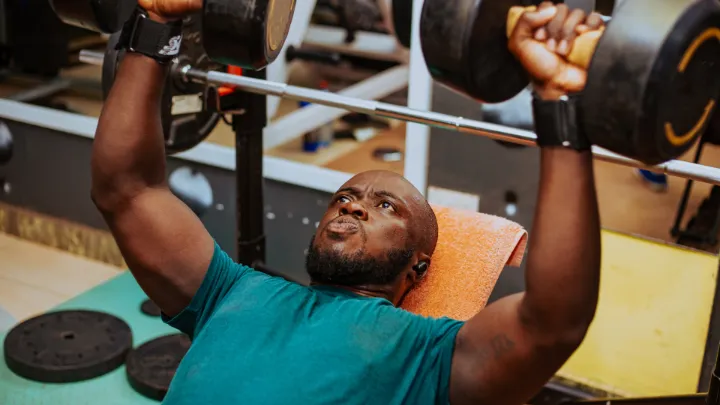 Being able to store your weight bench is vital as when you are done with it, you don't want to use it to hang your dirty clothes. The best products are those that fold up easily into a flat, compact size and can be rolled into a cupboard and kept out of sight.
Width
The width of your weight bench will determine how sturdy it is, so look for a product that is around 10 inches and above. The more, the better, as you will find it more comfortable, especially when you are upping the weight.
Decline Facility
Being able to position your weight bench in a declining position has its benefits. It can place less stress on certain parts of your body, such as your shoulders, compared to a regular bench press and gives a workout to areas that otherwise can be neglected, such as the lower pecs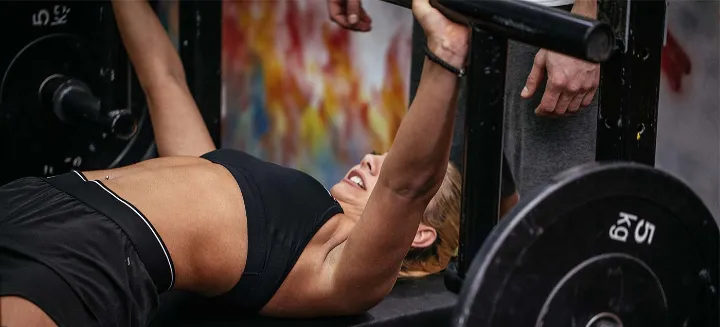 Different Types of Weight Benches
Although certain designs are synonymous when you think of weight benches, there are some others that might surprise you; here are some of the most common.
Adjustable
This is the first type that comes to mind and the one that features heavily in our list of the best weight benches. With adjustable positions thanks to a pin or step construction, it offers plenty of options and different positions. Extremely popular because of the number of choices it gives you, and it can be used alongside racks for heavier lifting.
Most also have an adjustable seat to make it easy to lift in comfort and change positions.
Olympic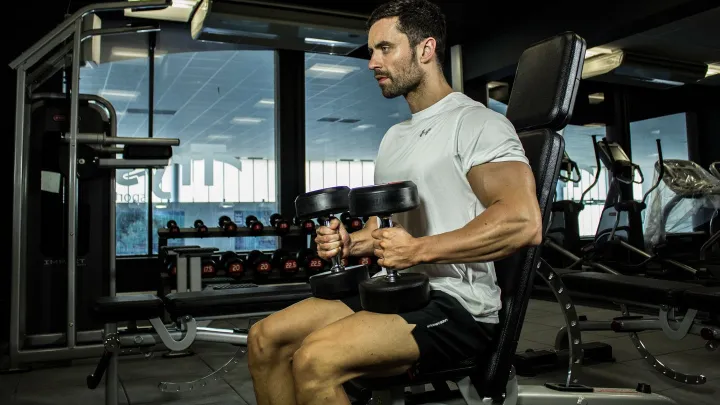 These tend to be more popular for professional use unless you have a bit more room, although some people use them in their garages. They are sometimes known as racks, and when used with an adjustable seat (if there isn't one built-in), you can use it at a variety of angles to work different muscle groups.
Flat
Another common weight bench these are great for chest presses, among other exercises, and is some of the sturdiest because they do not have any moving parts. They are low to the ground with wide feet for stability, but this does mean they are not easy to store away. And you are a little limited as to what they can do.
Again though, they tend to have a high maximum weight capacity.
How Much Do Weight Benches Cost?
Although we have included a bargain product on our list that can be picked up for less than $30, the budget picks tend to be less versatile.
This is why we recommend stretching your budget closer to the $200 mark. This will ensure you get your hands on a comfortable product that has a good maximum weight capacity and one that you can rely on. These tend to have more adjustable angles so you can make the most of your time working out at home.
What Is The Best Weight Bench?
This depends on your budget, but we have tried to be reasonable and gone for a weight bench that, although it is on the higher end of the scale in terms of how much it costs, outperforms the other products.
The Bowflex SelectTech, Adjustable Bench Series, has a plethora of positions, including decline, and is one of the most comfortable thanks to the plush foam filling. It folds up small and has wheels that make it easy to take it into storage and a load capacity of 600 lbs making it the ideal weight bench for most tastes.