If you're looking for the best virgin coconut oil, you probably won't find it in your local supermarket.
You may find that the best place to get this tropical oil is your local health food store and organic food retailers. You can also use the internet to find other brands of coconut oil not available at your local retailers.
Do an internet search for "virgin coconut oil" and you're sure to find a variety of excellent organic oils from a wide variety of different manufacturers.
But now that you've found the coconut oil, how do you choose the best one for flavor, consistency and purity?
What's so Special about Virgin Coconut Oil?
When many people think of coconut oil, they think they're all the same. However, there is a big difference between regular coconut oils and the kind that you want to use – virgin coconut oils.
The primary difference is how virgin coconut oils are made; the process used will directly affect the flavor and purity of your coconut oil.
Regular coconut oils are usually made from dried out pieces of coconut that have been sitting out in the sun for days. These coconut pieces are sent to factories where they are soaked in bleaches and chemicals to leech out the oils.
These highly processed oils are then subjected to very high temperatures further purify and liquify the oils. Unfortunately, you're left with a coconut oil with hardly any flavor and devoid of any nutritious and healthy fatty acids naturally found in the coconut.
Virgin coconut oils are usually made from coconuts plucked fresh from the tree. The coconut meat is pressed, usually by hand, and the milk is fermented to produce a nice, creamy rich coconut oil. These types of oils are rarely exposed to high levels of heat; giving you a pure, very tasty coconut oil.
Tropical islanders have been making virgin coconut oil by these methods for hundreds of years. The coconut oil is rich in nutrients and it's been used to cook with as a dietary oil, as well as for many different body and skin care uses.
Click Here to learn more about the differences between Virgin coconut oil and regular coconut oil.
Why You want a the Best Virgin Coconut Oils
If you're looking for high quality oils, then you should choose organic virgin coconut oils. Here are more benefits of choosing a virgin coconut oil:
the best virgin coconut oils are usually made locally by people living near the coconut groves.
the coconuts are harvested and processed in or near the village thereby supporting the local economy.
the oil isn't exposed to high heat or chemicals; providing you with pure natural oils.
virgin coconut oils are bursting with flavor and healthy fats, unlike highly processed oils.
How to Choose the Best Brand of Coconut Oil
There are many high-quality, virgin coconut oils available.
History of coconut oil has made it hard to find in your supermarket shelves. However, you can find it in your local health food store or organic food retailer.
One of my favorite brands is Garden of Life Extra Virgin Coconut Oil.
This high quality coconut oil is 100% certified organic, perfect for vegetarians and contains no GMO's (genetically modified organisms).
It's made from the freshest coconuts, shredded and cold-pressed, using the same methods farmers have used for centuries.
Based on the above criteria, you'll find a list of companies that all make or sell some of the best virgin coconut oil in North America.
Many of these companies import the coconut oil from tropical countries, such as the Philippines, and other areas where coconut plants naturally thrive.
Here are some of the best coconut oils you can get locally or on-line:
Garden of Life Coconut Oil
Garden of Life Coconut Oil for Hair, Skin, Cooking - Raw Extra Virgin Organic, Pure Unrefined Cold Pressed Oil with MCTs for Body Care or Baking, Aceite de Coco Organico, 29 Fl Oz
RAW COCONUT OIL: Our unrefined coconut oils are not hydrogenated, bleached, refined, or deodorized
ORGANIC COCONUT OIL: USDA Certified Organic, Non-GMO Project Verified, RAW, Certified Vegan, Pareve MK Kosher, Gluten Free, Dairy Free
This oil contains coconut meat from only fresh coconuts. It is produced in the Philippines and imported into North America by Garden of Life. The coconut meat is shredded, cold-pressed and milked. The coconut milk is then fermented to produce a 100% virgin coconut oil. This is coconut oil is not hydrogenated, bleached, refined or deodorized – it is a completely vegan and organic coconut oil.
Spectrum Naturals Coconut Oil
This virgin coconut oil is expeller-pressed; meaning the coconut meat is pressed without the use of heat, only pressure. It is a completely, unrefined coconut oil that retains all of the flavor and aroma of freshly-picked coconuts.
Nutiva Oils
Another excellent virgin coconut oil that's cold-pressed. This oil is also made from freshly-picked coconuts; the meat is pressed immediately after harvesting. They don't use any bleach, high heat, fermenting, hydrogenation, bleaching or deodorizing to make this coconut oil. It's one of the best virgin coconut oil products you can find with a great coconut taste and fragrance.
Tropical Traditions
Sale
This virgin oil is also made in the Philippines following the traditional practise used by villagers for hundreds of years. This is a cold-pressed and completely organic oil. It retains all of the healthy nutrients that the best virgin coconut oils should have.
While there are other virgin coconut oils not covered here, you can't go wrong if you choose a product that has been made by the traditional methods followed by tropical cultures. The best virgin coconut oil is a completely organic product without any hydrogenation, bleach, chemicals or heat used to process and manufacture it. If you follow this guidelines, then you can be assured that the coconut oil you get is one of the best virgin coconut oils you can use for your health.
Where to Buy the Best Virgin Coconut Oils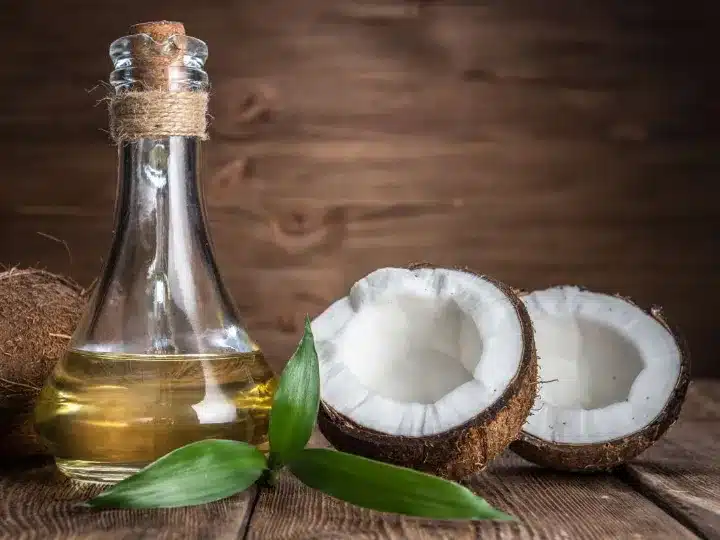 You can usually find virgin coconut oil at your local organic health food store or online retailers. Prices may vary, but you can expect to pay about $15 – $25 for a 16 ounce jar and about $10 – $15 for 100 coconut oil soft gels.
Nutiva Organic Coconut Oil is one of the top selling coconut oils on Amazon.com with over 300 customer reviews. Another customer favorite appears to be Natures Way Organic Coconut Oil. Below you'll find more high quality virgin coconut oils available from Amazon.com.
These virgin coconut oils were selected because:
They're free of cholesterol, trans-fatty acids and hydrogenated fats.
100% organic, contain high levels Lauric acid and are an excellent source of medium chain triglycerides.
Using the best virgin coconut oils will ensure you and your family get the most benefits from this extraordinary tropical oil. Discover for yourself the health benefits of virgin coconut oil and experience this Secret from the Tropics!