Take a good look at yourself. You need to do this before you leave your bathroom, as you never know what you missed. To help you size up the situation before you go public, you need one of the top 13 best shower mirrors in 2023.
These top shower mirrors make sure you do not miss any spots in your hurry to get ready. Plus, they are durable, well made, and cover a lot of territory for you. They attach to your shower area quite easily as well, making them a simple addition to your bathroom area.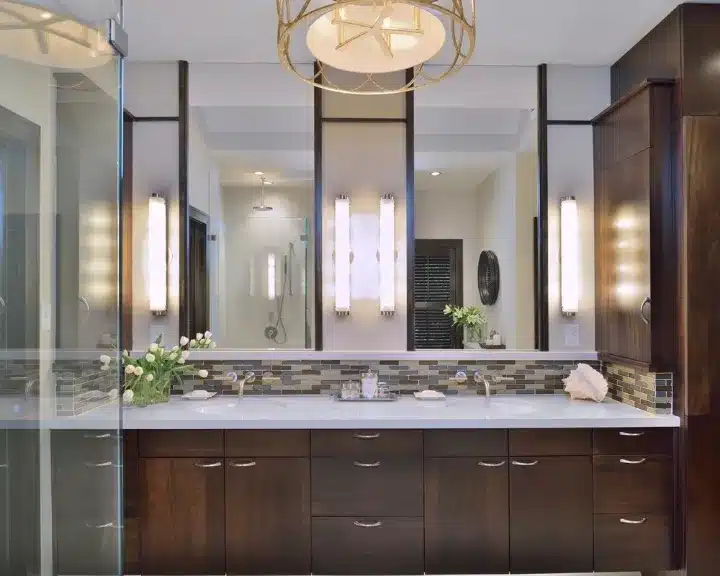 Best Shower Mirrors Reviews
Toiletries – The Oliver Silicone Waterproof Mighty Mirror
All you need to do to use this shower mirror correctly is to push it lightly against your shower stall wall, and it should stay in place. No suction cups, adhesives, or other permanent hardware are needed t get this up and ready for use.
Once it is in place, you can take advantage of its no-fogging characteristic. Shave or do other personal care activities being able to see each step of the way. After it is up and ready, this shower mirror doe snot takes on water.
It is waterproof, shatterproof, and fog, proof 3 great elements to have in a good shower mirror. A drainage system lets the water get out quickly without harming the mirror or your shower time. Made from silicone and polycarbonate materials for safety.
simplehuman Wall Mount Shower Mirror
simplehuman Wall Mount Shower Mirror
MULTI-DIRECTIONAL PIVOT: Allows full movement in all directions for an easy angle adjustment.
FOG-FREE FINISH: Anti-fog coating provides a clear reflection in the shower.
A mirror in your shower comes in handy. It lets you handle your personal care duties and clean up at the same time. The shower water should rinse everything away fast and easily.
Plus, the anti-fog coating makes sure you can see clearly. To get this mirror installed, you just need to use the included double-sided tape. It sticks to your shower wall and mirror without any hassles. After you get it in place, the mirror has a special place for your razor or other small items.
On top of all that, the mirror pivots. That means you can move freely and not miss a spot as you get ready for that big date you have. The mirror measures about 10 by 7 by 2 inches in size, more than enough to take care of your personal care needs.
mDesign Large Modern Metal Suction Shaving Mirror
mDesign Large Modern Metal Suction Shaving Mirror Center for Bathroom Showers and Tubs - Holders for Shaving Cream and Razors - Satin
3-N-1 STORAGE: This convenient suction mirror was designed for shaving in the shower; It features a large rectangular mirror for quick and easy viewing, a curved holder to cradle your shaving cream, and 2 storage hooks for your razors; If you don't need two razors, you can use one set of hooks to hang loofahs, scrubbies, sponges, pumice stones, poufs, washcloths or soaps
MODERN DESIGN: This modern mirror is elegantly designed; The sleek frame provides a smooth, contemporary look; The holders at the base of the mirror are formed from one piece of steel that accentuate the modern look and feel of this mirror; The materials used to construct this item work well in high temperatures and moisture rich, humid environments making it ideal in bathrooms where water vapor and steam are commonly found
After you place this shower mirror where you want it, you can place your shaving equipment or other personal care tools in its special storage spot. Once that is done, you can let the shower water help you clean up after a shave or whatever.
This frame brings a little contemporary influence to your bathroom. Its single metal frame should be strong and durable. All the construction materials used to create this handy mirror can endure high temperatures and humidity. It is one of a kind mirror that stands by to help you get ready for the day.
In addition to that, you have approx. 10 by 6 by a 3-inch mirror that lets you see what you need to when you need to. It cleans up with soap and water as well.
Asani Fogless Shower Mirror
When it comes to shower mirrors, the term fogless must be the prettiest or most welcomed word in the English dictionary. This mirror stays clear of fog all the while you use hot steamy water for bathing or shaving.
To put it in place, all you have to do is get the suction cup ready and apply a little force. That is it. Attaching this mirror is quick and easy, although it won't stick to drywall, stucco, wallpaper, and similarly styled walls.
The approx 7-inch mirror gives you 360-degree rotation and a handy place to put your razor. Then this shower mirror is made with rust and shatterproof construction materials. A distortion-free reflection makes sure you can see what you are doing without distractions.
iDesign Fog-Free Small Shower Shaving Mirror
The unique feature of this shower mirror is its flexible arm as well as its ability to attach to your shower water line. You can let the water come over the mirror or move the mirror where you need it to be. It is unique and easy to use.
Also, the water adjustment brings water to the back of the mirror, where it heats the mirror keeping fog from blocking your vision. Made from plastic and acrylic, you should be able to use this mirror for years. It packs up small if you need to move.
On top of all that, this mirror measures about 14 by 6 by 4 1/2 inches in size. More than enough room to get your personal care taken care of efficiently. Its versatility means it has not met a bathroom or shower stall it does not like.
iDesign Forma Suction Shower Shaving Mirror
Sale
2 suction cups grab onto your wall and won't let go. Once you have this shower mirror in place, you can shave, do your makeup, and more with ease. It's easy to install; just push, turn, and lock, and you should be able to use this mirror the same day.
Plus, you have 2 storage places to place your razor. One for him and one for you. Or both for you if you live alone. Measuring about 10 by 6 by 2 inches in size, you should be able to see yourself clearly without any distortion or bad effects.
This plastic mirror is tough and durable and should last you for many years. Just be careful not to drop it and keep it for normal use only.
ReflectXL Shower Mirror
Sale
What makes this shower mirror so special is that it hangs by a rope from one of its two hooks. This design allows you to grab the mirror and turn it so that the light reflects into your face. The extra light should help you see better and give you a closer look at what needs to be done.
Also, this mirror uses heat to keep the fog away from the glass. You should be able to see your reflection without trouble. The frameless mirror has a special coating to keep moisture out from its construction materials. This sealant helps the mirror last you a long time.
Available in 5 different colors, you also get 5 1/2 feet of adjustable paracord to change the mirror's location.
JiBen Fogless Shower Mirror
Sale
Trying to shave with steam coming up around you is difficult enough. But trying to shave with a mirror that fogs up is almost impossible. Thankfully you only have to endure the steam when you attach this top-quality shower mirror t your shower area.
After you lock the suction cup in place, you can use it hands-free and take care of other personal business while you are in the shower. Its sleek design does not allow this mirror to occupy a lot of space in your shower, either.
With the 360-degree rotation ability, you can swing this mirror in almost any direction you want it to be in. A tiny shelf holds your razor for you, and this mirror is easy to relocate for smaller people to use.
Pro Beautify Fogless Shower Mirror with Razor Hook
Keep your razor handy and grab it in an instant once you find the right spot for this shower mirror. One splash of hot water should keep this mirror fog free all the time you are in the shower.
Its rotating arm gives you 360 degrees of placement to make sure you don't miss anything. The U lock suction cup attachment system is easy to use, and in no time at all, your new shower mirror will be up and ready to go.
In addition, you have about approx. 6-inch viewing surface to watch yourself shave or pluck your eyebrows and so on. The location should not be a problem as this suction cup should stick to most walls with some exceptions. Read the instructions to find those exceptions.
Mirrorvana Fogless Shower Mirror
Sale
Measuring about 6 by 6 inches in size, you are getting a very handy shower mirror to hang in your bathroom. Not only will it attach to most walls, but it is also easy to maneuver and put into the right position. The suction cup handles all installation duties.
Plus, its lightweight does not prevent it from being shatterproof. A fog prevention coating helps to keep the glass crystal clear and easy to see your reflection. Then the light color frame blends in with your bathroom's decor. There should be no clashing of colors or designs with this mirror on the wall.
Then if you want or need to, the portable nature lets you take this mirror almost anywhere you plan ongoing. It can lend a hand around the world if you want.
Upper West Collection No Fog Shower Mirror
No fog means easy to use and has a better ability to see what you are doing. A little hot water should heat this mirror up and keep the fog away all the while you are in the shower.
Also, you can use 360-degree rotation to position the mirror where it serves you the best. In addition to that, you get an easy-to-use razor holder. Make sure your razor is convenient and close by placing it on this included handy holder.
The suction cup attachment system should hold onto your walls and not let go for any reason. Measuring about 7 inches in diameter, you should be able to see those target body parts with ease. There is no zoom feature, so what you see is what you get.
The Shave Well Company Deluxe Shave Well Shower Mirror – Best Shower Mirrors
Sale
You are going to need the use your hot shower water to make sure fog does not congregate on this fog-free shower mirror. Once you do that, it should remain fog free till the next time you shower.
Then if you need to keep the mirror clean, a little water and toothpaste should do the trick. Just rub the toothpaste over the mirror and get all the spots out. A handy hook holds the mirror up for you. When you need to look at other parts of your body, you just take the mirror off the hook and move it where you need to see.
With its approx. 7 by 5-inch dimensions, you should be able to see a lot of your body at one time.
ToiletTree Products Fogless Shower Mirror
It may look like you are on television, but in reality, this shower mirror just keeps you in the frame for as long as possible. The decorative mirror comes with a nice frame t help upgrade your shaving time.
Also, to keep it fogless, just add a little warm water to the chamber, and fog should not be an issue throughout your shower. Double-sided tape handles the installation duties for you. It sticks t most walls with ease and keeps your new mirror stable and steady.
This tiltable mirror also has a nice razor shelf, so you do not have to interrupt your shower to search for your shaving tool. The mirror is supposed to be shatterproof as well. You can avoid 7 years of bad luck with ease.
Conclusion
Shower mirrors come in handy. Then when they are one of the top 13 best shower mirrors in 2023, you have yourself a top-quality mirror that does your bidding. These mirrors are made from top-quality materials and have their own methods to remain fogless.
Also, you can keep your shaving or beauty tools close at hand with some of them. That saves you time and effort when you need to shave and clean up afterward.