In the harshest days of winter, it's easy to remember slapping on your coziest hats, scarves, and gloves — but it can be a little more challenging to remember to break out your heaviest-duty hydration. When stripping winds and freezing sleet are assaulting your skin, you need a little extra help. Yet, it can be just as challenging to sift through the seemingly thousands of different moisturizing treatments to find ones worthy of purchasing. Here, our editors share their top buys (from more affordable picks to splurge items) to keep their complexions in check.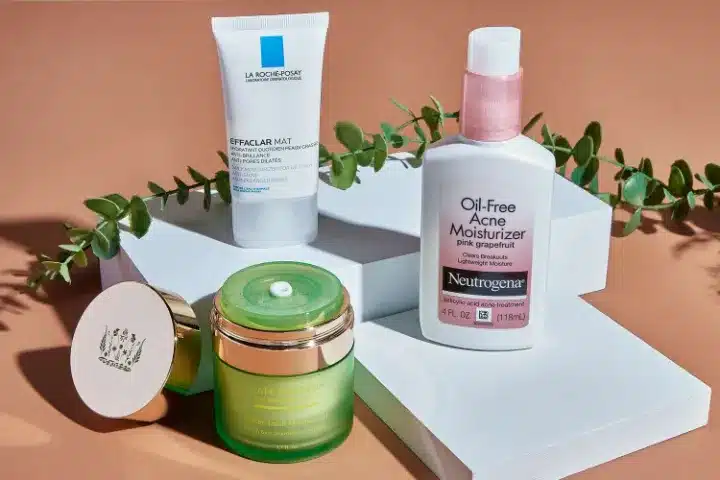 Best face moisturizer for winter
L'Oréal Paris Age Perfect Hydra-Nutrition All Over Honey Skin Balm
Sale
Who: Lauren Levinson, Editorial Director
What: L'Oréal® Paris Age Perfect® Hydra Nutrition All Over Honey Skin Balm ($20)
Why: It's hard to believe this is a drugstore pick, as it feels truly luxurious. The honey-infused (three-for-one!) balm is a face, neck, and hand moisturizer that absorbs quickly and leaves skin feeling nourished. Though it has Manuka honey, it isn't sticky at all. A must-grab for long flights!
Emma Hardie MoringaTM Renewal Treatment Mask
Sale
Who: Lauren
What: Emma Hardie® MoringaTM Renewal Treatment Mask ($70)
Why: While this is called a mask, I use it as an overnight treatment. It's a thicker cream that sinks right into the skin, offering intense hydration. Nighttime is when your skin repairs, so it's important to use a formula with beneficial ingredients. This one contains hyaluronic acid (plumps skin), moringa seed oil (antioxidant), and red algae extract (helps diminish pigmentation). Plus, a little goes a long way, so you won't use it up too fast.
St. Ives Renewing & Collagen Elastin Facial Moisturize
Who: Joslyn Winkfield, Senior Visuals Editor
What: St. Ives® Renewing & Collagen Elastin Facial Moisturizer ($18 for three jars)
Why: I appreciate this moisturizer just for the sheer amount of product you get for the price. I feel guilt-free as I slather it all over my face on those impossibly dry days. My skin feels super soft and supple all day thanks to the healthy dose of collagen, elastin, and safflower seed oil.
Fresh RoseTM Deep Hydration Face Cream
Who: Joslyn
What: Fresh RoseTM Deep Hydration Face Cream ($42)
Why: I'm a big fan of anything rose-scented, and this cream has just the right amount of fragrance and more than the right amount of hydration. The hyaluronic acid attracts extra moisture throughout a long day, and the jar is petite enough to take on the go.
Neutrogena Hydro Boost Gel-Cream
Who: Emily Orofino, Senior Beauty Editor
What: Neutrogena Hydro Boost Gel-Cream ($15)
Why: I'll admit, I didn't expect much from this moisturizer when I first tried it. After all, the packaging claims it's for "extra-dry skin," but the formula appeared incredibly lightweight (and it's oil-free!). But I was pleasantly surprised: the cream is loaded with hyaluronic acid and olive extract to deliver long-lasting moisture, leaving skin feeling velvety, soft, and — yes — hydrated.
IT Cosmetics Confidence in a Cream
Sale
Who: Emily
What: IT Cosmetics Confidence in a Cream ($48)
Why: I have been faithful to this moisturizer since it launched in 2016 (a rarity for my wandering eye). That's because it checks so many of my must-have boxes for a cream: it's intensely rich yet fully absorbed, leaves skin feeling soft and not sticky, has a very light fragrance, and is loaded with nourishing ingredients. In this case, my complexion is pampered with hyaluronic acid, ceramides, and peptides to keep it super hydrated. I've yet to find anyone who doesn't like this formula after I have them try it. While I tend to rely on it at night, Confidence in a Cream is a solid option all day long — it never pills up, even if you apply makeup on top of it.
Glossier Priming Moisturizer Rich
Sale
Who: Thia Laurain, Social Media Editor
What: Glossier® Priming Moisturizer Rich ($35)
Why: Last winter, this thick, creamy moisturizer saved my skin. Seriously. I used it every night from the beginning of December through the end of February, and my impossibly dry winter skin wouldn't have survived the season without it. Formulated with fatty acids, ceramides, moisture-storing red algae, and intensely hydrating murumuru butter, it may be affordable at $35, but it feels — and gives results that are — totally luxe.
Elemis Pro-Collagen Marine CreamTM Ultra-Rich
Who: Thia
What: Elemis® Pro-Collagen Marine CreamTM Ultra-Rich ($128)
Why: I was already an avid fan of the Pro-Collagen Marine Cream SPF 30 when I tried this "ultra-rich" upgrade to the famous formula, and now my holy grail morning moisturizer has been knocked off its pedestal. (At least until spring rolls around…) The lipid-rich formula is packed with antioxidants and vitamins, giving my skin the hydration and nutrition it needs to successfully fend off the elements. And if all-day hydration means I need to add in an extra step for SPF, well, then my morning routine just got one step longer.
Simple Skincare Water Boost Hydrating Gel Cream
Sale
Who: Sophie Wirt, Beauty Editor
What: Simple® Skincare Water Boost Hydrating Gel Cream ($8)
Why: This is my all-time favorite drugstore moisturizer to date. If you're a fan of water creams (a la Sunday Riley® TidalTM Moisturizer, $65), you'll love this cooling, ultra-glowy formula — which rings in at under $10. Most importantly, this fragrance-free concoction is ideal for sensitive skin types — or skin that's irritated from the elements, for that matter.
Adsorb Moist Lotion
Sale
Who: Sophie
What: Adsorb Moist Lotion ($140)
Why: Instead of relying on thick oils and emollients, this "moist lotion" from Japanese brand Adsorb is hardly a "lotion" as we know it at all. Instead, the consistency is almost water-like —though don't let the thinness fool you. Thanks to multiple forms of hyaluronic acid, this formula hydrates deeply and thoroughly. Not to mention, it imparts a luminous glow and wears superbly under makeup.