When applying makeup, it is best to have the right kind of mirror to make sure that you are getting it done correctly. You also want to keep your hands free to hold your makeup brush instead of having it hold your mirror. This is why a wall mounted makeup mirror is the best choice for you, as this makes it much easier for you to apply your makeup while making sure you have a reliable mirror to use. In our best wall mounted makeup mirror 2023 reviews, we have lined up a selection of items in this particular category to help you make a practical choice on the perfect item to buy.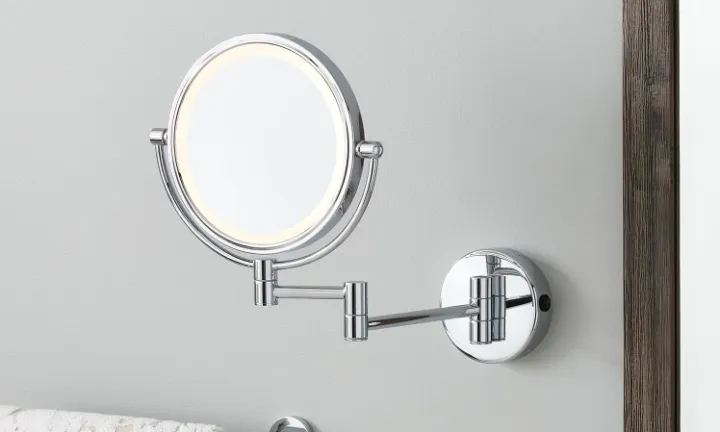 When choosing a wall mounted makeup mirror, you want to be sure that you have the right size and dimensions of the mirror. It also helps to have LED lights on it, which allows you to see clearly as you put on your makeup. Strong and sturdy hardware is also important since you want to make sure that once you have mounted the mirror, it will remain firm and secure on it. A mirror that can be extended to your desired distance is also important. This is why you want to check how far the mirror can be extended to make sure it is exactly the right one you need for your specific purpose.
Best wall mounted makeup mirror 2023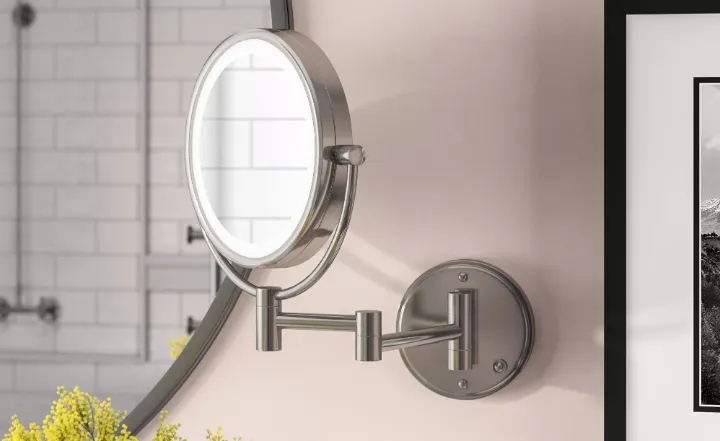 Browse through our best wall-mounted makeup mirror 2023 reviews below to decide on the item you should purchase. We have lined up the best of the best in the market today, so you will have an easier time making a decision on which one to get that will surely give you the best value.
GURUN Wall Mounted Makeup Mirror
This makeup mirror is quite impressive as it offers a 10x magnification, which allows you to see your pores and every single thing in your skin that needs to be improved. The mirror also includes 50 pieces of LED lights, which offer optimum illumination. You can even change the color as you please, and there are three different settings or modes for the light. The material is rustless and durable, and it is anti-corrosive to ensure its long lifespan.
In terms of appearance and function, we think this makeup mirror really works quite well. It also frees up the counter space since this mirror can be mounted on the wall. However, you need to make sure that you mount it correctly since some customers found it a bit of a challenge because there is no template included.
Zadro Lighted Mounted Mirror
Sale
When you need an elegant and practical wall-mounted mirror to use, this product is what you should consider for your needs. It offers up to 10x magnification on one side and 1x on the other side. This mirror can also swivel up to 360 degrees, allowing you to see every single thing in your face clearly. There are LED lights included, so you can easily and conveniently apply your makeup and see every single thing in the mirror. With a bronze, smooth finish, this mirror will truly match your interior decor.
Our only concern is that the arm does not seem to be the most durable part. It does the job of extending itself, but only time will tell how long this mirror will last after extending it repeatedly.
Ovente Lighted Wall-Mounted Mirror
No products found.
Why settle for a cheap mirror when you can get a high-quality one for a good price? This mirror is excellent as it comes with a stylish design that adds to the overall appearance of your room. There are LED lights included, allowing you to see yourself clearly in it. These lights can also be dimmed, so you can save battery life longer. With a 10x magnification, you will find this mirror outstanding when putting on your makeup or grooming your brows.
There is no doubt that this mirror offers excellent magnification for better clarity. However, our only gripe is the quality of the light, as it comes across as being slightly dim. But it still works quite okay, which is a good thing about this product.
Zadro Next Gen Wall Mounted Mirror
One of our favorites in this bunch is this mirror from Zadro. It is a battery-operated lighted mirror that provides a magnification on one side of up to 10x while it is 1x on the other. It has LED lights, and we think they light up quite brightly. Once extended, this mirror can reach up to 11.5 inches, which is a good distance to help you apply your makeup.
We are pleased with the smooth satin finish that this mirror offers. But we only think that the light is a bit too bright, which may not be quite appealing to some people. We still think it is a good deal and worth your money.
Jerdon Wall Mounted Mirror
Sale
If you have been struggling with your old makeup mirror, it may be about time to replace it with a better one, which this product has to offer. This mirror is elegant, with a lovely nickel finish and a functional swivel design. You have the option to use either one side with a 7x magnification or the 1x on the other side. The mirror can also be extended to a maximum of 20 inches, which is a good length for your makeup application needs.
We advise that you extend it gently and carefully each time to avoid causing damage to it. Other than that, we are happy with the features of this mirror, which we think is a great value for the price you pay.
GURUN Double-Sided Mirror
We are impressed with this beautiful wall-mounted mirror that truly offers the function you need from it. This is a dual-sided mirror with a magnification of 10x and 1x on either side. You will love the all-metal and rust-proof construction, and there is also a bronze surface to it that makes it smooth and elegant. When not in use, simply fold it back to keep it tucked in and out of the way.
Our only concern about this mirror is that it does not quite extend too far. But if you do not need the mirror to be extended up to 14 inches or maybe even further, this mirror should suffice for you.
DecoBros Wall Mounted Mirror
We love how sleek and smooth the finish is. The arms also appear to be quite sturdy and heavy-duty, but you may want to spray WD40 to loosen them up and extend them easily initially. There are also pieces of hardware included in the package, which is great. The magnification feature also works, allowing you to apply makeup or groom yourself without any issues.
Although there were screws added for the installation, we think these are not exactly the best in the market. They do feel a bit flimsy, so you might want to buy your own screws to ensure an excellent installation process.
GloRiastar Wall Mounted Mirror
There are so many things that we love about this wall-mounted makeup mirror from GloRiastar. For instance, this comes with a lovely swivel design, allowing you to easily rotate it as far as 360 degrees. The mirror also provides a total magnification of 10x on one side, which is great when you are grooming yourself or applying makeup. And the arm works great when you need to adjust it at a certain length or distance, too.
When it comes to construction, this mirror is definitely good because of its lovely chrome finish. You will also find it easy to install. However, it can be tricky to reinstall it, so be sure to take caution when you do so to avoid stripping the screw's head.
Jerdon 5x Magnification Wall Mounted Mirror
Sale
This is a well-made makeup mirror that we think is one of the finest in the market today. The nickel finish is lovely, and you can easily extend this mirror to a maximum of 13.5 inches in length. It features a swivel design of up to 360 degrees, and there is a 5x magnification on one side and 1x on the other. You will have no problem checking every detail about your skin when using this mirror.
One thing to note about this mirror is that it is a little on the heavy side. This is why you may find it tricky to install when you lack some mechanical skills. Otherwise, it is truly a good mirror to buy.
Ovente Lighted Wall Mount Mirror
Sale
Last but not least, we have this great quality wall mounted mirror from Ovente. We are well pleased with the precision magnification it offers, which ranges from 10x to 1x on either side. The LED light is bright and functional, and this mirror can also be extended for your ease. Simply pop in 4 pieces of batteries, and this mirror should be good to go.
Overall, we are impressed with what this mirror offers. One thing to note is that the back portion of the battery case tends not to stay on. But other than that, this mirror definitely works as expected.
Final Words
There you have our best wall mounted makeup mirror 2023 reviews. We hope that after learning more about our featured items, you were able to decide which one among these is worth buying and what you can benefit from.