Pants, slacks, trousers, pantalonés. Whatever you want to call them – whether you're a guy, gal, or somewhere in between – we all wear pants. Well, I'm confident in saying we've all at least tried on a pair of pants at some point in time!
If you haven't noticed there's been a new trend in trousers, "travel" pants. Move over Dockers, Levi's, and Banana Republic. There are a bunch of grassroots startups throwing down some technical trousers. But here's the thing. There are a bunch of brands popping up so how do you choose? In this article, I'll review some of the best men's travel pants for you to consider, including my personal experience with each.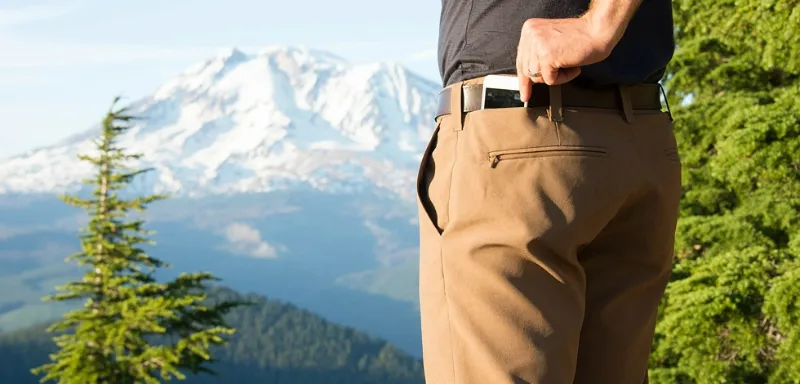 First, why this travel pants review?
The truth is it's hard to trust the brand's website for reviews. Have you ever noticed the brand's products never have less than 4.5 stars, if? Even though there are "verified reviews" and all that jazz, many of the reviews come from solicited emails offering a discount for a review. And the reviews tend to be brief and composed within a few weeks of the purchase.
How can you honestly make a quality review of an item after just making sure it fits? That's where this review comes in. Man, I wear pants. I like the travel pants classification. And I've tried lots of travel pants variations. My opinion, I feel like I've got a great opinion. Just ask my wife.
In all seriousness, the collection of pants I reviewed below is either from me soliciting the company for a free pair (I'll highlight the kind companies) or what I purchased on my own dime.
Regardless, I've had a chance to review all of these pants over a period of 6 months. And I'm picky about clothes and pay attention to detail. Just ask my wife. Lo and behold, here are my reviews of a batch of popular stretchy, techy, moisture-wicking, anti-ball crushing, special agent pocket-wielding "travel" pants.
Livsn Flex Canvas Pants
Sale
Key features
Highly mobile and durable outdoor pants with a tailored fit.
Reinforced and refined construction throughout.
Made with a sustainable and soft 7.3 oz EcoFlex Canvas.
Useful features without going over the top.
Built to be versatile, comfortable, good-looking, and tough.
Top selling point
The ultimate travel pant if you consider traveling to be more than airplanes and hotel rooms. The Flex Canvas Pants we're built for the outdoors, but stylish enough for an evening on the town.
Is it right for you?
If you're looking for truly functional pants boasting various useful features, these is your pant. If you're an outdoors person, they make even more sense.
Cost
However, these pants were provided by Livsn for this review.
Personal experience
These are the Swiss Army Knife of travel pants and I'm not saying this just to use a cliche analogy. The founder is so passionate about the functionality of the pants that he made a point to call me to discuss the attention to detail his team put into their creation. He walked me through every feature and why they made the decision to include them.
These are definitely not "office" pants so I wear these primarily on the weekends.
I'm not embellishing when I say you could do yard work, hike a trail, then throw on a button-down to go to dinner, seamlessly. No, these don't have the slick, modern look of Lululemon. They have a casual, rugged but polished, look that I would associate with someone who enjoys outdoor activities.
Speaking of outdoor activities, these are the most durable out of the bunch. The LIVSN's were constructed with durability and functionality at top of mind. Dare I say, these are "bomb-proof"?
Barbell Apparel Athletic Chino Pants
Key features
Phenomenal fit for athletic bodies.
Technologically Advanced Flexible "homestretch" Fabric.
It does not look like performance fabric.
Try before buying the program.
Top selling point
Great looking and fitting pants that move well for athletic bodies.
Is it right for you?
If you spend as much time in the gym as you do at home or work, you may have the thunder thighs and buns of steel that don't work well with other clothing brands.
Cost
However, these pants were provided by Barbell Apparel for review.
Personal experience
Let me be clear, I'm not a gym rat. However, I'm the guy who struggles with well-fitting pants. When I read, "generous through hips, thighs, & glutes" yet, "straight from knee to ankle" I knew these were going to be my jam.
I absolutely love the fit of these pants, but as mentioned prior, the fit is not for everyone. If you've got the physique of a marathoner, look elsewhere. The fabric is incredibly soft like high-quality sweatpants. However, they lack the technical properties of other pants in the genre and don't repel liquids or wick moisture.
The Athletic Chino Pants (still unsure of why they called them chinos when they're a 5-pocket) lose their shape after a while. Don't look forward to looking crisp at dusk when they were administered at dawn. Also, I wouldn't classify these as the best travel pants, but rather phenomenal weekend pants that can be dressed up or down a bit. Then when you're ready to relax after a night on the town, there's no need to slip into your favorite sweatpants.
My only hiccup is these are the priciest pants of the bunch. I wouldn't mind dropping $150 if these had everything I was looking for. The lack of technical details makes me hesitate. Go for these if you have a very hard time finding good-looking pants because of your athletic build. Otherwise, look for them on sale to get the best value.
Taylrd Tech Chino Pants
Key features
4-way stretch.
Moisture-wicking.
Spill-resistant.
Classic chino style.
Top selling point
A classic-looking chino with updated tech features.
Is it right for you?
If you're searching for a pant upgrade while maintaining the classic look but don't see the value in shelling out $120+? Check out the Taylor Tech Chinos.
Cost
$89. However, these pants were provided by Taylrd for review.
Personal experience
I'm not in love with the Taylrd's but I believe they're a good value if it fits the bill of what you're looking for. Think of these as J Crew chinos that stretch and don't absorb liquids like a cotton sponge. I've worn these for a while now and they're a nice chino with a few qualms.
After a couple of washes – always inside-out and on the cold water cycle – there were subtle fade lines where the pants creased in the wash. I'm not sure why this happens but I have noticed with cotton pants in the past, but never with travel and performance pants.
My other qualm is that the waistband was not true to my 33" waist size — felt more like a 34-35". If it weren't for the waistband I would say these have a great fit as they were slimming but with room to move in the thigh and seat.
In my opinion, these are nice pants to replace your old cotton, baggy chino khakis. To my surprise, they hold their shape well throughout the day. That waistband bothers me but I'm sure I got a lemon and their customer service would've exchanged them if I asked.
If you like to travel in comfortable chinos, I guess it's travel pants. But they don't have some of the typical travel pant features. If these fit the bill for you, I recommend you try to get a color you like that's on sale.
Bonobos Tech Pant
Key features
Breathable tech fabric with subtle stretch sourced from Schoeller.
3XDRY Advanced Moisture Management.
Hidden cell phone-sized pocket on back yoke.
Bonobos sizing variety.
Top selling point
The Tech Pant looks similar to colored "traveler" jeans but has the technical functionality you'd expect from a travel pant, without the performance fabric sheen.
Is it right for you?
The Bonobos Tech Pants are what I consider to be the closest thing to performance pants in a casual 5-pocket styling package. If you're looking to upgrade the functionality of your casual wear – they actually repel water and food stains quite well, even after being laundered – without looking like you've been to the gym, highly consider these trousers. However, if you want something versatile, these may be a bit too casual for weekly wear in the workplace.
Personal experience
I have one pair of Tech Pants which I've owned for over a year now. I do not wear these to work so they don't get the amount of wear as my Rhone Commuters and Lulu ABCs below.
These are my go-to pants for casual wear when I don't want to wear jeans or classic chinos. They absolutely hit the bill for tech pant that doesn't look techy. Not to mention, Bonobos is known for their variety of fits. It's almost impossible to not find a combination that doesn't "fit like your favorite pair of pants."
I have no idea what the details of the fabric mean – I chalk it up to bells and whistles marketing – but it does a great job regarding stretch, breathability, and repelling liquid. Typically, these features fall victim to the laundry after one wash, but I've been pleasantly surprised by how well these continue to perform.
Nothing's perfect so where do these fall short? No front cell phone pocket or zipper security pocket. They claim the back "yoke" pocket is for a cell phone but it could maybe fit an iPhone 5 at best (it's small) – more of a "stash" pocket in my opinion.
The special pockets have become ubiquitous with the travel pants classification. They're not a deal-breaker in my opinion, but maybe if you're looking for true travel pants.
Rhone Commuter Pant
Sale
Columbia Men's Rapid Rivers Pant, Graphite, 32W x 30L
OMNI-SHADE: Be safe and protected. Omni-Shade blocks UVA and UVB rays to help prevent sunburns and long-term skin damage. The tight weave construction with UV absorbent yarns block the full spectrum of harmful UV rays.
HANDY FEATURES: This men's stretch pant features two side pockets to keep your smaller items secure.
Key features
Japanese warp-knit stretch fabric.
Chino pocket styling.
Security zipper pocket.
Media pocket.
Gusset for comfort and mobility.
Top selling point
A great feeling and looking fabric in a chino pocket style while most competitors are the more casual 5-pocket style.
Is it right for you?
If you want the best Lulu ABC pant alternative with chino pocket styling, these is hands-down the go-to pants. Chino styling gives a less casual look than its 5-pocket cousin, which can be a deciding factor.
Personal experience
I own the originals (2.5 years old) and version numero dos (1.5 years old) of the Commuter Pants. Currently, they are on version three where they made a few aesthetic changes.
Because of my athletic build, I wear the regular fit where the slim fit looks painted on my Christmas hams (thighs). Like the Lululemon ABCs I've had for years, these have held up well with weekly wear. My only gripe is that you can wear these too long. What I mean is they start to lose shape later in the day. I wore my version twos while literally traveling for the day. They looked baggy and sloppy by the time I got off the plane in the evening. Luckily, they do return to form after being laundered.
There was a major upgrade from version one to two where they fell short on the special pockets. I can't speak for them as I don't have version three, but it looks like Rhone is continuing to improve these pants. I hope one of those improvements is the fabric maintaining its shape.
Myles Apparel Pant
Sale
Key features
Light and breathable stretch fabric that doesn't look like performance fabric.
DWR (Durable Water Repellent) finish
Gripper waistband to keep your shirt in when tucked.
Cell phone front pocket and zipper-secured back pocket.
Top selling point
The Tour Pant doesn't have the performance fabric sheen like most pants in its class.
Is it right for you?
It would be a resounding "yes" if it wasn't for the sizing issues. Small, medium, large, etc., for pants just doesn't fly (no pun intended) with me. If these fit you well, I would say they surpass the Lululemon ABC pant.
Personal experience
I really, really tried to convince myself to keep these pants, but I just couldn't. I thought the Myles Tour Pant was the "ABC killer" until I put them on. I loved everything about these other than the fit.
Granted everyone has copied the ABCs for the special pockets, but some companies don't pull off the same quality. These guys did a great job nailing the essentials which you would come to expect with modern travel pants.
The key feature for me was the way the fabric looked. It has the expected stretch and comfortability, but I felt I could actually wear them with a casual pique polo, button-down shirt, or crew neck sweatshirt.
But then the fit…
For someone who wears a particular 33×31 in Bonobos' "Athletic Fit", the generic medium or large in a pair of pants ain't happenin'. A "marge" or "extra medium"?! Maybe.
Lululemon ABC Pant
Key features
Anti-ball crushing (hence "ABC") technology to keep big Jim and the twins comfortable, even when in full deep-squat mode.
The originator of the cell phone slip pocket is just above the right-side front pocket, and the zippered pocket for your wallet is hidden behind the right back pocket.
Classic, slim, and skinny fits with odd-numbered sizes.
Top selling point
This trouser is the "founding father" of what is now deemed "travel pants".
The ABCs are basically the OGs of travel pants. Lululemon wrote the script and now everyone and their siblings are making travel pants with their own spin.
Is it right for you?
If you're looking for a good-looking pair of pants that are functional and durable, you can't go wrong. However, keep in mind these don't look good if you try to dress them u (i.e. with a sport coat) or dress them down (i.e. cotton casual).
The ABCs have a performance fabric "sheen" so they look out of place with a relaxed cotton button-down shirt. On the other end of the spectrum, the styling is too casual as office attire as a replacement for dress pants – dress code dependant.
Personal experience
Funny, just about every ABC poser pant out there has the special right-sided zipper back pocket and cell phone slip just above the front pocket.
My determining factor for quality regarding the special pockets is how well you can utilize them with one hand. Can you slip your phone in/out with one hand? Can you zip/unzip the back pocket without the zipper bunching up?
Lulu still does it best.
I have three pairs of ABCs, and two of them are three years old. They have well surpassed my expectations regarding quality. They've held their shape, retained their function, and haven't needed repair tailoring.
The only thing that has changed is you can see the wear on the edges of the back pockets and on the knees from kneeling.
But they're three years old – to be expected.
Again, my only qualm with these is I wish they had a version without the performance fabric sheen. I would love to wear these with a classic oxford shirt. They have other pants with fabric that's supposed to give me what I'm looking for, but they haven't been the same quality so I sent them back.
Ultimately, you can't go wrong with the original, especially when they continue to refine the pants every year.
Final thoughts
Well, there you have it! I just went through 7 of the top men's travel pants on the market! Each one comes with unique benefits and features but there is no one size fits. My personal recommendation, use my feedback to try a few of the pants above and keep the ones you like!