Without mincing too many words, the results of this review could receive the same level of skepticism that the Dylan's have had. It's to be expected when something unorthodox actually functions, and to the same extent, this review is fitting to the reaction of Dylan's 2nd pro model. No one expected them to actually skate as well as they did, but in his typical fashion, Dylan goes on to shock the world again.
At this point, it's no surprise that Dylan based his HUF pro model on his unreleased 2nd Gravis pro model. For those in the know, it was heartbreaking when they were practically lost, but we're glad that this design was rekindled with HUF. If we had to guess, it came out exactly, if not better, than his unreleased Gravis model.
Bestseller No. 1
Bestseller No. 2
Bestseller No. 3
Bestseller No. 4
Bestseller No. 5
HUF Men's Pepper PRO-M, Royal Stars, 10 M US
Manufactured by HUF.
A brand-new, unused, and unworn item (including handmade items) in the original packaging (such as the original box or bag) and/or with the original tags attached.
Bestseller No. 6
Bestseller No. 7
Bestseller No. 8
Bestseller No. 9
Bestseller No. 10
Review information:
Our review was done using our month-long format, and the shoe was skated for a total of 20 hours. Check below after each section to view the grading system. We base our ratings on 1-10. 10 being the best and 1 being the absolute worst. Enjoy.
Sizing & Support:
As with most of HUF's sizing, the Dylan's run True to Size, most of you might've already heard about the breaking-in period of the Dylan's but for those who haven't, listen up. The Dylan, as with their design, has a unique fit. They are as narrow as a chukka but, thankfully, do not cause any blisters on your pinky toe.
Once broken in, they're as accommodating as the widest skate shoe on the market. Although the sidewalls are forgiving, they still haven't packed out after skating in them for 20 hours. Depending on your foot/fit, there's the potential for the heel counter to dig into the back of your heel. If unattended, it can cause the shittiest of blisters, but there's a quick fix. Other than that, Dylan's fit like any other shoe but has a unique feel.
Short answer: You'll feel tempted to go a half size up, but don't. These are true to size.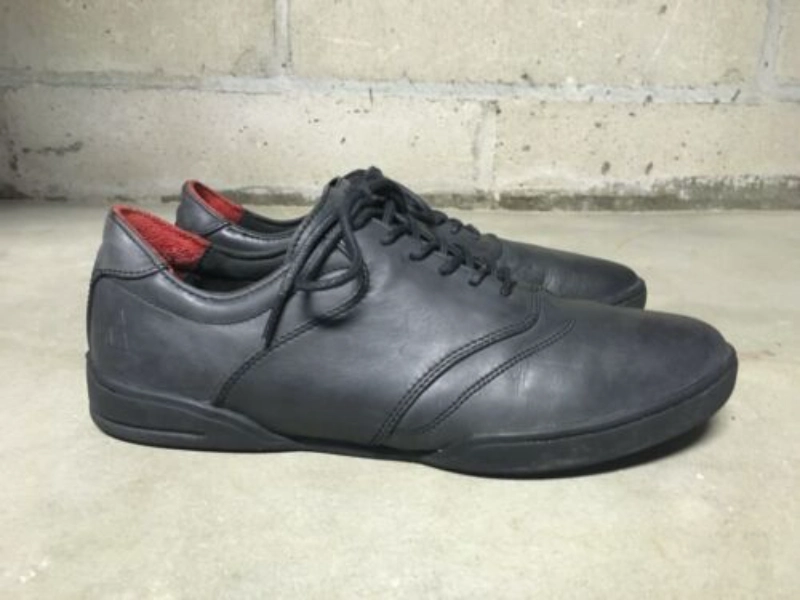 Comfort & Cushion:
After taking one glance at the Dylan Pro, it's easy to tell that this isn't the most padded skate shoe on the market. Based on its thin construction, you'll definitely get the best feel throughout the upper of the shoe. Ultimately, the combination of its cup sole construction and thick PU insole will give off plenty of comfort without sacrificing board feels to make up for its lack of padding.
The Dylan's thick PU insole is in many ways reminiscent of Gravis' Cloud 9 PU insoles that were beloved by all. The only difference is the density of this new insole. HUF's unique insole for the Dylan's is as thick as previous PU insoles but feels harder than most. This increased density still provides the same rebound that you'll need from any impact while still providing some sturdiness to your skating.
The comfort elements of this shoe only get better because of its inner bootie. There's little to no chance that your feet will dance around in these shoes because the mesh lining within is thicker than most others shoes featuring the same technology. There's even a bit of padding throughout that could potentially come in handy if your board decides to strike down on you when flip tricks go wrong.
Comfort: 9 – The Dylan's can feel a bit narrow when breaking in, but once they're there, they'll easily turn into your everyday walking shoes.
Cushion: 6 – This isn't the puffiest shoe in the world #obvi, but its padding throughout the inner bootie is really comfortable.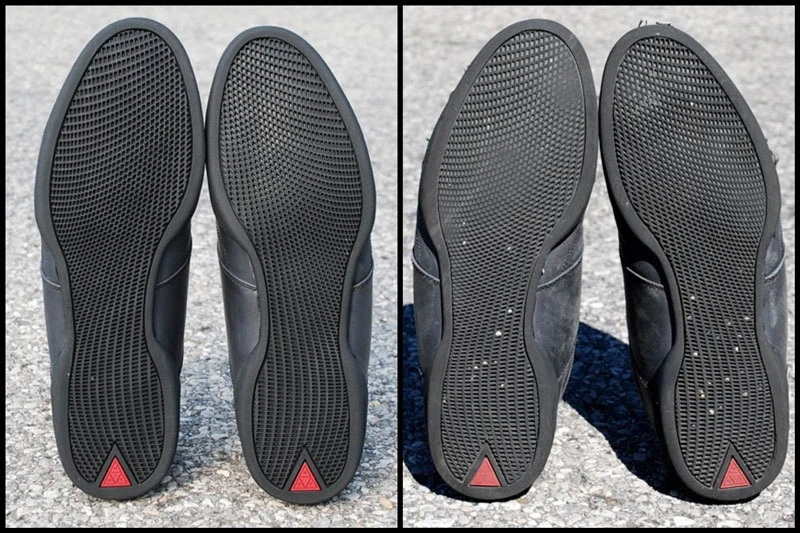 Boardfeel & Grip:
Although this may sound weird, it seems as though HUF's designers have managed to generate the perfect balance between capsule support with a vulcanized feel. Dylan embodies that construction completely. Because the insole goes down in height, from heel to toe, you'll feel every bit of your board throughout your toes and forefoot but have all the stability lie in your heels.
Initially, the grip of Dylan's outsole is slippery, but you can expect that with any new shoe. Once you've walked around in them or scrapped them against your grip, that slippery feeling subsides, and you'll feel the true grip of the shoe. The rubber outsole feels soft but not enough to completely disappear within the first couple of sessions.
If you're prone to shimmying before a trick (who isn't), then you'll find personalized balding spots around the 15-20 hour mark (depending on how often you shimmy). Regardless of the balding, Dylan's pebble-catching outsole will still give you exceptional grip. There were only a few occasions where we slipped off of our board after catching it, but that's due to catching the board on their narrow point.
Boardfeel: 10 –The Dylan's has successfully become the quintessential example of "Cupsole Construction with Vulc Feel".
Grip: 8. -The outsole is strong enough to wear out at a slow pace without giving out on good grip. Expect a fair grip, even with a bald outsole.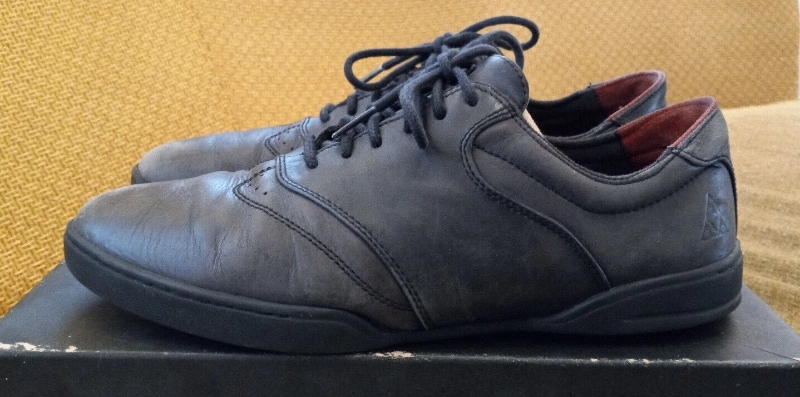 Durability:
As we all know, the construction behind this unique design has everyone wondering how durable the HUF Dylan's are. And, to our standards, they've passed the 20-Hour review mark, BUT every review comes with its exceptions.
If you have a hammer toe or happen to bulge out your pinky toe when skating, these are not the shoes for you. The leather breaks in smoothly and can last for over 10 hours under those bulging conditions but don't expect the party to last forever. We have a tenancy of doing that with our switch foot, so here's a perfect example of what we're referring to.
We're prone to skating on our toes, and if you happen to skate the same way, the durability of these shoes will shock the living shit out of you. The sole, for the most part, take the brunt of trauma first. Once those beautiful kickflip grooves have worked their way in, the leather will find its way onto the grip.
Because of its pointed toe, the flick on the Dylan's is superb and slides off without too much damage to the sole. Regardless of that, the leather is delicate, so if you have intentions of doing 1 or 2 tricks in them and still expect them to be in pristine condition, you're wrong. The leather scratches show right away and can ruin the shoes for you if you have intentions of using them for work-related reasons (or if you just wanna keep em pretty).
Durability: 9 – The overall durability of this shoe is immensely impressive. From the outsole to the leather, every aspect of this shoe was put together with quality materials.
Summary:
In conclusion, the Dylan's ARE worth their $120 cost. If you disagree, that's totally fine, but please have the sense to realize that, historically, all of Dylan's pro models serve more than one purpose. Of course, you can skate these, BUT you can also attend a job interview in them. You can also look half-decent in front of that girl you've been trying to impress. These, amongst other reasons, explain why they're worth $120 hard-earned dollars.
If you're still skeptical, don't understand them, or just absolutely hate them, there's a strong possibility that you've never had to apply for a formal job before. In short, the Dylan's are perfect for skating or for getting a job. Once you're fired or dumped by that girl, skate them. You already got everything you needed out of them.