Perhaps you are in need of a better replacement for your old razor, or you are looking to buy a good quality shaver to keep your facial hair neat and well-maintained. Whatever your reason may be, then you have come to right place. We are here to offer you a practical buying guide by featuring the top 10 best electric shavers, so you can choose from the best among the rest in the market today.
So, why buy an electric shaver, anyway?
First of all, a busy guy like you needs the most effective tool that can mow down all that hair in as little time as possible. This is why an electric shaver is quite handy because you can shave quickly while in the shower, while sitting in your office chair before an important meeting, or just about any time you want without any fuss or mess.
It only takes a few minutes, and you can spare yourself from accidentally cutting tiny bumps on your face. While it may take some time to adjust if you're used to a traditional razor, you should get by with an electric shaver after a while by being persistent and following the manufacturer's instructions for tips and advice.
Best Electric Shavers in 2023
Now that you know more about the benefits of an electric shaver, let's take a look at our top-rated electric shavers featured below. Learn more about their features, limitations, and decide which one among these options suits your needs best.
Wahl 5-Star Series Professional 8061-100 Rechargeable Shaver and Shaper
Wahl Professional 5-Star Series Rechargeable Shaver/Shaper #8061-100 with Bonus Charge Stand #7031-900 - Great for Barbers and Stylists
PROFESSIONAL PRECISION: From Wahl Professionals commercial grade line of products, the 5-Star Shaver/Shaper is intended for professional use only and is engineered to deliver the sharp performance that experts demand.
STYLISH AND FUNCTIONAL: This powerful shaver offers an appealing aesthetic in addition to top-notch precision. It comes with a rechargeable battery that can keep the rotary motor running at full speed for up to 60 minutes per charge. With hypoallergenic gold foil, even the most sensitive skin will be free of razor bumps, ingrown hairs, or skin irritation.
If you want an electric shaver that is convenient and easy to use, then this item is worth considering for your purchase. It offers a close shave, which you probably don't expect to have from an electric razor. In fact, it is much more practical than your good ol' razor because there's no need to use a shaving cream with it. You can just go ahead and start shaving, and it provides a smooth and nearly-perfect result in just a couple of minutes of your time. What's more, this is a lightweight and portable shaver that fits right in your bag or even the glove compartment of your car. Just grab it, switch it on, and let it handle the rest for you.
Keep in mind that this shaver can only cut very short hair. This means that if you have longer and thicker hair, you will need to trim it first before you go ahead and start using this shaver. For some people, this may be a bit of a time-consuming process. But over all, this product gives you the advantage of saving on several dollars on shaving cream and the convenience of not having to put up with an even lengthier shaving process with an old razor.
Pros
It is a handy, lightweight, and compact electric shaver that you can bring anywhere you go.
An electric razor such as this one does not require you to use a shaving cream, which means you can save money in the long run.
The kind of shave you can get from this electric razor is smooth and good enough considering the minimal amount of time you spend on shaving.
Cons
Before you actually can begin shaving, you will first have to use a separate trimmer since this shaver can only cut shorter hair.
It can take some practice and get used to before you can get the hang of an electric shaver if you've used a conventional razor for a while.
Panasonic Arc 3 Cordless Wet/Dry Electric Shaver for Men with Nanotech 3-Blade Design and Flexible Pivoting Head ES8103S
Packed with everything you need to begin shaving, this Panasonic cordless electric shaver works on wet or dry hair. Its innovative design and features make it possible to give you the smoothest and closest shave as possible. The 3-blade shaving system of this electric razor is quite intuitive as it can cut with the most accuracy and precision.
There are 30-degree angle blades, along with a pivoting head that is flexible to float seamlessly along the contours and curves of your face. Thus, you can achieve a fast and clean shave all the time even under the chin and sideburns portion. This shaver also has a linear motor that prevents the pulling and tugging issues common with other electric razors with a slower and less efficient motor. This is why you can be sure that it can finish the job long before the battery loses its charge.
If there is one thing that you may not be completely satisfied with when using this shaver, it would be the not-so-close shave it offers. Naturally, you can always expect a flawless shave from a razor, which is something generally missing from most electric shavers. Depending on the thickness and length of your hair, the shaving process can take a couple of minutes to something much longer, which is why some people complain that the battery does not hold a charge far too long than they expect.
Pros
A fully-loaded electric shaver that has a pop-up shaving trimmer, hypoallergenic foils and blades, and a wet and dry shaving capability.
The blades are at a 30-degree angle design to provide accuracy in shaving.
Shaving under the chin and around the sideburns is more convenient because of the flexible pivoting head design.
Cons
It can get a bit frustrating for some to work with this shaver because it is not able to give the closest shave that a traditional razor can offer.
The battery life may not be long enough if you have to shave thicker and longer hair.
Philips Norelco 3D SensoTouch Electric Razor 1250X/40 Series 8000
Philips Norelco 1250X/40 SensoTouch 3D Electric Razor (Series 8000)
To help simplify your shopping experience, we recently updated this product's packaging and name: The SensoTouch 3D 1250X/40 is now called Shaver 8100. During the transition, you may receive the product in either old or new packaging
Gyroflex 3D contour-following system has three dynamic parts that independently flex outward, pivot around, and tilt inward to follow the natural contours of your face
Philips introduces the Shaver 8100, which is designed to give you the finest and cleanest shaving experience. The 3D gyroflex system features three basic parts that are dynamic in the movement to flex outward, tilt inward, and pivot around with ease and efficiency. These all work together in providing a clean shave while following the contours of your face and reducing irritation and pressure at the same time.
With the Ultra Track shaving heads of this razor, these offer up to 50 percent more shaving surface. This is why it is faster to cut and trim the hair in a few strokes. It is even effective in shaving short stubble, flattened, and long hairs without a hassle. Cutting below the skin level is a breeze, as well because of the Lift and Cut two-blade system of this electric shaver. Hair is lifted to an angle that makes it possible to shave without leaving stubbles or stray hairs behind. Even if your hair is wet or dry, you can shave using this tool and expect quality results all the time.
For people on a tight budget, this electric shaver may seem a bit too pricey for them. In addition, the 3D head design may be intended to offer the closest shave. However, the fact remains that you can't get the super close shave as a razor offers since it's the common concern with any brand of electric shaver in the market.
Pros
You can count on this shaver to catch every single hair in just minimal stroke because of the wide shaving surface.
The AquaTec seal makes it possible for you to use this shaver on wet or dry hair.
It is easy to determine the battery life remaining by checking on the display.
Cons
It is an expensive electric shaver, which may be slightly limiting for budget-conscious shoppers.
Just as with any electric shavers, this does not offer the closest shave that can rival the result you get from a traditional razor.
Philips Norelco AT830/46 Shaver 4500

Whether you prefer to shave right out of the shower or while in the car, you can do so with the Norelco Shaver 4500 from Philips. There's the option of getting a wet or dry shave, made possible by the AquaTec seal that protects the motor from moisture. No matter what length of hair you have – a short stubble or long hairs – it should be a breeze mowing these down using this electric shaver, thanks to the Dual Precision system.
As for the shaver head, it can float, flex, or pivot to ensure the closest possible shave without dealing with an old fashioned razor or trimmer. Since it's electric, it's also more practical because of getting great results even without the need for a shaving gel or cream. So, if you are on the go, this should be the perfect option for you as shaving can be done in just a couple of minutes. Once the battery runs out of charge, simply plug it in, and it should be ready after 3 minutes.
The motor appears a little weak for some, particularly when the speed is much slower than what they expect. There are also instances when missed hairs would arise, although, for the most part, this shaver can get it done in a quick and convenient manner. So, if you want something more precise to get the closest and most flawless shave, an electric shaver may not be for you.
Pros
Comes with a battery life indicator to let you know if it needs to be charged.
Includes a pop-up trimmer that is perfect for shaving your mustache and sideburns.
It takes only 3 minutes of quick charging to get 1 cordless shaving session.
Cons
The shaver tends to run slower, which means you may have to keep charging every 3 minutes if you have longer and thicker hair.
Not appealing to those who are very particular about a very close shave.
Braun Cordless Men's Electric Foil Shaver Series 7 (790cc)
Braun Series 7 790cc
Intelligent Sonic technology automatically increases power while shaving in difficult areas and on denser hair
Get the smoothest shave you've always wanted from this electric foil shaver from Braun. The Series 7 is as powerful as it can get when it comes to cutting more hair in just a single stroke, which would normally take two or three passes with some other shavers.
There are 4 specialized shaving features in this tool, yet the head remains lightweight and thin to make sure this shaver remains as handy as possible. The electric shaver also moves in a straight line, so that prevents you from having to go to the same spot more than once. As a result, this minimizes the risk of experiencing skin irritation or itching. Lastly, the Series 7 comes with the Sonic Technology unique with Braun electric shavers. This feature allows the head to adapt to the quality of your beard automatically, which means it offers greater or less power as necessary.
If you are more familiar with using a razor, it may take some time to become accustomed to this electric shaver. This is why it is advisable that you do not press too hard on it since too much pressure can cause the heads to become hot and painful against your skin. Once you get to your neck, make it a point to stretch the skin on this part to achieve a more comfortable and closer shave. As this is a foil shaver, you should shave gently against the grain unlike the circular motion required with rotary shavers.
Pros
Features 4 shaving elements that target stubborn hairs efficiently.
Skin irritation is minimized as this shaver moves in a straight line and prevents the need for making several passes on the area to be shaved.
The head adjusts automatically using the Sonic Technology to make shaving more precise.
Cons
This shaver is a bit expensive to some, yet it offers exceptional results all the time.
Panasonic Wet and Dry Electric Razor Arc 5 ES-LV81-K with Auto Clean and Charging Station
If you have sensitive skin, yet you don't want to deal with the tedious shaving experience that a regular razor offers, then the Panasonic Arc5 electric shaver may be just what you need. It comes with 5 floating blade system with hypoallergenic components to provide you with a clean and safe shave on your delicate skin.
The blades are ultra sharp with a 30-degree hone to maximize the sharpness and durability. As for the foils, these are very thin to ensure a smooth and easy gliding along your chin, neck, and face. The motor is powerful enough to maintain its peak performance even up to the end of the charge. Comfortable and convenient to use, this shaver comes with an ergonomic design for the handle to give you better control while shaving. Clean up is also effortless since this is an immersible shaver, which means you can run it under water to get rid of the debris and stuck hair after use.
Although it takes just a few seconds to clean the shaver because it is washable, this can result in a foul odor after rinsing it. This happens if you put it in a closed space while it is still wet. So, to prevent this issue, make it a point to dry it first after rinsing before storing in the cabinet or drawer. This also maintains the overall appearance of the shaver as stains will not form on its handle.
Pros
The ergonomic design of the handle makes it easy to hold and use.
This shaver can be cleaned by washing the debris out because of its fully immersible design.
To ensure the sharpness of the blades, these are honed at a 30-degree angle.
Cons
The shaver tends to get stinky if you place it inside the drawer or cabinet right away while it's still wet after rinsing.
Philips S1150/81 Norelco Men's Electric Shaver 1100
Finally, there's no need to blow up your budget if you want to invest in a quality electric shaver. The Shaver 1100 from Philips comes with a reasonable price point, yet packed with outstanding features to give you a close, clean, and smooth shave.
The close cut blade system comes with self-sharpening blades that make it possible to attain a close and precise shave each time. There are also flex heads automatically adjusting their movement in 4 directions as necessary, which follow the contour of your face, jaw line, and neck for great results all the time. To facilitate a fast cleanup, just pop opens the shave heads and rinse this part right under the tap. Then, snap this component back in, so it's ready to use the next time.
The only limitation of this shaver is its corded design. If you want an electric shaver that you can bring and use anywhere you are, you may find this product too limiting since it relies on a power outlet. Otherwise, it works just as expected, and the shave you get is good enough as what you can normally get from an electric shaver.
Pros
The multi-direction heads can easily get around dips and bumps on your face to provide you with a smooth and close shave.
Cleaning the heads out after use is simple and fast, which makes it a low-maintenance shaver for your convenience.
The price point is quite reasonable considering the smart features of this shaver.
Cons
It's a corded shaver, so it may not appeal to those who prefer a cordless one.
Some customers complain about the cord frequently coming loose the outlet while the unit is being used.
Remington Men's Electric Foil Shaver F5-5800
Remington offers an electric foil shaver designed to give you a close shave that you only thought was possible from a razor. With the 3-stage blade system, this works by pre-trimming the longer hairs to make them ready for a closer and smoother shave. There are 2 flexible foils that make up the shaver, which get closer to the hair for a clean cut all the time.
As this is a cordless shaver, you will enjoy the convenience of shaving anywhere you are even when there is no power outlet available. On a full charge, the battery power should last for 60 minutes, and this should lead to as much as 20 shaving sessions. Among the other features, you will love about this product include the pivot and flex design for the shaver head, easy-to-clean surgical steel ultra-sharp blades, and a detail trimmer for your sideburns and mustache.
It is recommended that when you use this shaver, you should never apply too much pressure to prevent the heads from heating up. You should also move the shaver in a back-forth and up-down motion slowly and carefully instead of going fast or in a circular motion. It is a dry shaver, which means your face should be dry and clean without any oils before you begin each shaving session.
Pros
The battery life is long enough to last for up to 60 minutes on a single charge.
You can check the LED display for information on the battery life left.
It is a cordless shaver, so you can use it even when you're on the go.
Cons
This electric shaver only works on dry hair best, which means you need to dry your face well before getting started.
Braun CoolTec Shaving System for Men
Perhaps you've been concerned about getting nasty cuts from an electric shaver, which prevented you from giving up your regular razor and trying one yourself. But what's good about the CoolTec electric shaver from Braun is how it takes shaving to the next level with its active cooling technology. This feature works great for people who have sensitive skin as it eliminates irritation by cooling the skin while shaving.
Thus, there's nothing to worry about common shaving issues including burning, redness, and itching. Each stroke of the blade also efficiently shaves the hair as your skin stays refreshed and cooled down. Then, there's the 3-stage cutting system that matches your facial feature to attain a comfortable and close shave you want. This is a wet and dry shaver, so you can choose to use it while in the shower or the moment you get up from the bed. After each shaving session, just wash the head down the faucet to keep it clean. It's all that simple!
Perhaps the only thing that you may not like much about this electric razor is its heft. It has a bit of a bulky and clunky feel to it. But still, the benefits outweigh this slight drawback since the quality of the shave is always impressive and on par with your expectations.
Pros
Includes a long-hair trimmer that trims away your beard, mustache, and sideburns with accuracy and precision.
A fully washable and waterproof electric shaver that makes it easy to clean after every use.
Cools your skin as you shave the hair off to prevent irritation.
Cons
Some users complain about the added heft and bulk to this shaver.
Braun Wet and Dry Electric Cordless Foil Shaver Series 9-9095cc
Topping our list of the finest electric shavers in the market is the Series 9 from Braun. Touted as Braun's most comfortable shaver, the Series 9 features the SyncroSonic technology that offers a combination of 4 specialized cutting components to make sure any type of hair is cut and shaved with precision. There is also the Sonic technology that is capable of performing 40,000 cross-cutting APM (actions per minute), which speeds up the entire process of shaving.
This cutting system also adapts to all hair types and follows the contours of your face for a smooth and accurate shave. As it comes with a cleaning and charging station, you can count on it to efficiently clean, charge, lubricate, and choose the appropriate cleaning program for the unit – all with just a single touch of the button. While you're shaving, you can check how much battery power is left by looking at the LED battery status display.
For people who are accustomed to the older model, they may have to familiarize themselves with this unit because the way to hold it is a bit different. For instance, the lock button for the swivel shaver head is in such a location that can easily be activated while you shave. It can get a little annoying for some when this happens, so you will need to just be aware of this feature and try not to hit it as much as possible.
Pros
The 4 special cutting elements ensure a precise and close shave.
Cleaning and charging the unit is fast because of the incorporated program for these functions.
The LED battery status display is conveniently located on the unit for ease in determining once you need to recharge the battery.
Cons
The design can be tricky to deal with because of the new positioning for the button that locks the swivel head.
Electric Shavers Buying Guide
In the market for a brand new replacement or perhaps your very first electric shaver? The choice can be a little overwhelming because of numerous options available. This is why we have gathered to you this shopping guide for electric shavers to make it much easier for you to make an informed purchasing decision that you will not regret.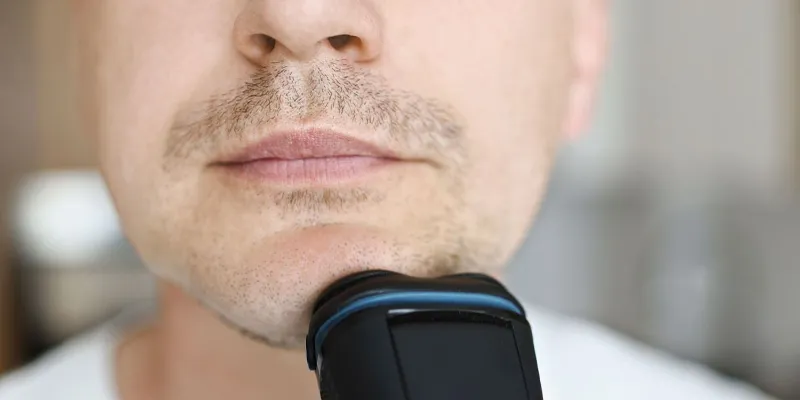 Know the types of electric shavers available
During your search for an electric shaver, you'll find a unit with a rotary or a foil cutting blade. If you are the type who looks for a quieter shaver and easier to clean, then a rotary shaver is your best bet. It also has 3 or even 4 floating heads, which follow the facial contours. However, when it comes to a closer shave, you can expect this result more from a foil shaver.
How long does it take to charge the battery?
There are some models with a quick-charge function, which takes only about 3 minutes for you to charge it and use for a single cordless shaving session. On the other hand, some electric shavers can go from 1 to as much as 12 hours to be fully charged. Then, you should be able to use it for as much as 20 shaves. It may also be worth looking for a unit that has a LED battery status display, so you are aware if the charge is still good enough for you to finish shaving or not.
Determine the noise level of the electric shaver
Who would want to deal with a very loud shaver, anyway? This is why when checking for a new shaver, you may want to consider looking for one with a powerful, yet quiet motor. There are more rotary models known to be quieter than foil ones, but it is still best to read the technical specs of the unit to know for yourself.
Get better shaves even on hard-to-reach areas
Perhaps you are worried that some areas of your face may be tough to shave, which would make the whole process a bit of a pain for you to deal with. This is why you may want to check out an electric shaver with pivoting shaver heads that follow the curves and contours of your face. A rotary model is often a good choice because these can handle tighter areas such as the neck and the chin, so no hair is missed out.
Do you prefer a cordless or a corded shaver?
If you want portability and convenience, then it should be easy to go for a cordless electric shaver. This allows you to shave anytime and anywhere you are even when you're in the car because there's no need to plug the unit in to get started. But you will have to deal with the battery losing charge at perhaps the most unexpected time, which can be a hassle. Corded shavers require you to be nearby a power outlet for you to start shaving, but you can be sure that as long as the unit is plugged in, it is not going to die on you.
Can you use it on wet and dry hair?
Sometimes, you want to get everything done while you're in the shower – and this includes shaving. In this case, be sure to look for an electric shaver that is safe to use on wet hair. While you're at it, maybe you can also go for a unit that is washable for greater ease in keeping the shaver clean and free from debris.
When it comes to convenience and practicality, an electric shaver wins the match between a traditional razor. However, it is important that you check the features available from the different highly rated electric shavers in stores to make sure you get the one you need for the price you pay.