Are you looking for a foolproof way to achieve a rested look and radiant glow after deplaning from a long flight? It's called business class, and if you are fortunate enough to take it every time you fly, then you might not need too many skincare tips: you can fully recline, cleanse properly, unfold a sheet mask, and actually sleep.
If you're joining the rest of us mortals in coach, however, without the luxury of extra breathing room, you might not be able to double cleanse or layer your favorite serums next time you fly. But don't let your middle seat in Row 48 — with a wobbly tray and armrest hoggers on either side of you — be an excuse to neglect proper skincare habits. The plane's dry air demands that you work to keep your skin hydrated throughout the flight.
The most comfortable humidity for your skin is around 50 percent. In airplane cabins, it can be anywhere from 5 to 20 percent. "Moisture travels from higher humidity to lower humidity," explains Dr. Lily Talakoub of McLean Dermatology and Skincare Center®, meaning the air in planes literally sucks water out of your skin. She recommends you seek out formulas infused with hyaluronic acid (which holds 1,000 times its weight in water) to ensure your complexion isn't parched.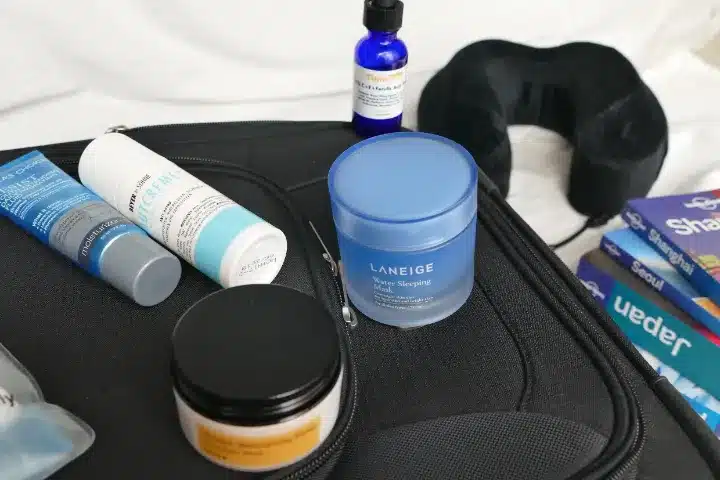 Nervous fliers, in particular, should pay special attention to their skin during air travel. "Any anxiety increases the stress hormone cortisol, which increases [your chances of] breakouts, redness, and inflammation of the skin," explains Dr. Talakoub. Combine that and the dry air with the fact that economy elbow room and TSA regulations are both tight, and you have a possible skin disaster.
To help you avoid a ruddy-looking complexion or unwanted pimples when you touch down, we've rounded up some exceptional (and portable!) formulas for your next self-care session in the air. Keep reading — we've listed the skin saviors in your new in-flight beauty kit in order of application to make the process even easier.
Best in flight skincare products
Aesop Resurrection Rinse-Free Hand Wash
Sale
It is essential that your hands are clean before you tend to your face (as clean as they can get on a plane, anyway). Just a small amount of the Aesop Resurrection Rinse-Free Hand Wash ($20) will kill bacteria without water and won't leave your skin feeling dry or itchy. This travel-friendly solution is alcohol-based, so it evaporates fairly quickly. The signature herbaceous fragrance lingers for a few minutes, adding to that fresh, clean feeling. Bonus: You can pour a little bit on a tissue and wipe down your tray table and armrest to ensure they're germ-free, too.
Patchology Clean AFTM Facial Cleansing Wipes
Sale
Achieving a properly cleansed complexion mid-air is anything but easy (and if you're someone who attempts to wash their face in that tiny bathroom, we salute you). That's why we travel with Patchology Clean AF Facial Cleansing Wipes ($5 for 15 wipes). The sturdy cotton sheets are saturated in cleansing agents and skin-nourishing ingredients like vitamin B5, biotin, and folic acid. A single towelette will remove makeup (for those who insist on wearing it in-flight), dirt, sweat, or excess oil and will leave your complexion hydrated and ready for the next step in your regimen.
ARCONA Triad Pads 2 Go
Sale
ARCONA Triad Pads + ARCONA Cranberry Gommage - Value Set
TRIAD TONER PADS - Cranberry Toner in convenient cotton pads helps cleanse, tone and hydrate, infusing skin to leave it glowing and refreshed. Removes dirt, oil and make-up.
Helps protect and clarify skin with Cranberry Extract, containing vitamins, phyto-nutrients and essential fatty acids. Assists neutralizing free radicals with Grape Seed Extract. Nourish and restore skin with White Tea Extract and Rice Milk.
For most of us, packing a toner into our carry-on probably isn't feasible, which is why we're thrilled ARCONA packaged its iconic Triad Pads 2 Go ($10 for 10 pads) into individual singles. The mild exfoliation will help make your skin look more vibrant, so only you'll know about your jet lag-related fatigue. Just swipe the pre-soaked cotton around over your cleansed face and let the phytonutrient-rich botanicals — cranberry and grape seed extracts — keep your skin feeling fresh.
Elizabeth Arden Advanced Ceramide Youth Restoring Serum
Exposure to radiation increases significantly while in flight, which can accelerate collagen breakdown. The Elizabeth Arden Ceramide Youth Restoring Serum ($100 for 60 ampoules) comes in nifty mono dose capsules to boost your anti-aging regimen at 30,000 feet. These disposable (and fully biodegradable) spheres deliver a concentrated dose of skin-restoring lipids, essential fatty acids, and botanicals for a more fresh-looking appearance.
La Roche-Posay Pigmentclar Eyes
Bags brought onboard should be stowed in the overhead compartment — not under your eyes. Since the delicate skin in this area is most prone to puffiness or signs of exhaustion, don't skip the all-important eye cream. A tube of La Roche-Posay Pigmentclar Eyes ($43) is equipped with a metal tip for an instantly cooling application. The moisturizing formula is infused with caffeine and light-reflecting mica to help you look more rested.
Dermalogica Skin Smoothing Cream
Sale
If you're planning a long-haul flight, you need a serious plan of action regarding your skin's hydration. The Dermalogica Skin Smoothing Cream ($43) promises to infuse the skin with up to 48 hours of continuous moisture. This water-based, fast-absorbing formula is fueled by hyaluronic acid and soothing plant extracts to immediately soothe any skin exposed to air pressure and altitude.
Elta MD UV Clear Broad Spectrum SPF 46
If you're wondering whether being closer to the sun requires you to up your SPF game, the answer is yes. "Increased altitude means increased UV exposure, particularly if you are in a window seat," confirms Dr. Talakoub. Elta MD UV Clear Broad Spectrum SPF 46 ($33) is a hydrating sunscreen that also helps refine the look of pores and reduces shine. It's extremely lightweight, oil-free, and comes in a tinted version for those who want a bit more coverage and glow.
Josh Rosebrook Hydrating Accelerator
There are two key benefits to using a face mist in-flight: first, it adds much-needed moisture; second, it feels refreshing, something our skin desperately craves in that stale cabin air bubble. But a pure thermal water spray can evaporate quickly and, as a result, may suck moisture from the skin — which completely defeats the purpose of stowing a mist in the first place. The Josh Rosebrook Hydrating Accelerator ($22) blends plant extracts and oils (jojoba, marula, and rosehip, to name a few) for a shot of liquid nutrition that immediately comforts a parched complexion. It also happens to smell divine.
(Malin + Goetz) Lip Moisturizer
Chapped lips are among the most frustrating skin-related side effects of air travel. Don't board a plane without a tube of (Malin + Goetz) Lip Moisturizer ($14) in your pocket (and check that security checkpoint bin because we've left too many behind). It is packed with moisture-replenishing essential fatty acids to prevent dry flakes triggered by air travel trigger. The unique, thick gel texture glides on effortlessly and provides instant relief to dehydrated lips without feeling sticky.
Eau Thermale Avène Cicalfate Restorative Hand Cream
Sale
If your hand-washing habit escalates during travel (more people, more germs, right?), it may lead to dryness, itching, and overall discomfort. Almost like magic, a single application of the Avène Cicalfate Restorative Hand Cream ($25) lasts through multiple hand washings and never feels heavy or greasy. You may find the creamy formula thick and goopy at first, but don't panic: once you massage it in, it absorbs fully, so you can continue your iPad® activity smudge-free.