Many ladies are probably late on this trend; some are questioning whether the cleansing brush is really necessary for their cleansing or skincare routine, while some others probably hesitate on which brand or what type of facial cleansing brush they should get. If you are one among them, this article is for you.
Based on expert facialists, the cleansing brush works better than your hands as it can gently remove dead skin cells, preventing breakout, and most importantly, it is perfect for sensitive skin. If you are wondering which cleansing brushes to choose, let us walk you through the top 10 products based on many beauty gurus.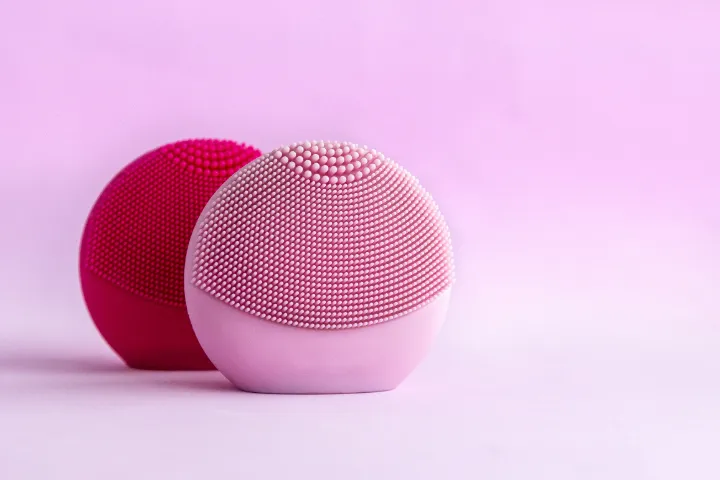 List of the Best Facial Cleansing Brushes
Sonic Facial Cleansing Brush Massager by LUXSIO
Sale
First and foremost, we have this waterproof cleansing brush from Luxsio.it is a medical grade silicone face brush that comes with a rechargeable battery, it has 3 in 1 function, and the vibration will firm your skin while the soft silicone will do the cleansing and exfoliation. This is even better for daily use as it will promote collagen, boosts circulation, and reduce acne, which will definitely help maintain your youthful look.
Facial Cleansing Brush, Waterproof with 2 Brush Heads by Liberex
YOUTHLAB Pure Radiance, Vibrating Deep Facial Cleansing Scrub Brush, Electric, 3 Modes 3 Heads (2 Bristle/1 Silicone), Waterproof, Rechargeable, Smart Timer, Exfoliating, Massage (Black)
HIGH FREQUENCY VIBRATION: Vibration creates a powerful suction that lifts dirt, make-up and oil from pores, without disrupting the skin's natural barrier. This technique is more gentle than traditional spin cleansing, which can tug and pull on the skin.
THREE BRUSH HEADS TO CHOOSE FROM: Customize your cleansing by choosing the brush head that best suits your skin: Deep Cleansing, Sensitive Skin or Silicone.
Next is a rotating face brush from Liberex. Its design comes with a handle for easy application and 2 removable super soft bristles. Despite the low price, it is very efficient to drop it in your shopping cart as it has many functions. You can adjust the speed of this waterproof brush to suit your cleansing plan, whether it's deep cleansing or gentle exfoliation. It also has a smart timer to avoid cleaning the same spot for too long. With its affordable price, we can guarantee you will never regret taking this brush home.
Gackoko Facial Cleansing Brush
2023 Upgraded Blackhead Remover Pore Vacuum, Newest Blackhead Extractor-5 Suction Power,5 Probes,USB Rechargeable Facial Pore Cleaner Kit Electric Acne Extractor Tool for Women & Men
【Safely and Effectively】– 2023 Newest industry leading technology without hurting your skin, clean pores safely and effectively, remove blackheads, whiteheads, treat acne. blackhead remover vacuum cleaner made of eco-friendly material ABS, non-toxic, non-irritating, which can be safely used on the face. Black Head Remover Vacuum uses an effective physical approach for solving skin problems without chemicals.
【3 Suction levels & 5 Suction Probes】–3 Different powerful suction levels suitable for different types of skin to achieve genuine deep cleaning. Pore vacuum cleaner level 1 is suitable for sensitive and dry skin, Level 2 is suitable for normal skin, Level 3 is suitable for combination and oily skin.Meanwhile , 5 replaceable probe are designed for different skin conditions,such as: clean up blackhead, remove dirt grease on the skin, reduce dead skin and fine lines.
Gackoko's facial cleansing brush is well-known as a mini face spa. The product comes with 2 adjustable speeds and 2 heads brush, with 1 sponge that acts as a makeup-clearing expert. Its 360 degrees rotatable and gentle bristle will not leave a spot uncleaned, especially the side areas of your nose. The expert recommends using a cleanser and essential to produce better results. With this cleansing brush, you can enjoy your own facial spa time at home at a very low cost.
Silicone Rechargeable Facial Cleansing Brush by Caytraill
If you are looking for a cleansing brush that gives you a relaxing massage and rejuvenation, you can try this silicone brush from Caytraill. This product has 4 modes which means you can adjust the type of vibration that works for you. The combo of vibration and rotating function will make your skin feel tighter, softer, and younger than ever.
In case you feel like investing in your beauty, this product is one of the must-haves of your kit.
Liberex Wireless Charging Sonic Vibrating Facial Cleansing Brush
Sale
True Glow by Conair Sonic Facial Brush - Waterproof + Rechargeable
Waterproof Facial Cleansing Brush: Dermatologist tested and clinically proven to be 2X more effective than using everyday cleanser alone and 98 percent removal of environmental toxins and 30 percent visible reduction in pore size
Best Face Forward: Gently remove dirt, oil, and make up from pores, while whisking away dead skin cells with Conair True Glow Sonic Facial Cleansing Brush; Reveal healthy looking skin in 60 seconds
This egg-shaped facial cleansing brush is another product from Liberex. It was invented by the latest ultrasonic vibration technology, which comes with 2 brush heads and 1 silicone head. This product is equipped with 3 modes similar to other standard facial cleansing brushes, and it has a smart timer to ensure you do not overdo your cleansing. Using this brush will allow your skincare product to penetrate better into your skin and help to shrink down your large pores.
What's so special about this one Is it comes with wireless charging, which will last an extra long, up to 45 days, making it a more convenient choice for traveling.
PIXNOR Waterproof Face Spin Brush with 7 Brush Heads
Xesscare Facial Cleansing Brush Waterproof Face Spin Brush Set with 7 Exfoliating Brush Heads - Complete Face Spa System 2 Speed Perfect for Deep Cleansing, Exfoliating,Blackhead,Massaging (BLUE)
A Perfect All-In-One Facial Care System:The 7 in 1 Multi waterproof facial cleansing brush set with 6 different face brush heads give you the full range of cleansing, from a gentle cleansing to vigorous deep-cleansing,360 degree deep cleansing of your skin Suitable for all skin types, even for sensitive skin. Requires 2 AA batteries (not included).
7 Interchangeable Brush Heads Included: 1 X Daily Radiance Brush, 2 X Soft Brush, 1 X Silicon Brush, 1 X Pumice Stone Head, 1 X Metal Rolling Massaging Head , 1 X Makeup Sponge Brush .
Moving to the next facial cleansing brush from PIXNOR. This product with 7 brush heads is the latest design which gives you a full range of options that some other cleansing brushes cannot provide. The speeds are designed to tackle all your skin issues, from clogged pores to wrinkles, and improve collagen production. More importantly, it also helps to remove blackheads and whiteheads.
If you have sensitive skin, this is the one for you, as it has various options to accommodate your cleansing needs.
Waterproof Facial Cleansing Spin Brush Set by Facii
Let's look at another facial cleansing brush from Facii. It comes with a protective travel case that is ideal for your busy lifestyle. The brush head is made of silky nylon bristle, suitable for your daily routine. Its 2-speed setting allows you to adjust it based on your need. It can be used along with the cleansing foam of your choice to receive the best exfoliation experience.
According to our experts, this facial cleansing brush is the secret to your youthful look.
Face Brush Use for Exfoliating by UMICKOO
Sale
UMICKOO Facial cleansing brush is the kind of brush that can make you receive a spa-like sensation during use. It comes with an advanced red and blue LED light that has the role of fighting wrinkles and reducing acne and inflammation, making your skin firm and hydrated.
After use, it is important to keep your brush clean by rinsing the brush head off with Luke warm and soapy water.
Facial Cleansing Brush Ultimate Skin Spa by Vanity Planet
Vanity Planet Facial Cleansing Brush Ultimate Skin Spa with 3 Interchangeable Face Brushes for Cleansing, Exfoliating and Silicone Brush, Protective Case, Cordless, Water Resistant (Bombshell Blue)
THE ULTIMATE SKIN SPA: Wash your face at an entirely different level, our Ultimate Skin spa facial cleansing brush helps you gently and thoroughly remove hard-to-get dirt, makeup, and debris. Your skin is left clean, smooth, and ready to absorb masks, serums, and moisturizer.
DUAL SPEED SETTING: Dual-speed control allows you to customize your skincare routine based on your skin's needs. It works with your favorite cleanser along with the lightweight spin brush suitable for all skin types. Cruelty free
This one is a facial cleansing brush recommended by the dermatologist. This battery-powered cleansing brush is water resistant but does not submerge it in water. It also comes with a portable case that is easy to your travel with. The brush head has super soft nylon bristles that can gently extract all the hard-to-get dirt from your skin, leaving your skin soft and glowy. For the gentleness it can provide, this is made for dry and sensitive skin.
Sonic Facial Cleansing Brush for Makeup and Blackhead Removal by Clarisonic
Last but not least, we have a cleansing brush from Clarisonic Mia Prima. This brand entered the skincare industry in 2014 and is known as the leading brand in skincare-driven technologies. This brush from Vanity Planet is believed to do the cleansing 6 times better than using your hands. It can be used with sunscreen or makeup foundation to ensure flawless application. The advantage of using this brush as a cleansing tool is it helps to lift and firm your skin and also reduces wrinkles.
You will have an unforgettable cleansing experience using this brush.
Buying Guide for Best Facial Cleansing Brushes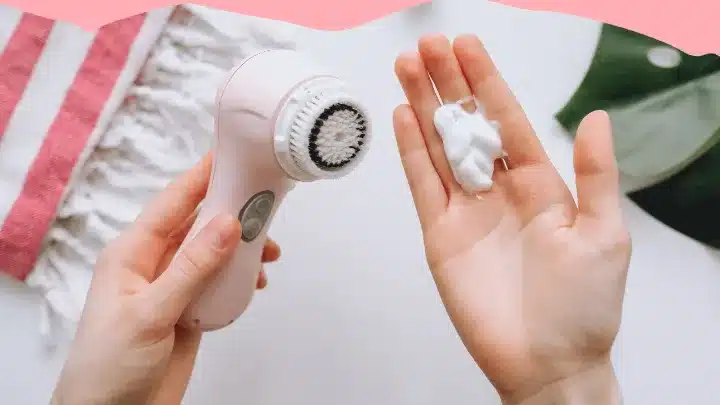 Facial skin is very dear to all women, and it is understandable that they are very selective when buying their skincare tools, as the wrong cleansing brush can cause more damage than benefits. This is why we created a buying guide to help you girls avoid such consequences.
Price and Efficiency
Even the most expensive cleansing brush cannot guarantee that it will suit your skin type. It is recommended that you buy a cleansing brush that comes with many adjustable speeds and modes to suit your skin condition and type to be efficient.
Interchangeable Brush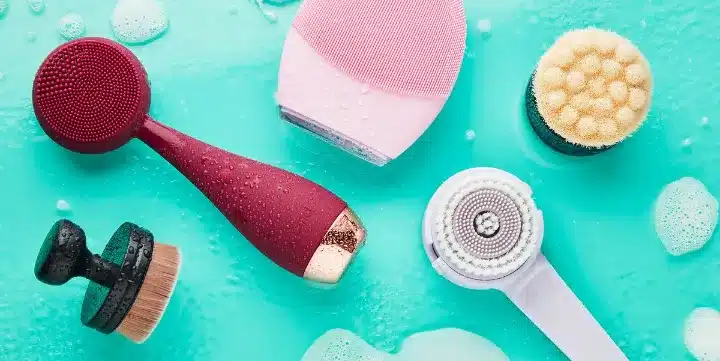 For the hygiene of your daily usage, it is important to get a brush that has an interchangeable head so you do not have to waste money on getting another new brush when the brush head gets dirty. Additionally, with the interchangeable brush head, you can match the brush head with the purpose of cleaning, firming, or removing makeup.
Water resistance
You want to choose the cleansing brush with great durability and resistance to water as the nature of cleansing brush has to be used daily or even stored in showers or washrooms. Therefore, your cleansing tools cannot be prevented from contacting the water. In this sense, the non-water resistance cleansing brush will need frequent replacement.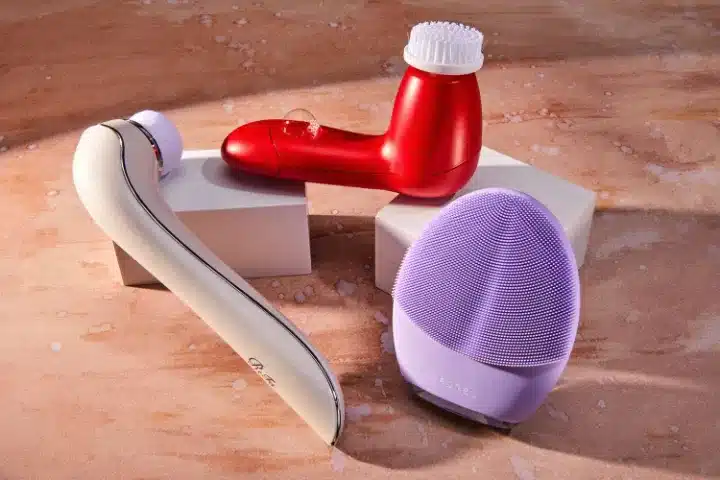 Warranty
No matter what product you are buying, always consider this matter. Even if the cleansing brush is just a small beauty tool, be aware that some brands come with a warranty. Always remember to read through the description thoroughly. If it states that the product comes with a warranty or is exchangeable, this will add a bonus to the product you are purchasing.
Conclusion
A daily cleansing routine is crucial, but the technique of how you clean your face is even more important. It is acceptable to manually wash your hand, but these days, as a woman, we have many things to do, whether it is work, business, or taking care of the kids and household, so why don't we let this technology help take some of the labor out on a tiring day. If you are worried about getting the wrong brush that gives you more disadvantages than the good, then after reading our articles, there is no way you can go wrong.