When your daily cleanser just doesn't seem to be doing the job of dullness, it may be time to introduce a chemical peel into your routine. In addition to leaving you with a radiant glow, peels can treat a range of skin concerns, from fine lines to sunspots.
Unlike physical exfoliators, which contain abrasives (like walnut shells) to manually slough away dead skin, peels rely on a combination of acids to slough away a deeper level of dead skin cells. But the word "chemical peel" can mean a few different things. According to Dr. Pearl E. Grimes, Medical Director of the Grimes Center for Medical and Aesthetic DermatologyTM, professional chemical peels can range from superficial to medium to deep. The level of the peel directly relates to how far it sinks into the skin — and how much it resurfaces the skin. "The strength, frequency, and type should all be prescribed by a qualified dermatologist who is familiar with your skin," she adds.
If you're not ready for the intensity of a professional peel, consider incorporating an at-home peel into your weekly routine. (Note: Grimes still recommends seeing your derm to determine which and how strong of a peel is best for your skin concerns.) At-home peels can be used weekly to carefully slough away only the outermost layer of dead skin. These DIY treatments contain the same types of ingredients as professional peels but at a much lower concentration. Specifically, they rely on chemical exfoliators such as glycolic acid (from sugars), malic acid (from apples), lactic acid (from milk), citric acid (from citrus fruits), and salicylic acid (from salicylate or fruit origin).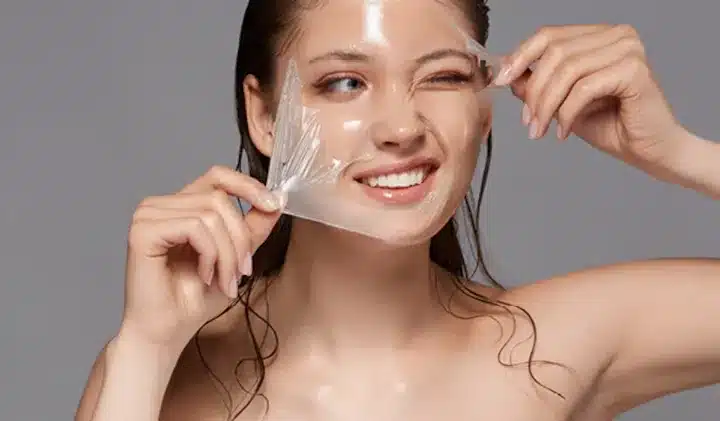 Let's break it down: Glycolic, malic, lactic, and citric acids are all alpha hydroxy acids (AHAs). AHAs induce exfoliation of the epidermal cells and increase moisturization of the skin. Salicylic acid is a beta hydroxy acid (BHA), which goes into the pore itself to exfoliate, making it a classic choice for acne treatment. Depending on the type of peel, the concentration and strength of these acids can vary. (Learn more about these acids and others here.)
If you're a regular facial scrub user, or even if you use a facial cleansing brush with any regularity, you'll want to cut back for a bit before and after any type of peel. Overdoing it on the exfoliation front can leave skin irritated and raw and can totally throw off your skin's microbiome — the balance of good bacteria that keeps your exterior protected. But don't let that steer you away from a peel! When used carefully — most pros recommend applying a chemical exfoliator once or twice per week — you'll see an incredible glow. Don't have one you love? Find eight of the most highly acclaimed chemical peels, according to the tough standards of Sephora® customers.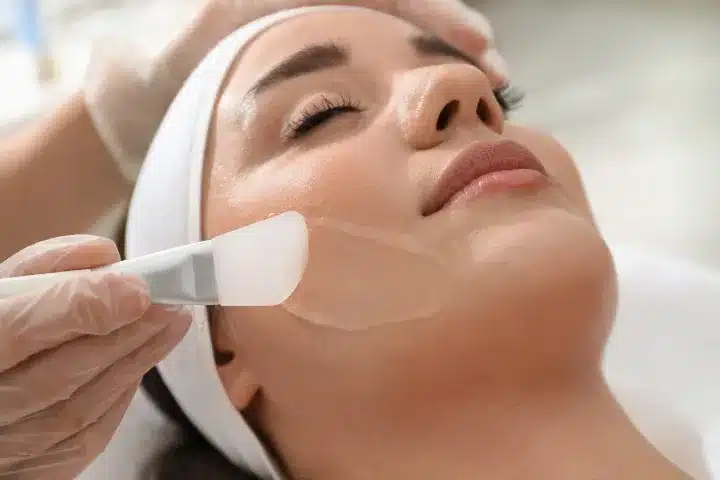 Best at home chemical peel at Sephora
Estée Lauder Perfectionist ProTM Instant Resurfacing Peel
Sale
If it's rough texture that you're looking to smooth, the Estée Lauder Perfectionist ProTM Instant Resurfacing Peel ($75) will do just that, thanks to AHAs. The formula goes to work quickly (reviewers notice improvement after one use) and with little to no irritation. Leave on for 10 minutes and rinse off for smoother-looking skin, stat.
Neogen DermologyTM Bio-Peel Gauze Peeling Lemon
Sale
DERMALOGY by NEOGENLAB Gauze Peeling Lemon + Black Energy Cream
Black Energy Cream : Soothe and calm with black energy cream : Designed to work soothe and revitalize the complexion and infused with naturally-derived black complex ingredients that helps soothe sensitive skin and provide nourishment to strengthen and firm skin barrier.
Black Energy Cream : Use as a sleeping mask to prep for a big event the next day : Highly-concentrated and firm-textured gel cream that for a makeup-ready skin the next day.
The slightly rough texture of the Neogen DermologyTM Bio-Peel Gauze Peeling Lemon ($27) manually exfoliates away dead skin, while AHAs and vitamin C work at a deeper level to fade dark spots and dissolve dirt and oil. Simply make a few passes over clean, dry skin (as you might with a makeup wipe).
Korres Pomegranate AHA + Enzymes Resurfacing Mask
Sale
Glycolic acid and pomegranate seeds in the Korres Pomegranate AHA + Enzymes Resurfacing Mask ($34) tag team to unclog oil and dirt-packed pores. Apply in circular motions to manually shed dull skin. Leave it on for 10 minutes and let the chemical exfoliators finish up the job.
Drunk Elephant T.L.C. Sukari Babyfacial
Drunk Elephant T.L.C. Sukari Babyfacial ($80) is a cult favorite facial in a bottle. (It has over 1,400 reviews!) The formula uses a strategically pH-balanced blend of acids, pumpkin ferment extract, and soothing matcha to smooth, soothe, and brighten dull skin. Apply a thin layer to clean the skin, set a timer for 20 minutes, and prepare to feel significantly softer after you rinse off.
DermaDoctor's Physical Chemistry
Sale
When you need a slightly deeper level of sloughing, try DermaDoctor's Physical Chemistry ($75). It's a peel and microdermabrasion treatment that works to fade acne scars, blotchy skin, and enlarged pores. This one is particularly strong, so be sure to dial back on any other potentially drying products beforehand and for a few days after.
Philosophy The Microdelivery Triple-Acid Brightening PeelTM
philosophy microdelivery resurfacing peel kit
What It Does: this next generation microdelivery vitamin C peel delivers peptides to the skin as it is being rapidly exfoliated
our at-home peel resurfaces and replenishes the skin at the same time, which is a new approach to skin rejuvenation
Use the mandelic, phytic, and azelaic acid-saturated pads in the Philosophy The Microdelivery Triple-Acid Brightening PeelTM ($70) once a week for a steady (and not too harsh) skin-smoothing.
Boscia Exfoliating Peel Gel
Scrub, purge, and treat with Boscia Exfoliating Peel Gel ($34) botanical blend. This three-in-one exfoliates, deep cleans, and helps protect skin from harmful free radicals. Use it in place of your normal cleanser once or twice per week for the recommended dose of exfoliation.