Your expectations for Agenda Sneak Peek Dc Shoes should always be heightened with every season of their newly released footwear. They have a tendency to never disappoint while simultaneously shocking the world with their brave and equally challenging designs. This year at Agenda was no different. We saw a slew of newer models worthy of your envy and some classic models updated in beautiful colorways for your viewing pleasure.
One of the newer models that have us staggering is the new Mikey Taylor pro model. Now, we're not going to deny the fact- we don't really care for Mikey Taylor. As fucked up as that may sound, it's the truth, but that's not to say that we're not thoroughly impressed with this new MT2 model.
The fact that we don't really fuck with him, in general, is one thing, but the pure fact that his 2nd pro model has us wanting a pair as soon as humanly possible (which we may have ruined our chances with this honest paragraph) speaks for itself. Pictured below is his market, and if you will, highly sophisticated-looking colorway. The mature shade of brown and that hit of oxblood around the heel counter take this already good-looking shoe and make it straight and handsome. Care to disagree? Because it's really impossible. Especially in a Navy/Grey combo.
As much as we may disagree with Mikey Taylor, the skater, you won't find us hating on his newest pro model. The technical aspects take the MT2 overboard as they feature a drop-in Unilite midsole and Super Suede construction throughout the upper. If we haven't blown our chances, you can find us reviewing these/looking pretty in them asap.
If you're a huge fan of his first pro model, don't fret because it's still around. In some updated colorways, the MT1 comes in both a tan/cream and a charcoal/gum colorway. A signature blk/wht colorway is still being carried over for future seasons, along with an olive colorway for those looking to keep it classy.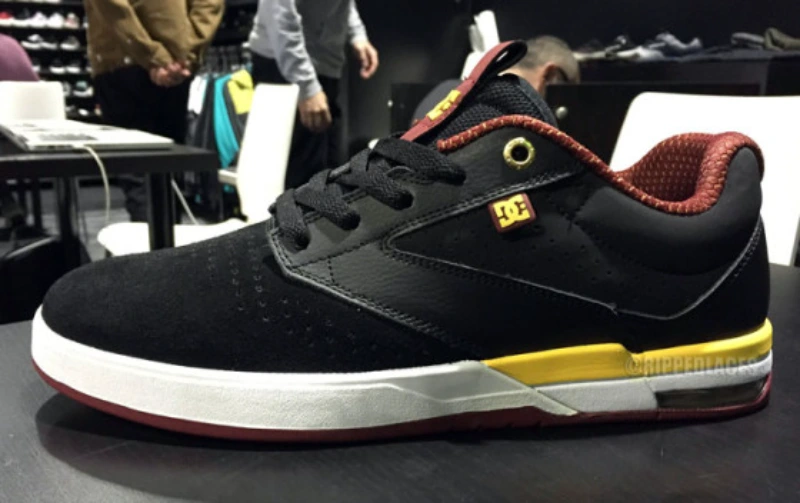 Kalis' milestone of a shoe has arrived. The Wolf S, shown in Black/Yellow, has extended the stay of the airbag and is stronger than its predecessor. The Centric was a great shoe, but you have to be kidding yourself if you don't believe that the Wolf is going to be so much better.
Here's why: from talking to Kalis about his new shoe, he informed us that the Wolf was developed with more padding, a stronger midsole, and greater support features. Hearing that all from the man himself is more than enough reason to believe that the Wolf is going to be one of your favorite skate shoes of 2015. It has a stronger build in comparison to the rest of DC's catalog and will surely stick out on a wall at local skate shops.
It's not a competition, but which model do you think looks the best?